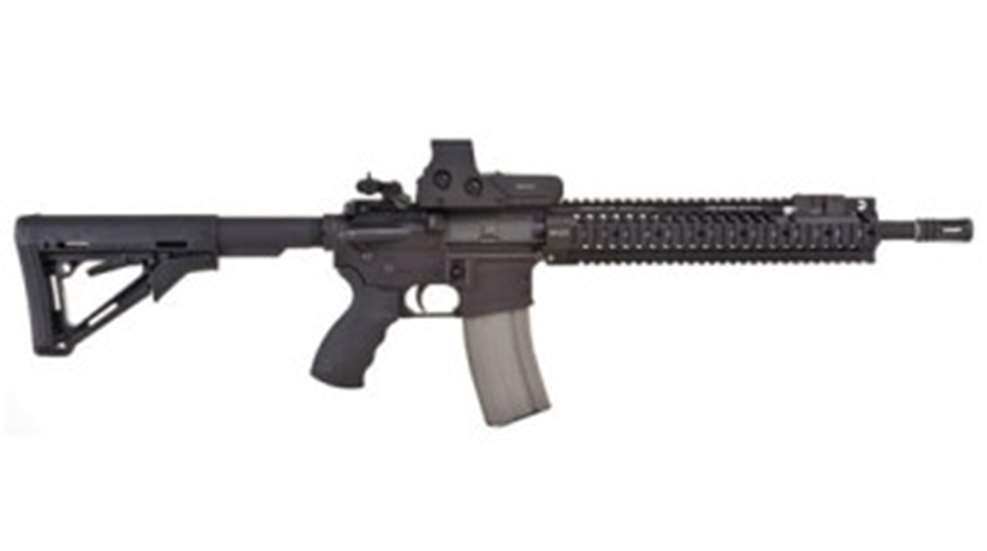 Few people build products that ooze sophistication quite like our tea-drinking, colony-losing, effete cousins across the pond. From bespoke shotguns to custom-tailored shirts, the Brits know how to turn everyday objects into something special. As a result, some Americans secretly wish they were British, sometimes going so far as to adopt a fake British accent to appear more elegant when, in fact, you are just a girl from Detroit, aren't you, Madonna?
Yet, I think we can all agree certain elements of British culture and its manufacturing sector are the epitome of class and refinement. Therefore, it's not surprising that a wholly American company would adopt a British-sounding name, especially when its business is producing some of the finest tactical firearms available today.
Sabre Defence of Nashville, TN, spells its name correctly if you live in Twickenham-upon-Shropshire, but your elementary school teacher would fail you (or more likely make you discuss your feelings with the class these days) if you spelled like an Englishman on a quiz. Still, when you see the name Sabre Defence, you just know the company produces something worth having. In fact, the company makes some of the finest carbines around, all based on its XR15 platform.
While not bespoke, it is pretty close to being the Holland & Holland of black rifles. Sabre Defence is also a government contractor, producing parts and accessories for the military's M16 rifles and variants; it recently became just the third company to win a contract to produce M16s for the Department of Defense.
The company put together a fearsome package in its M5 Tactical, one that will leave any fan of tacticalia drooling with lust. Just about every customizable option comes standard, and each of these options is among the highest-grade versions available. The matched upper and lower receivers are CNC machined from 7075-T6 forgings. The vanadium-steel, government-contour, mid-length barrel offers the advantage of a shorter gun in tight quarters, but it has a 9-inch gas tube as opposed to the typical 7-inch alternative on a carbine-length pipe. Since all Sabre Defence ARs utilize the direct gas-impingement system, those extra inches help cut down fouling, thereby reducing the chance of malfunction. The barrel is only 141⁄2 inches long, but a non-removable flash suppressor provides the extra length necessary to meet BATFE requirements.
Yankee Hill flip-up iron sights compliment the EOTech 552 Holographic Weapon Sight, which comes already mounted on the full-length, quad-rail system made by Samson. The Magpul skeletonized, collapsible stock can be locked anywhere along its travel path, providing virtually unlimited length-of-pull selections. Basically, the company has packaged a custom AR-15, saving you the time and effort necessary to find, purchase and install a myriad of aftermarket accessories that are required to make your rifle look…splendid.
Not surprisingly, the M5 Tactical is quite accurate. It is also perhaps a little too fun to shoot. I had to pry myself from the bench to eat, work and return to my family after two range sessions because the gun is so addictive. The trigger broke crisply at 7 pounds, 61⁄2 ounces, and provided an easy platform for quick follow-up shots during rapid-fire drills. For accuracy testing, I attached an EOTech 3x Magnifier, as I have fairly poor eyesight, and the extra magnification made the target pop against the optic's reticle.
Each of the three tested loads—Hornady Match 75-grain BTHP, Remington Premier AccuTip 50-grain and Federal Power-Shok 55-grain FMJ—shot nice, tight groups. As with all 5.56x45 mm-chambered AR-15s, recoil is agreeable; just enough that you know you're handling a firearm, but not so much as to make long range sessions unpleasant. The only thing missing from the M5 Tactical is an appropriate fore-grip and/or rail covers, as gripping the quad-rails for an extended period can be uncomfortable without gloves.
The M5 Tactical suffered no malfunctions during testing over two days and more than 200 rounds. It seems likely that Sabre Defence's inclusion of a longer gas tube does, in fact, mitigate malfunctions notoriously endemic to the M4 platform.
When I returned this elegantly swank piece of tacticalia to the company, I longed for a chance to accessorize my own, markedly less alluring AR with a quad-rail and the best collapsible stock I have ever handled. Alas, I have neither the requisite funds, nor the time to rebuild a perfectly serviceable carbine. Therein lies the biggest problem with the M5 Tactical: It will make you feel as if your current AR is woefully inadequate. I nearly began speaking in a proper, upper-crust English accent to cover for my unworthiness, for the M5 Tactical's distinction comes at a price. One look at this gun, however, tells you that it's worth every pence...I mean penny.