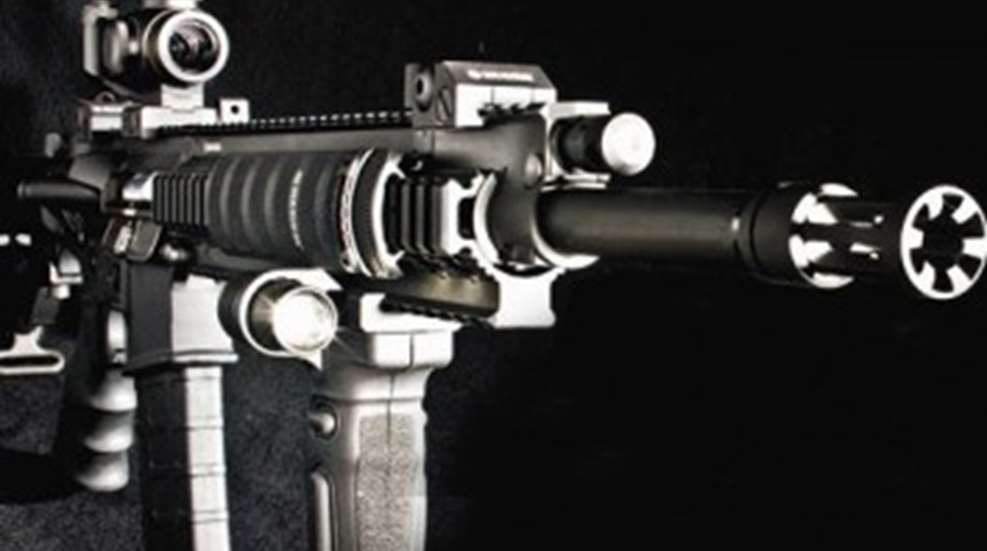 When I was 16 years old, I managed to save enough money to buy my first self-loading rifle, a Ruger 10/22. With 500-round bricks of .22 LR ammunition going for $15 apiece in those days, my friends and I loaded and expended 10-round Ruger rotary magazines and aftermarket 30-rounders as fast as minimum wage allowed.
I've learned through an adulthood heavily steeped in firearms use and study that the one word heard more than all others with respect to Ruger firearms is quality. While enduring designs from the company like the 10/22, Blackhawk and SP101 maintain their popularity, others like the Redhawk and No. 1 have smaller, but equally as dedicated followings among firearm enthusiasts.
In the case of the Mini-14 and its variants, Ruger seemed to be grasping for a slice of the "black rifle" market without actually turning out a black-rifle design. It's no wonder, then, that Ruger dropped a few jaws at this year's NRA Annual Meetings and Exhibits with news of its first AR-pattern gun. However, the company has done anything but build just another version of Eugene Stoner's popular design, and the new piston-driven SR-556 lives up to the same level of expected value as all Ruger firearms I've encountered.
Cooler, Cleaner Carbine
If Ruger's entry into the AR market has taken a while, the company has made up for its hesitancy by jumping in with both feet. I have a lot of experience with factory-built, piston-driven ARs and have tried several aftermarket setups. My experience with the latter group has shown sketchy reliability from gun to gun. While this is not likely the case with all brands, it's kept me from offering retrofits to my customers.
Since Ruger designed its new carbine with no previous AR logistics to consider, it could start with a clean slate. The company opted for a short-stroke piston setup, which eliminates the problem of having a long, thin operating rod attached to the bolt carrier. Instead, the SR-556 uses a transfer rod that is captive between springs and bushings above the barrel and in front of the upper receiver.
When the gun is fired, expanding gas tapped through the port and regulator terminates on a piston, which impinges on the transfer rod's forward end. The rod then moves a short distance to the rear and impacts a flat-faced carrier key, driving the bolt carrier group to the rear and facilitating the cycle of operation. Since the SR-556's carrier and key are machined from the same piece of steel, the shearing of carrier key screws—another problem with some retrofit kits—is of no concern.
Piston ARs have grown in popularity and availability in recent years. Much of the increased interest comes from the fact that traditional direct-gas impingement systems found on standard AR platforms require regular cleaning of the bolt carrier group, upper and lower receivers, and chamber area to keep guns running smoothly. Direct-gas impingement systems simply channel expanding gas through the gas block and the gas tube, all the way to a key atop the bolt carrier in the chamber, introducing carbon fouling and heat into the receivers. Piston systems generally require less frequent cleaning to maintain reliability.
Granted, reliability problems with direct-gas impingement guns mostly occur in conditions where extreme fouling is likely—blowing sand and dirt, heavy mud and during heavy firing—but there are other advantages to piston-driven operating systems. The bolt carrier group remains cool even after firing hundreds of rounds, which should help extend the life of parts that normally become too hot to handle after minimal firing in direct-gas impingement systems. Some piston guns—including the SR-556—have adjustable gas regulators that provide multiple settings for variations in ammunition types, heavy fouling and suppressor use.
So why aren't all ARs piston driven? Life is full of compromises, and this is no exception. Piston systems tend to be noticeably heavier, with more weight well forward of the normal balance point. They're also more expensive, usually to the tune of several hundred dollars more than direct-gas impingement systems. Lastly, though the bolt carrier group remains much cleaner, at some point the regulator and piston need to be cleaned to maintain function. A lot of carbon is blown into that gas regulator, and leaving it there can seize up the slickest piston design. Piston ARs still need a little TLC from time to time to continue their business.
Premium Practicality
The SR-556 possesses some excellent features normally considered premium in the tactical-rifle world. A one-piece, 10-inch, free-float handguard from Troy Industries is pinned to the upper receiver, providing a rigid and trued, four-sided mounting platform for optics and other ancillary gear. Unfortunately any maintenance requiring regulator, op-rod or free-float tube removal must be done by Ruger to comply with the warranty. I find this irksome as an AR-smith, but presumably it will be an infrequent need for SR-556 owners. The fold-down iron sights are also from Troy, and they have a sturdy locking system for up and down positions.
Excess gas and carbon are vented out of a bottom port in the gas block, keeping it cleaner than similar units I've used. The gas regulator has four settings that correspond to levels of pressure needed to operate the system in different conditions. The lowest operational setting is position "1," which allows minimal gas to move through to the piston. Position "2" is the recommended setting for normal use, and position "3" is for heavy fouling, low-pressure loads or other conditions necessitating maximum gas. There's also a "0" position which cuts off gas flow to the piston entirely. When shooting with a suppressor and supersonic ammunition, sound created by gas escaping through the ejection port and by the action's cycling is eliminated with this setting. Brass is also easily recovered, as the bolt must be hand-cycled when the gas is off, benefitting shooters in certain tactical situations.
The regulator's knob is not easily adjusted by hand, which I consider a good thing for rigorous environments. Ruger's engineers were nice enough to design the knob so that a loaded cartridge can be inserted through a hole and rotated to the desired gas position, without damaging the cartridge.
The 16-inch, chrome-lined, hammer-forged barrel has rifling with a 1:9-inch twist, which adequately stabilizes most projectile weights, hedging toward lighter bullets. The bolt, bolt carrier and extractor are chrome plated to prolong life and aid reliability. Another high-wear area is the transfer rod (Ruger's name for the captive operating rod), which is coated with a nickel/Teflon finish. A standard six-position, M4-style buttstock is complemented by a comfortable Hogue rubber pistol grip and Troy fore-end rail covers. The sum of the SR-556's features is a quality carbine designed with practical shootability in mind.
Flawless Function
Like most gun-folk, I spend a fair bit of time dry-firing centerfire arms before testing with live ammo. My first pull of the SR-556 trigger demonstrated that it topped all other stock semi-auto triggers in terms of sheer horror. Once again, the weak link in an otherwise finely executed firearm is the factory trigger. The good news is, as with other AR lowers, Ruger's lawsuit-proof trigger can be easily swapped out with a decent aftermarket model. My evaluation sample's trigger broke at 6.8 to 7.5 pounds, with enough creeping and grinding to drive shooters crazy when trying for tight groups. With healthy doses of patience and practice, I was able to achieve accuracy on par with most of out-of-the-box ARs.
Overall, shooting was pleasant with slightly less felt recoil than produced by similarly configured direct-gas-impingement guns. The additional weight up front aided recoil management when shooting in all positions, and the time needed to return to target from shot to shot was noticeably reduced as compared to lighter ARs.
I tested each gas regulator setting, and function was flawless in all positions. Setting "2" ejected brass solidly to the 2-o'clock position and allowed the smoothest return to target for follow-up shots. Position "3" definitely lets you know you're using more gas, with recovery times between shots stretching out a bit due to increased muzzle movement. Projectile weights from 55 to 77 grains were tested in all three operative positions without problem.
In addition to testing the standard three types of ammunition, I performed one additional test of the best-shooting ammo, with the regulator turned to the "0" or off position. The goal was to see if accuracy was improved by eliminating any movement generated by the action's cycling. While this small sampling is not enough upon which to base a pronouncement, the average for the hand-cycled groups edged out all other group averages by 0.11 inch. Not surprisingly, the best performance for this test was seen with Black Hills Ammunition's factory match loads.
One problem plaguing piston ARs showed up with the SR-556 as well: heat above the handguard. This type of operating system retains its heat in the regulator and piston regions, and that places it directly in line with the sights. After just three, five-round groups in 80-degree Fahrenheit conditions, heat rising from the handguard was excessive to the point of inhibiting line of sight through a scope dialed down to 6X. To allow fair group comparison, I waited two to five minutes between each for cooling, depending on breeze and sunlight. This is not a Ruger-specific problem; I've experienced it with all piston ARs. From a comfort standpoint, the Troy handguard shields block heat transfer to the support hand effectively.
After accuracy testing, I fired the remaining rounds in rapid single shots or controlled pairs. The final 60 rounds were fired with mixed ammunition types and regulator settings in an attempt to make the gun choke, but it was all for naught. The SR-556 digested an eclectic total of 150 rounds with zero malfunctions.
When firing was complete, I immediately removed the bolt carrier group and found it to be cool enough to hold as well as cleaner than normal for that round count. Conversely, the barrel and regulator were hotter than on similarly fired direct-gas impingement variants. Fouling was limited to the regulator, piston, bore, chamber and bolt locking lugs. I did notice an unusually large amount of brass shavings just aft of the chamber and throughout the lower receiver. Given this was a new carbine and I shot a wide variety of ammunition at all port settings, this isn't a surprise. I'll wager that shooting your normal factory ammo or pet handloads at appropriate settings in a broken-in gun will eliminatethis condition.
The carbon fouling in the regulator made it very difficult to disassemble for cleaning. I suspect the benefits of less receiver and bolt carrier group fouling are somewhat offset by the need to keep things clean up front. I didn't do enough testing to see where regulator carbon becomes a problem, but the piston was pretty tight after the small amount of firing I did, which tells me it bears monitoring.
Recommended Reliability
Much to the dismay of my sons, I sold my reliable, old 10/22 on a whim several years ago. Fortunately we still own several other Ruger rifles, which continue to provide reliable service on the range and in the field. I'd place the SR-556 into that same category of reliability.
My custom AR business thrives on finding the right solution for a customer's needs, regardless of the source. As often as not, that means I recommend products other than my own. It ought to be a high priority for any shooting industry professional to ensure hunters, sportsmen and women and tactical shooters get the right tool for their tasks. Until now, I've been reluctant to recommend piston systems due to high cost, retrofit problems, increased weight or some combination of all those factors. Though the SR-556 is at the higher end of the AR pricing spectrum, I feel confident Ruger's new carbine will be an enduring and worthy addition to the company's line. It's a good choice for shooters desiring a piston-driven AR.