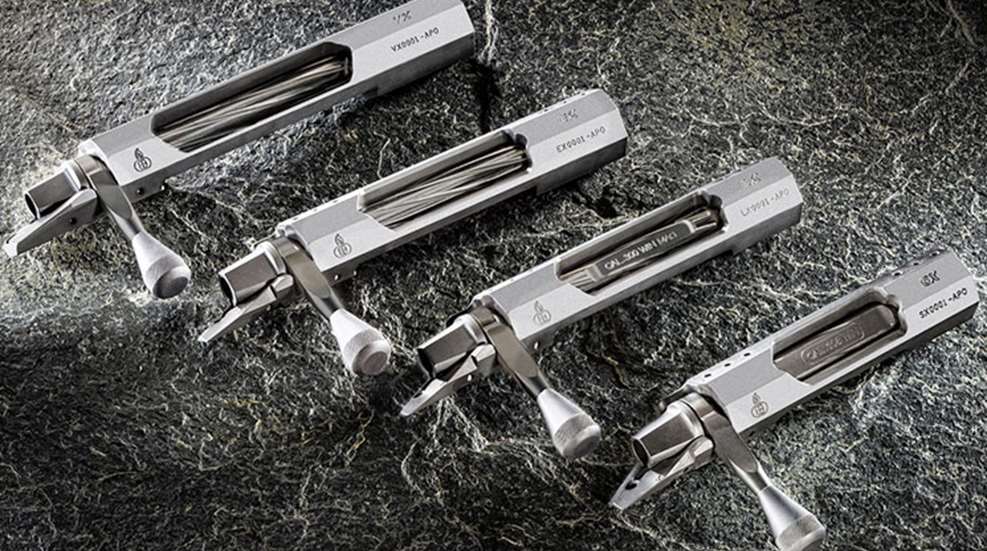 The 2015 SHOT Show is the launch platform for Ashbury Precision Ordnance new line of SABER® bolt action receivers for short to very long action cartridges.  APO's precision crafted line of CNC produced bolt action receivers are manufactured from 416R stainless steel and takes advantage of unique octagonal geometry to increase rigidity, reduce vibration and increase strength with larger body diameters.These 4 attractively designed and engineered bolt action receivers, built in right and left hand versions, have well-defined chines that are visually appealing in short, long, extra-long and very long models.  All SABER® bolt action receivers are purpose built to maximize surface contact with Ashbury's newest "A" series interlocking SABER®-FORSST® Modular Rifle Chassis Systems (MRCS) requiring absolutely no bedding, yet can be bedded in traditional wood or composite rifle stocks.

SABER receivers OD to ID concentricity are precisely CNC machined to the true centerline of the bore with perfectly flat mounting surfaces.  SABER bolt faces, lugs, internal lug abutments, barrel tenon and receiver faces are also precision machined perpendicular to the center line of the bore.  The receiver bolt raceway is wire EDM cut for smooth bolt operation and consistent shot-to-shot rifle accuracy.  These bolt receivers feature dual recoil pins that top center mount a removable receiver aluminum 20 MOA rail or a patented 30/40MOA (depending on model) one-piece monolithic Picatinny rail attached using aviation grade #8-40 anti-vibration fasteners.The strong one piece fluted bolt is made from 4140 tool steel, employs a traditional two lug design, plunger type ejector, strong reliable claw type extractor and sculpted aerospace grade aluminum bolt shroud.  All actions further incorporate a side roll pin mounted bolt release, tang relief cut for a thumb lever safety and a spacious ejection port allowing positive extraction and ejection of longer unfired cartridges.

The SX short action receiver is manufactured with .384" (.223Rem/.300BLK), .480" (.308) and .540" (WSM/SAUM) bolt faces.  The .480" bolt face will accommodate the very popular .22-250, .260, 6.5 Creedmoor, 7mm-08 and other similar cartridges.

The LX long action receiver is manufactured with a .540" .300 Winchester Magnum bolt face.  The APO Custom Shop plans to offer legendary long action calibers like .30-06, and .270Win, well known high performance calibers like 6.5-.284 Win, and lesser known proven European performers like the 6.5x55mm.  The LX also can also accommodate the powerful Ultra Magnum calibers. The EX extra-long action receiver is manufactured with a .584" .338 Lapua Magnum bolt face which is rapidly growing in popularity for long range shooting and hunting.  This caliber offers incredible versatility with high BC projectiles in the 250gr to 300gr range.

The VX extra-long action receiver is manufactured with a .645" .408/.375 Cheytac bolt face which is rapidly re-emerging as the cartridge of choice for extreme long range shooting beyond one mile with 325gr to 375gr projectiles.

SABER® bolt action receivers use several popular single and two stage M700 style triggers pinned directly into the precision cut trigger slot.  The receivers will also be packaged with the new T7T adjustable two stage trigger developed by David Tubb.  Ashbury actions are engineered to accommodate both 5rd and 10rd magazines depending on the model and are finished with a durable black Mil Spec coating.  The one-piece bolt is black Nitrided to provide years of smooth, reliable operation.

Ashbury will be exhibiting the new SABER bolt action receivers at the 2015 SHOT Show in booth #31407 in the Tactical/Law Enforcement Section.