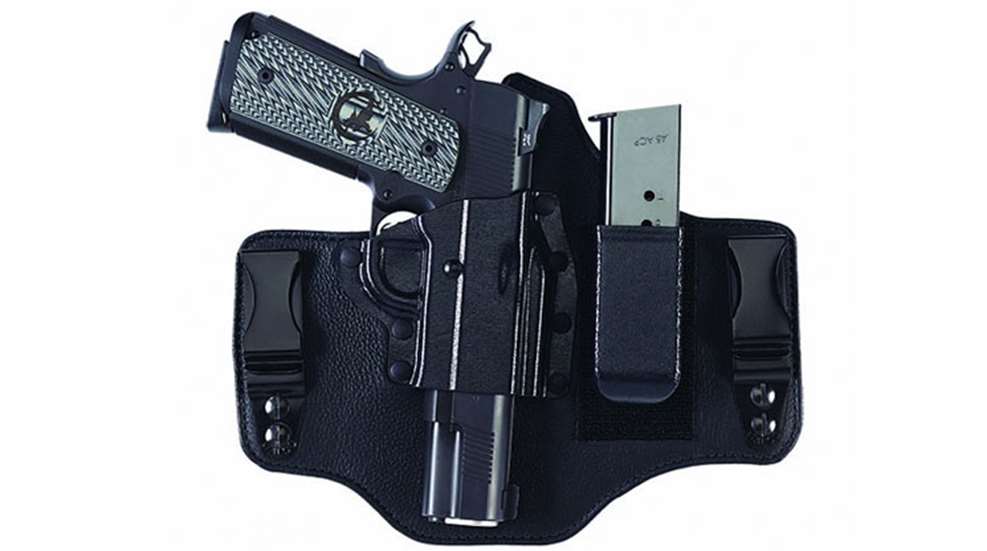 A hybrid of Kydex® and premium steerhide, the KingTuk 2 is a direct descendent of Galco's wildly popular original, patented KingTuk™.   The hybrid design provides the best of both worlds: a comfortable backing plate made of lined saddle leather with Napa leather front, combined with a rigid Kydex holster pocket for a fast draw and easy holstering. The KingTuk 2 adds a fully-adjustable magazine carrier that attaches to a Velcro® pad, keeping the pistol and spare ammunition together and readily accessible. The KingTuk 2's removable metal belt clips (fitting belts up to 1¾") can be moved up or down in the corresponding holes in the leather, enabling the user to set the carry height and angle to suit their unique preferences. Optional, interchangeable injection molded nylon C-Hooks offer an even lower profile on the belt, and enhance the KingTuk 2's already excellent concealability!   The KingTuk 2's suggested retail price is $89.95.
The CarrySafe is designed to allow safe and effective handgun carry in handbags, briefcases, messenger and bug-out bags, and innumerable other locations.   The CarrySafe concept is simple: an elasticized nylon holster attaches securely with Velcro® to a stiff leather backing plate. An adjustable metal clip on the backing plate allows the user to adjust the ride height of the holster to accommodate different bags and draw preferences. The Velcro holster attachment method allows infinite variation in holster angle. A reinforced thumb break retention strap offers excellent security with a fast draw. Multiple holster sizes allow the user to choose one that suits their particular handgun, from tiny .32s to small frame revolvers and even full-sized service pistols.   The new CarrySafe Accessory Carrier can be quickly and easily adjusted to fit a spare magazine, speed loader, speed strip, flashlight, pepper spray, and many other accessories.   The CarrySafe (including the Accessory Carrier) is available for right hand draw in black color with a suggested retail price of only $49.95. The Accessory Carrier is also available separately for $19.95.
Constructed of black steerhide, the Badge Holders are available in two sizes/shapes to accommodate either star or shield shaped badges.   The Badge Holders can be worn around the neck by threading the included adjustable chain through a pair of grommets. Alternately, they may be worn on the belt by using the attached injection-molded nylon clip, which fits belts up to 1 ¾". The Badge Holders retail for $16.95 each.