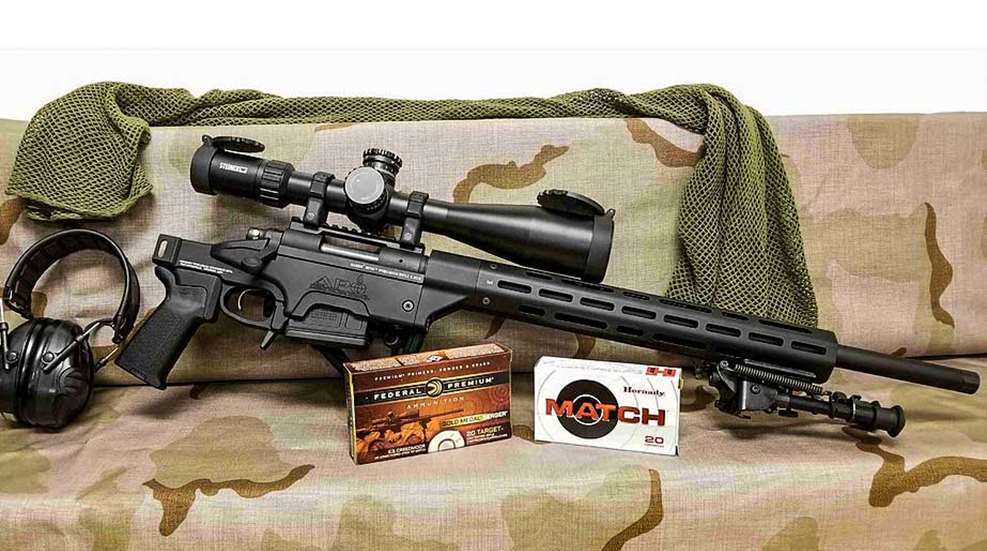 More than a few of us have been bitten by the long-range shooting bug recently. With an ever-increasing number of long-range competitions sprouting up, you don't need AP Calculus to figure out that the demand for quality, long-range-capable rifles is on the rise. If you light cigars off rolled up "hundos," or think money supplants range time, your options are limited only by your checking account. For the rest of us, our wallets are easily busted and every bit of value must squeezed out of every dollar spent on the sport.

Enter the Ashbury Precision Ordinance (APO) M700 Saber, a wallet-friendly rifle with high-dollar performance. Unlike most rifles at the $2,000 price point, the M700 Saber is not one your skill set with easily outgrow. Designed by APO to be highly modular and customizable, pretty much every piece of the Saber can be swapped out to meet the shooter's skill and/or specific needs WITHOUT requiring special tools or searching for a skilled gunsmith. A set of Allen keys and a torque driver is pretty much all you need to upgrade your rifle.


Finding that I had a knack for ringing steel several football fields away and loving the discipline demanded by long-range shooting, I decided I needed to go big and test myself at the Mammoth Sniper Challenge. Mammoth, is arguably the country's (if not the world's) toughest endurance test of both shooter and gear. There's no room in this review to adequately describe exactly what Mammoth is or what it does to a shooter, but suffice it to say if your rifle is less-than-stellar, you'll be spending a miserable and frustrating three days with nothing but blisters and a sore back to show for your efforts.

Though available also in a .308 Win. variant, I decided the softer-shooting 6.5 Creedmoor fit the bill for the challenge ahead. So with my caliber decision firmly made, my journey with the folks at Ashbury began. APO engineers and I discussed my shooting history and intended use, as well as my overall goals in long-range shooting. We eventually created a configuration that was suited perfectly for what would lie ahead.

Considering the extended conversations I had with the team, I assumed my "status" as a writer was garnering me a little extra attention. I soon learned, however, that this attention paid to the customer is standard operating procedure for APO. The team at the Virginia-based company love to talk about the minutiae of the engineering data, but moreover, they are high-level shooters and love to talk shooting. The numbers they crunch are also proven on the range. This translates into a deep well of experience and knowledge to help customers get a near custom rifle at "off-the-rack" pricing.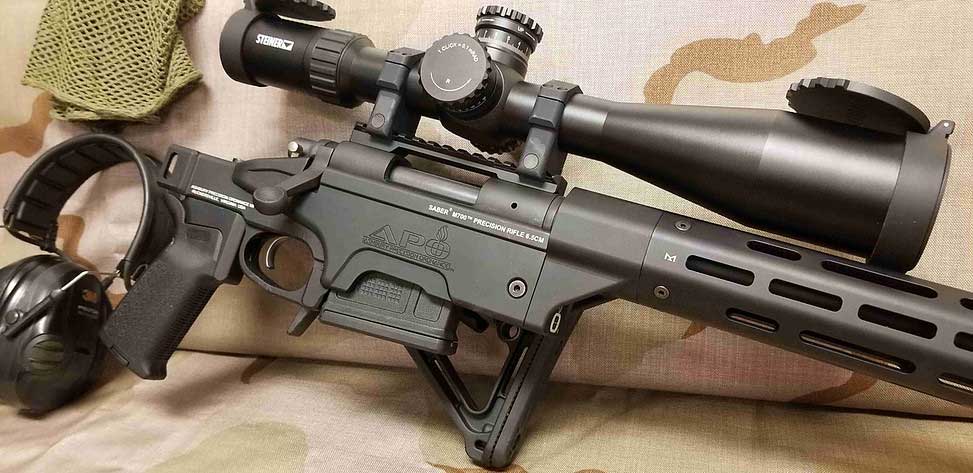 The Ashbury Precision Ordnance M700 Saber that eventually ended up on my doorstep and helped ease my way into my first long-range competition started off as a Remington Model 700 SPS Tactical AAC SD barreled action. Not just any Remington barreled action makes it into the Ashbury lineup. A strict quality-control process, performed in addition to Remington's, ensures only the best of the best actions make into a APO chassis. After selecting a barreled action, Ashbury does a little extra magic to sweeten up the performance.

The Saber comes in four pre-configured set ups; Precision Rifle, Tactical Hunter, Long Range Tactical Hunter and Sporter. I found myself behind APO's Precision Rifle configuration; the above mentioned barreled action floating inside an AR-inspired chassis, complete with Luth-AR MBA1, Magpul MOE grip and M-Lok compatible octagonal hand guard. A 20-MOA rail carried a Steiner optic.

The Luth-AR stock, made of lightweight polymer, is not only fully adjustable but lightweight; a critical feature for long rucks and backcountry hunts. Large knobs allow for the fine adjustment of cheek rest height and length-of-pull, even when wearing gloves. Fitted on an AR-type buffer tube, Large adjustments to overall length can be made by loosening a plunger-type detent knob and set screw. Conveniently enough, Luth-AR nestles the needed Allen key in the stock itself, so secure adjustments can be made even in the field.

One necessary change I felt I had to make on APO's factory set-up was something Ashbury didn't include. I immediately swapped out the Remington X-Mark Pro trigger for my go-to bang switch: A TriggerTech adjustable Remington 700 trigger. Being THE key interface between shooter and rifle, the trigger is a very personal choice and rather impose its will on a customer and increasing the cost, Ashbury keeps the stock Remington trigger. Some may like the solid, 5-pound pull of Big Green's X-Mark. My tastes lean toward the gentle snap of the TriggerTech adjusted to a 3-pound pull, which I feel is a good compromise between being light enough to avoid moving the reticle off the bullseye during a trigger pull and heavy enough to avoid a surprise shot while settling onto the target. Fortunately for other fans of TriggerTech triggers, APO is working on a factory offering in the future.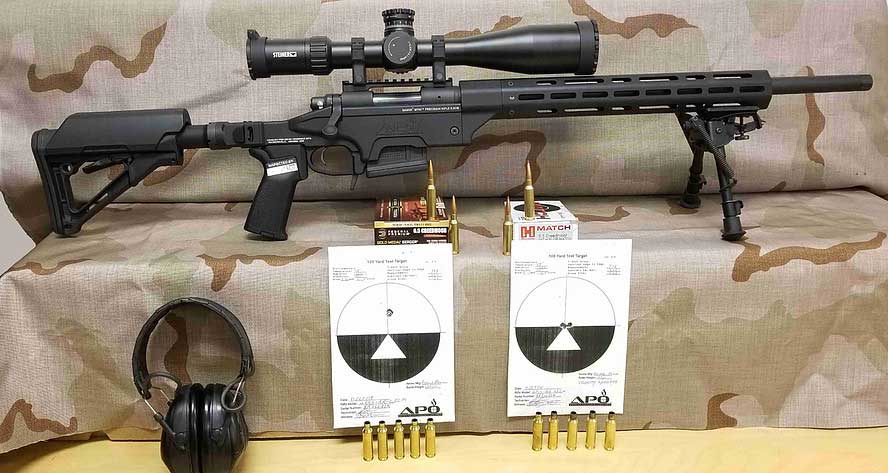 To round out the kit, I quieted everything with a Silent Legion Direct 5/8-24 TPI 6.5mm suppressor. The North Carolina company makes high-end silencers that dutifully reduce gun noise and protect hearing. At the top of the optics rail was a Steiner Optics MX5i 5-25x56mm scope.

It's common for reviews to include a table showing ammo tests measuring three-to-five shot groups the writer determined to be representative of that rifle/ammo performance. I may raise a few eyebrows, but I this approach tells little about the rifles long-term performance or accuracy. That being said, how can I convey just how well the APO M700 Saber does perform? I went straight to the source and ask the folks at Ashbury Precision Ordinance to prove the accuracy of the company's rifle.

For proof of performance, I challenged APO's engineers to shoot their best five-shot, 100-yard group with ammo they felt would perform the best and compare that to their best five-shot. 100-yard group with the ammo of my choice. They chose Federal Premium 130-grain; I went with Hornady 147-grain ELD match. A picture is worth a thousand words, and I've included photos of the test targets from both strings. Subtracting out the .264-inch diameter of the projectiles, the Federal Premium group had a vertical spread of .134-inch, while the Hornady's vertical delta (minus the .264-inch bullet diameter) came in at an amazing .042-inch. Both strings were shot by a former military sniper from the prone position. The rifle was supported only by a front bipod and rear squeeze bag.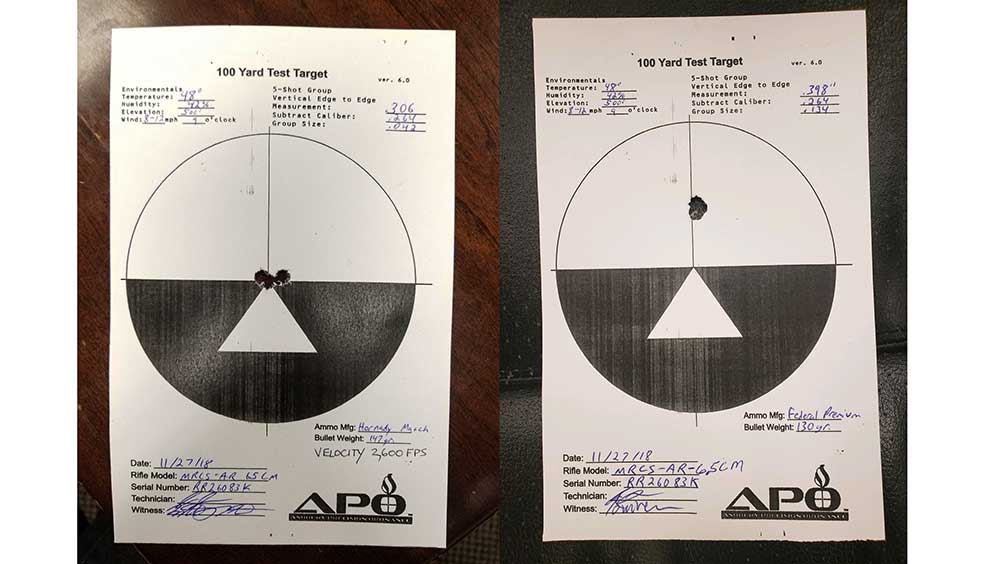 To sum up, this off-the-shelf rifle shot two back-to-back sub 0.2-MOA five-shot groups with two different weights and profiles of match-grade ammo. The shows nothing short of exceptional performance. The Ashbury Precision Ordnance M700 Saber's capability far exceeds my ability as a shooter and is a rifle that holds a permanent spot in my safe. For the new long-range shooter or the budget-minded competitor, the Ashbury Precision Ordinance M700 Saber proves a high-performance rifle can be gentle on the wallet. So, what we have is an exceptional rifle that leaves you with enough in you pocket to get a high-end optic. Who would want more than that?