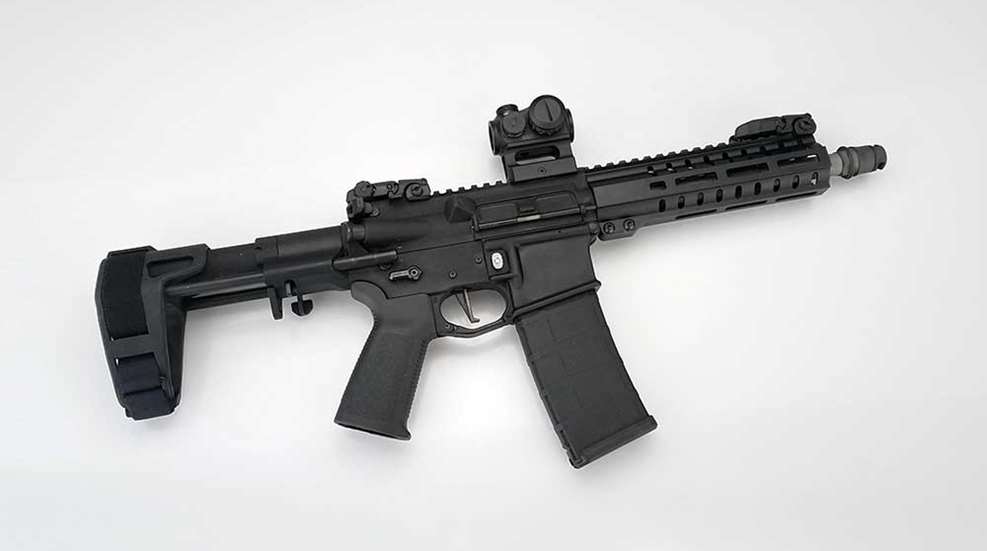 We've built a rifle. We've built a carbine. We've even built a super-lightweight carbine. Now, it stands to reason, we need to build an AR-15-based pistol. Since we're seeing a relaxation of the near-decade-long rush on parts, now is an excellent time to put together a top-tier AR-based firearm at a reasonable price, and AR pistols, while not as hot as they were a few years ago, are still in high demand.

Pistols chambered in 5.56 NATO are certainly not new; we've profiled the Bushmaster Arm Pistol in our "Classics" column, and the sidearm dates to the early 1970s. AR-15-style pistols have been around since the early 1990s, with or without buffer tubes, and while they may have initially garnered a reputation as a range toy or novelty, they've come into their own as materials and ammunition have matured.

It seems any time a firearm strays outside its "lane" there are those just waiting to criticize. Pistol-caliber carbines? Why bother? Rifle-caliber pistols? Too slow and inaccurate when compared to full-size rifles. Sometimes, though, you just have to go ahead and do something just because you want to, and that's a perfectly valid reason in and of its own.

We did learn quite a bit with this build. When originally configured, with a standard buffer, it functioned well with heavier-weight bullets (70+ grains), but struggled with lighter fodder. Often, it would fire a round and fail to pick up the next round in the magazine. Trial-and-error (and talking to co-workers who had already climbed this particular mountain) revealed that the short barrel didn't yield enough pressure with the fast-moving bullets, so a heavier buffer was in order. Brownells kindly sent in an H3-version buffer that slowed the bolt sufficiently to successfully load 62- and even 55-grain .223 Rem.

At a recent shoot with friends, the pistol was passed back and forth for folks to try, and one thing was certain: the SIG Sauer muzzle brake throws an impressive amount of flame out of an 8.5-inch barrel. It works quite well at dispersing the flash, and down the road, should the pistol be fitted with a suppressor, will make mounting one quite simple. It's also quite accurate, with 100-yard shots on an 8-inch steel plate quite achievable. The light CMC trigger press and accurate V7 Weapons System barrel certainly contribute to the pistol's prowess on the range, and highlight why spending a little more for quality components is worth it in the long run.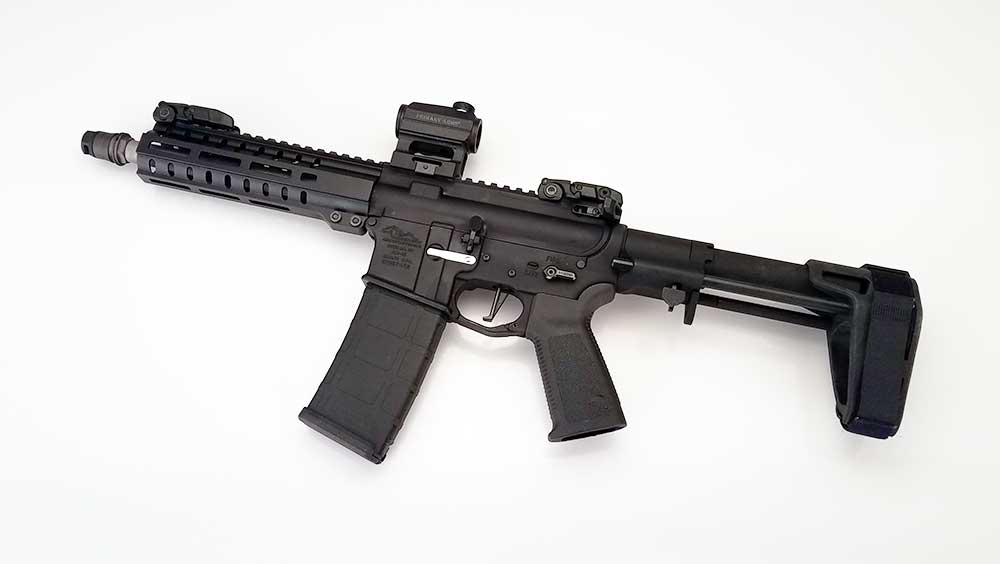 Here's the breakdown on components and cost:

Lower Parts:

Anderson stripped receiver: $57.53 (purchased for $35)
SB Tactical SBPWD Pistol Brace: $299
CMMG lower parts kit: $64.95
Timney Ambidextrous Safety Selector: $65.95
Xtreme Precision Stainless Parts kit: $13.99
Xtreme Precision polymer trigger guard: $7.99
Ergo AR-15 MSR pistol grip: $18
CMC Trigger tactical AR15/10 trigger group: $195.99
Brownells Carbine H3 buffer: $39.99
Brownells Carbine buffer spring: $4.99

Total Lower cost: $768.38

Upper Parts:
Yankee Hill Machine complete upper receiver: $126.25
Brownells Black nitride bolt carrier group: $89.99
Blackhawk Charging handle: $39.95
CMMG M-Lok 7-inch handguard: $169.95
V Seven Weapons Systems 8.5-inch match-grade barrel: $310 (includes pistol-length gas tube and gas block)
SIG Sauer SRD556 Taper-lok muzzle brake: $75

Total Upper Cost: $811.14

Total Pistol Cost: $1,579.52

Now, yes, this is a rather pricey total in the days of sub-$500 AR-15s, but there are myriad upgraded components in this price. An adjustable brace, improved trigger and top-shelf barrel do bring the total cost up, but are well-worth the investment. A less-expensive handguard could save cash, but CMMG's M-Lok allows accessories to be attached while maintaining clean lines. Besides, this is something you build because you want to, right? Why not have it exactly as you like?