by
Evan Brune, Associate Editor, Shooting Illustrated
posted on August 15, 2018
Support NRA Shooting Illustrated
DONATE
Ten years ago, if you walked up to an enthusiast at a gun show and told them that in a decade's time, "affordably priced" AKs would be selling near $1,000 while mil-spec AR-15s could be had for a few hundred bucks, you'd be laughed out of the county fair cow barn. In fact, only a few short years ago, SI Staff put together a similar round-up that
highlighted 10 AR-15s under $1,000
as bargains. Fortunately for the consumer, an ever-growing number of AR manufacturers are offering more affordable rifles than ever before.
In this roundup, we'll be including the manufacturer's suggested retail pricing along with real-world pricing (circa August 2018) seen on in-stock guns at popular firearm retailers like
Primary Arms
,
Palmetto State Armory
,
Bud's Gun Shop
,
Cheaper Than Dirt
and
Sportsman's Guid
e. So, without further ado, here are 10 bona-fide AR-15s that can be had under five bills. For that, you'll get a fully functional rifle, each with its own set of unique features: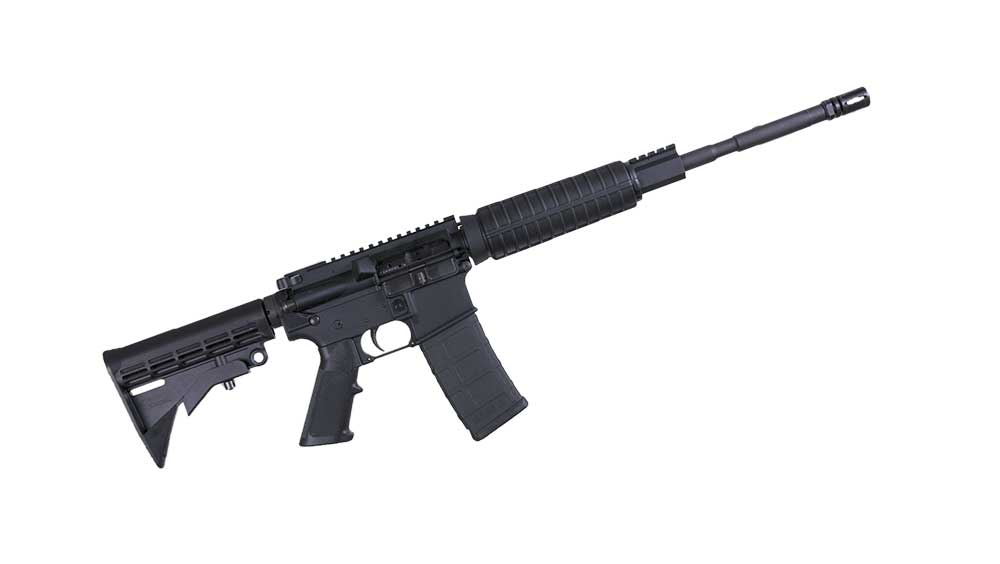 Anderson Manufacturing AM-15
Suggested Retail: $616.95
Street Price: $449.99
Anderson Manufacturing is probably best-known in the AR world for its collection of affordable, stripped lower receivers, which are great starting points for AR builds and can be had for under $50 apiece. However, the company also offers a line of complete rifles, and the entry-level model is the company's AM-15 Optic Ready. Unlike many other entry-level rifles, this model does away with the traditional A2 front-sight gas block in lieu of a railed gas block that allows owners to add the optic of their choice. Other features include a standard M4-contour barrel, as well as an A2 handguard, pistol grip and a mil-spec collapsible stock.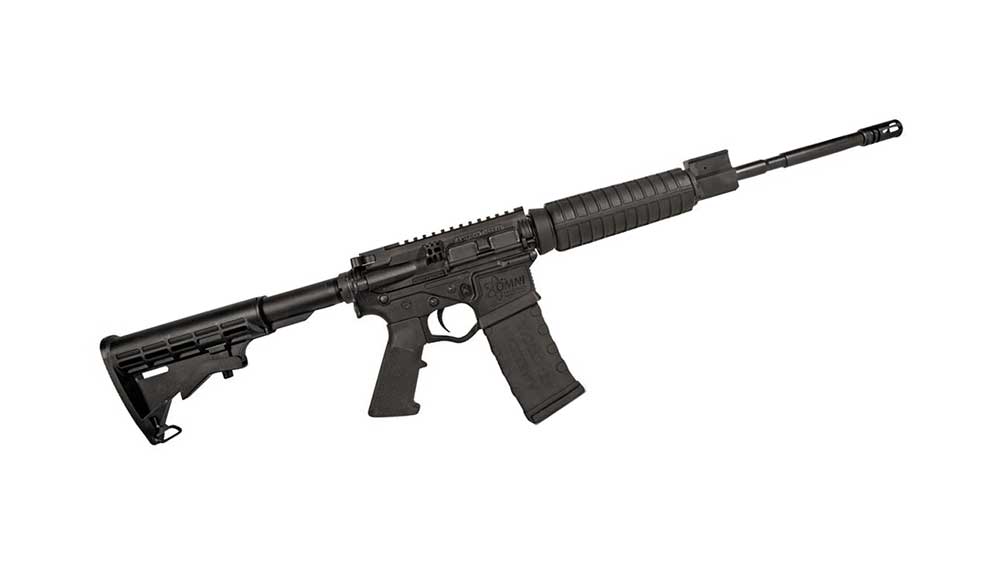 ATI Omni Hybrid Maxx P3
Suggested Retail: $449.95
Street Price: $399.99
Like the Anderson AM-15, the Omni Hybrid Maxx P3 from American Tactical Imports also features a railed front-sight gas block along with all the A2 trimmings and a standard collapsible stock. However, where the ATI model differs is in the construction of the lower receiver. Unlike the Anderson's forged-aluminum design, the ATI Omni rifle is equipped with a metal-reinforced polymer upper and lower receiver. The metal reinforcement is located in critical stress areas of the receiver, but low-stress parts of the rifle are constructed from molded polymer, which reduces the overall weight of the gun substantially over similar metal-framed models.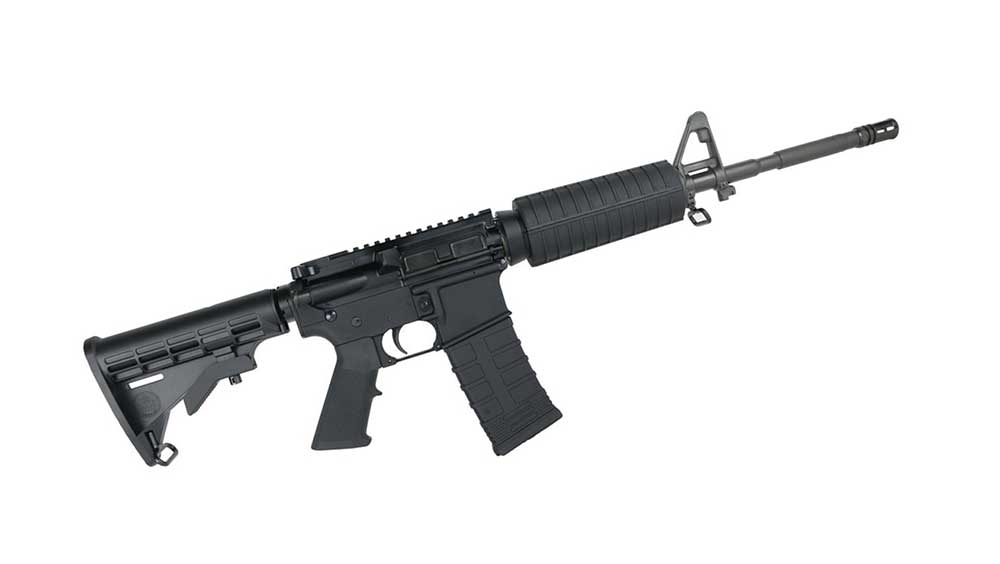 Bear Creek Arsenal Brown Bear II
Suggested Retail: $599.90
Street Price: $429.99
Bear Creek Arsenal offers what is the classic M4-style AR-15 for enthusiasts. The 16-inch barrel features a standard 1:7-inch twist rate and is surrounded by the classic Delta-Ring handguard and A2 front-sight gas block. Other A2 elements include the pistol grip and birdcage flash hider, and the rifle ships with a classic six-position stock. One feature that does make the Brown Bear II stand out is its chambering. Rather than a standard 5.56 NATO chamber, this rifle is equipped with a .223 Wylde-cut chamber, which allows the rifle to not only shoot both 5.56 NATO and .223 Rem. but also take advantage of the inherent accuracy available with .223 Rem. match-grade ammo offerings.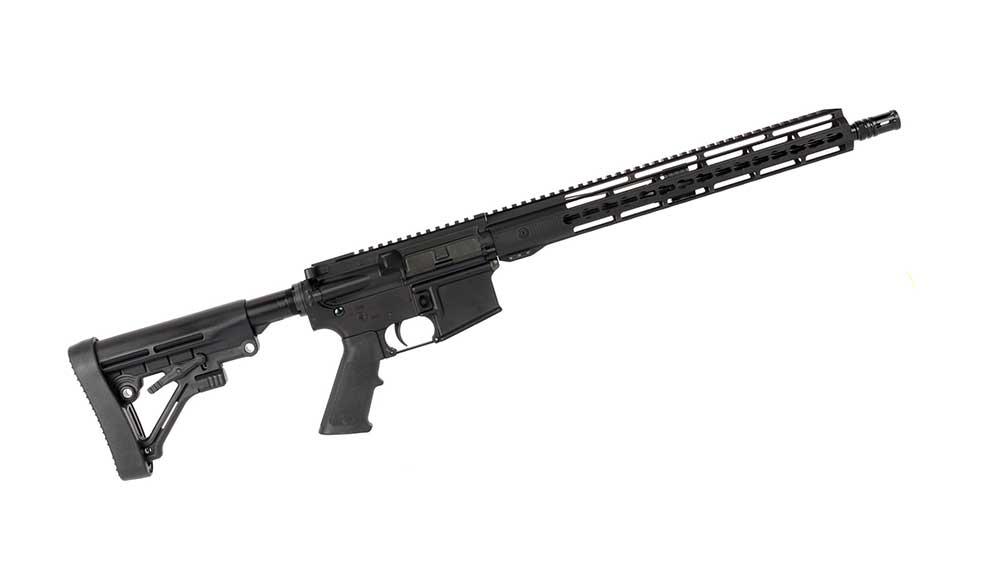 CBC Industries Gen 2 KeyMod
Suggested Retail: $499.99
Street Price: $498.77
For a few bucks more than our earlier offerings, we can move away from mil-spec offerings and jump into rifles that have a few added features that aren't tied to the stylings of the affordable A2. This Gen 2 rifle from CBC Industries is equipped with a lengthy, KeyMod-compatible handguard that allows for added flexibility in attaching accessories using KeyMod-compatible rail segments or direct-attachment devices. Like the Bear Creek Arsenal rifle, this CBC Industries offering is also equipped with a .223 Wylde chamber and features a 1:8-inch twist rate. Other elements include the company's own adjustable-stock design and pistol grip.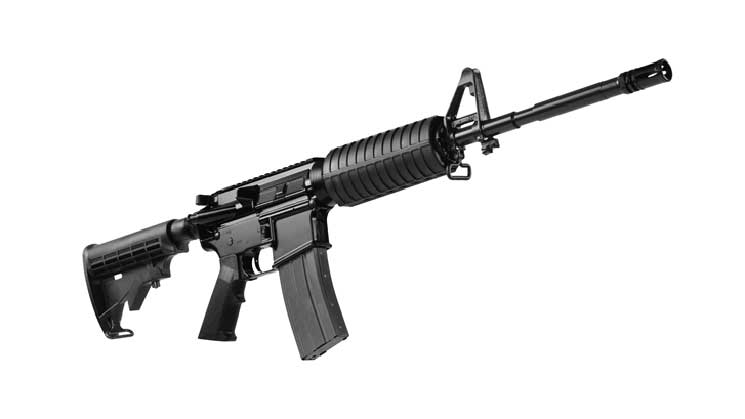 Del-Ton Echo 316
Suggested Retail: $753.42
Street Price: $440
Heading back down into the realm of A2, we have this classic offering from Del-Ton. Unlike some of the other companies on this list, Del-Ton is more recognizable as an AR brand, so we could call this the first "name-brand" option available in this collection as of yet. If you're in the market for a no-frills AR built on standard, mil-spec components, look no farther than the Echo 316. Everything on this rifle is as standard as standard gets, from the chrome-moly barrel with a 1:9-inch twist rate to the 5.56 NATO chamber to the Delta-Ring CAR handguard. Both the upper and lower are made from forged 7075 TC aluminum and are treated with a durable hard-coat anodized finish.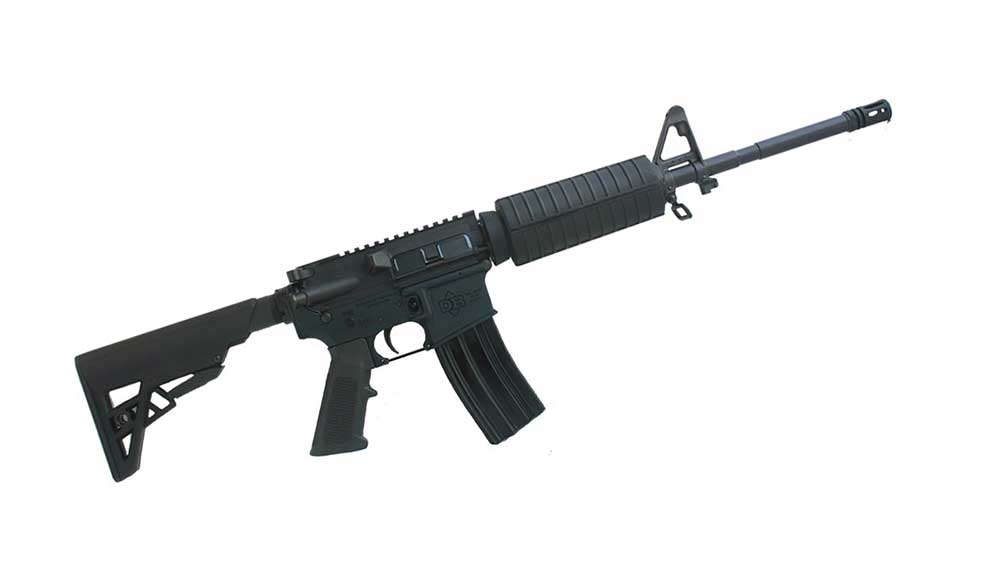 Diamondback DB-15
Suggested Retail: $679.99
Street Price: $489.24
This rifle flirts a bit with our $500 ceiling, as the gun can sell $10 to 20 on either side of $500, depending on who's running a sale or not. Suffice it to say, this is certainly an entry-level AR we're comfortable with saying you can grab under $500 at the right moment, provided you're patient about it. What do you get for your money? Most of the rifle is outfitted in a standard configuration, ranging from the A2 birdcage flash hider to the A2-style pistol grip. The rifle is chambered in 5.56 NATO and features a standard M4-profile barrel with a 1:8-inch twist rate. One stand-out element is the addition of an ATI Strikeforce stock, offering a step up from the mil-spec collapsible stock options that litter this list.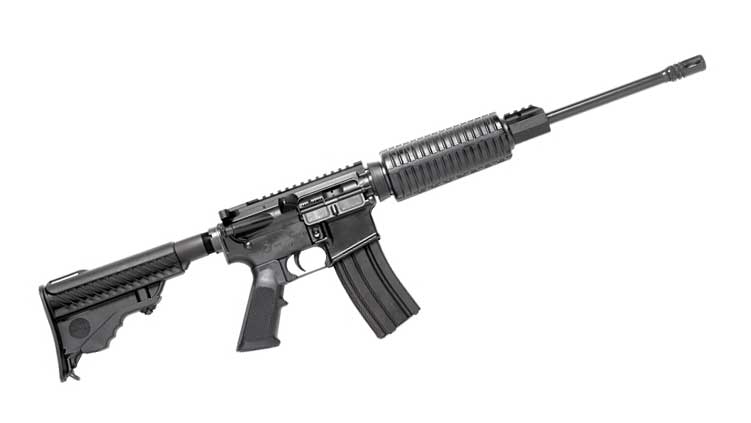 DPMS Oracle
Suggested Retail: $739
Street Price: $469
The DPMS Oracle stands out as probably the most-recognizable AR brand in our roundup, and the company has offered affordably priced ARs for years, meaning that many entry-level guns currently owned by AR aficionados probably bear the DPMS rollmark on the receiver. In the Oracle, though, DPMS has offered what it contends is its "best value yet." MSRP is one of the highest on the list, but it's clear that's not stopping this rifle from selling well below the $500 mark. Is it a deal? Well, there are some stand-out features, like the lightweight-profile barrel and the company's own Pardus collapsible-stock design attached to a commercial buffer tube. Also included is a railed gas block instead of an A2, and the gun is chambered in 5.56 NATO.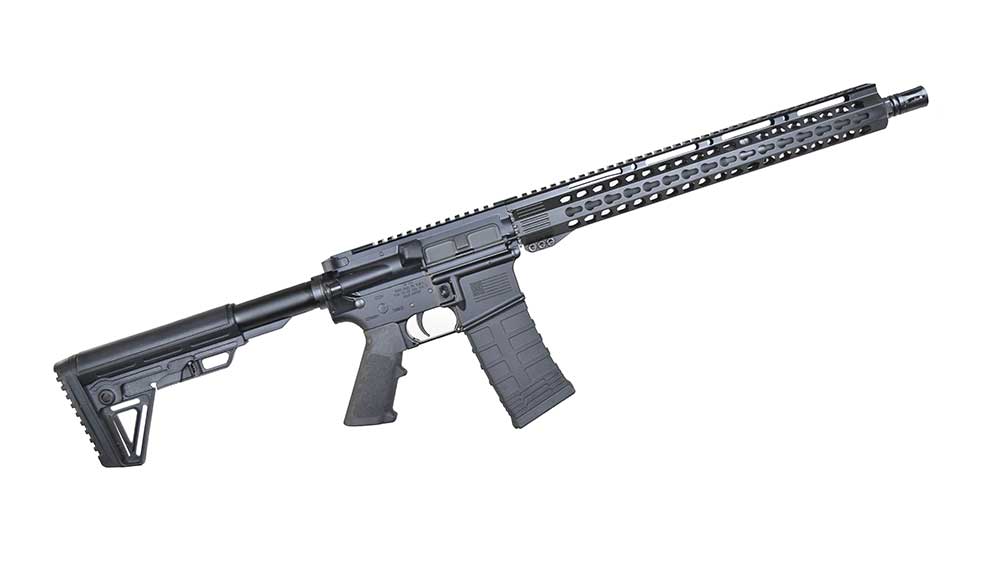 I.O. Inc. M215-KM15
Suggested Retail: $577.99
Street Price: $475.19
Another step away from the A2 platform is the M215 from Inter Ordnance, offering an AR outfitted with a full-length KeyMod-compatible, free-float handguard built on mil-spec receivers machined with a Picatinny flattop rail designed to allow for optics mounting. Chambered in 5.56 NATO, the rifle is equipped with a 16-inch barrel complete with a 1:8-inch twist rate, which is designed to run a wide spectrum of bullet weights. The overall weight of the gun is 6.3 pounds, and the gun is treated with a hard-coat anodized finish. Additionally, the gun is equipped with an adjustable stock design made by I.O. Inc. itself.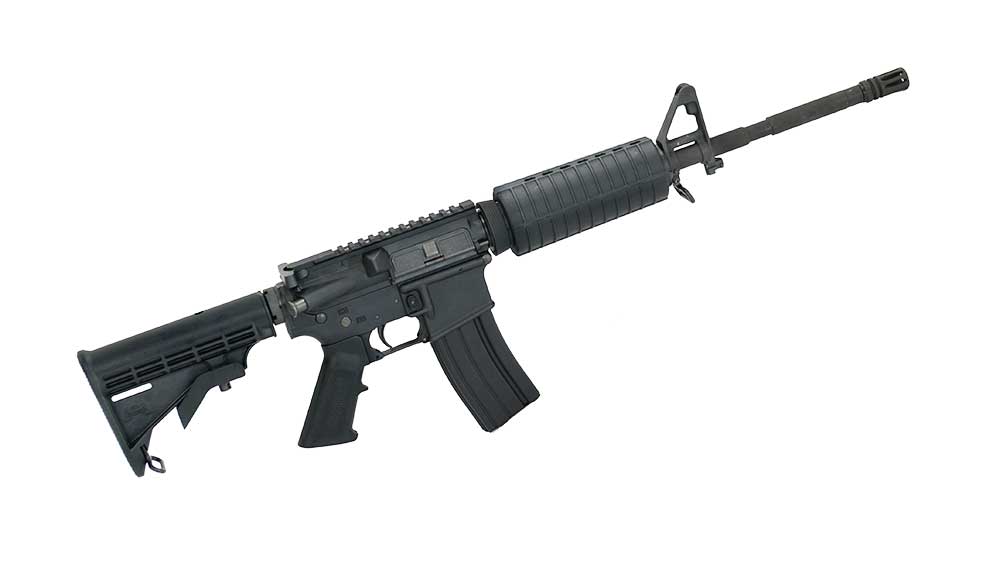 Palmetto State Armory Freedom Rifle
Suggested Retail: $599.99
Street Price: $449.99
Palmetto State Armory has long been a go-to source of budget-priced components for those looking to build their own AR, and for those who'd like the experience of assembling a rifle,
SI Staff detailed the assembly and performance of a Freedom Rifle build kit here
. However, for only $50 more, consumers can have their own fully assembled gun shipped to the FFL dealer of their choice with the complete PSA Freedom Rifle. The gun is a no-frills, A3-pattern receiver design complete with an M4-profile chrome-moly barrel and handguard and an A2 front-sight gas block and pistol grip. The flattop upper allows users to choose the rear sight of their choice or mount a co-witnessed red-dot sight. Other features include an M16 bolt-carrier group machined from Carpenter 150 steel and an M4-style collapsible stock.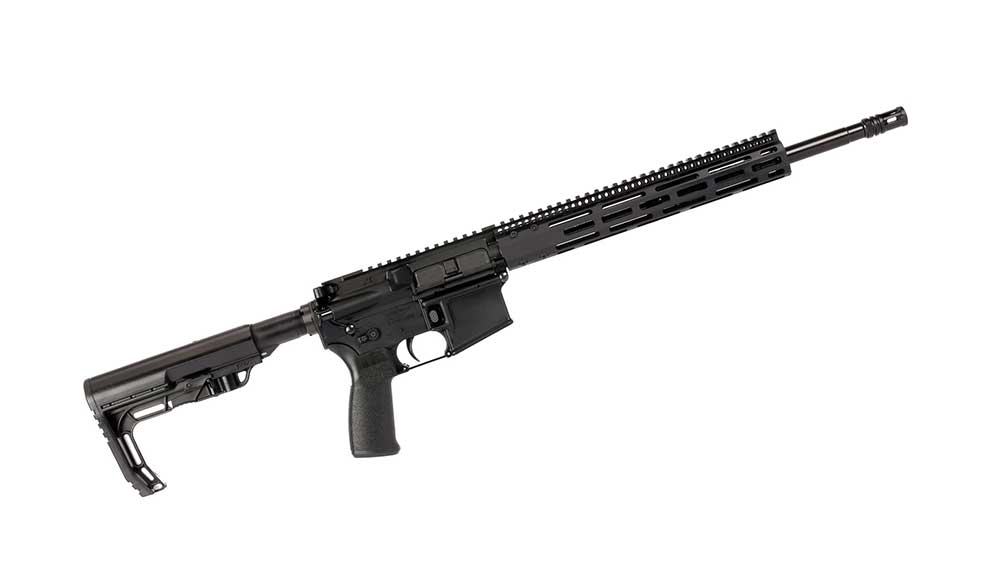 Radical Firearms RF-16
Suggested Retail: $555.95
Street Price: $479.99
In its RF-16 lineup, Radical Firearms has an interesting option that can be found in several different configurations. This particular model is equipped with the company's 12-inch FCR handguard, a free-float design compatible with M-Lok attachments. The company offers several different handguard lengths, so you'll see variations on the market. The rifle also includes some upgraded touches, like a collapsible Minimalist stock and pistol grip from
Mission First Tactical
, as well as an ambidextrous selector switch, billet magazine release and bolt catch of Radical's own design. The rifle also differs from many designs on this list in that it's built with a mid-length gas system instead of a carbine-length, which reduces felt recoil and also cuts down on internal-component wear from overgassing.
Together, all of these rifles comprise some of the most affordable AR-15s on the market today. If you aren't an owner of America's most-popular rifle platform yet, one of these options are a great entry point into the AR world, offering a a basic starting point on a budget. Fair warning, though. If you buy one, the next rifle won't be far behind.