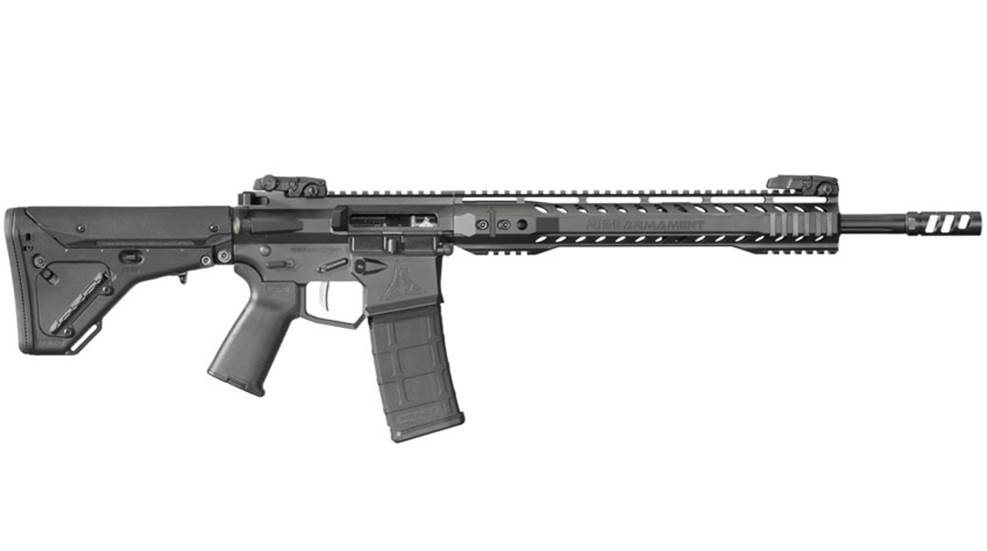 Rise Armament, out of Broken Arrow, OK, is one of the many relatively small, relatively new companies making AR-based rifles in what had been a burgeoning market. The company started off as a government-contract manufacturer in the aerospace industry before  straying into gun components. That history meant the company had serious credentials in manufacturing and also that it was used to meeting the exacting demands of the aerospace sector. Rise eventually began building complete AR rifles and now occupies a niche at the high end of the AR spectrum.
The company's top-of-the-line tactical AR is the RA-350 T Series. Rise essentially takes all of its premium tactical components and combines them into this one rifle. We recently received one for testing and evaluation.
Right out of the hard case, the RA-350 T Series impresses as one good-looking piece of gear. It is sculpted. The receivers, handguards, barrel and muzzle brake all have unusual, angular contours. This look is enhanced by the Magpul UBR stock, which itself is highly distinctive, but works well visually with the RA-350 T.
Our gun came in basic black, but the model is also available in Black/Red, Black/Silver, Foliage Green and Flat Dark Earth. Details, like the company's name and scorpion logo, were bold yet tasteful and well-executed.
The gun itself is heavy. There is a large and vocal faction of the shooting community that prizes—to excess—light weight. While I insist on that in EDC pistols, it is an overrated virtue in civilian rifles (hunting or the Zombie Apocalypse notwithstanding). Realistically, this rifle will be carried from home to truck and from truck to range. Tactically, it may be used for home or civil defense. And whether target shooting or defending the homestead, some recoil-absorbing mass that both increases comfort and keeps you on target, is welcome. The RA-350 T weighs 8.25 pounds without scope and was, consequently, a real pleasure to shoot, even by already soft-shooting .223 Rem./5.56 NATO standards.
Some weight may also be attributable to the frequently expressed Rise Armament design goal of durability. In the event of a Zombie Apocalypse (or other extended civil disturbance), durability would be far more important than light weight, as firearm maintenance or repair would likely be difficult, if not impossible.


Select components in the RA-350 T are numerous and impressive. The fluted, 16-inch barrel is air-gauged and fabricated from 416R stainless steel. Rise touts its profile as having been determined for accuracy, durability and heat dissipation. A chamber cut to .223 Wylde maximizes functionality with both .223 Rem. and relatively higher-pressure 5.56 NATO ammunition.
Slim and comfortable, 13.5-inch handguards dispense with the excess of rails that plagued new ARs not too long ago. There is plenty of space to mount almost anything you really need, from lights to lasers to rangefinders, though a vertical or angled foregrip might be problematic. What's particularly nice about these handguards is they taper in at the middle and provide a small-circumference grip that lends a sense of control in addition to fitting more hand sizes.


This rifle uses Rise's Ripper billet upper and lower receivers. CNC-machined from 7075-T6 billet aluminum, they feature milled pockets to control weight; Type III, Class 2 hardcoat flat black anodizing; are mil-spec component-compatible and manufactured to AS9100 aerospace standards, which exceed those of the firearm industry. The upper incorporates a Picatinny rail while the lower features a flared mag well and oversize trigger guard.
The bolt-carrier group (BCG) is black nitrided and each bolt is individually MPI tested, while the carrier is heat treated and case hardened.


Perhaps the star of the show is Rise Armament's RA-535 Advanced-Performance Trigger (APT). A single-stage unit made from CNC-machined, heat-treated tool steel and aluminum, it is factory set to break right at 3.5 pounds, which is exactly what ours did. Its virtues include short reset, crisp release and a contour that is nearly flat, but ever so slightly curved, seemingly offering the benefits of both styles.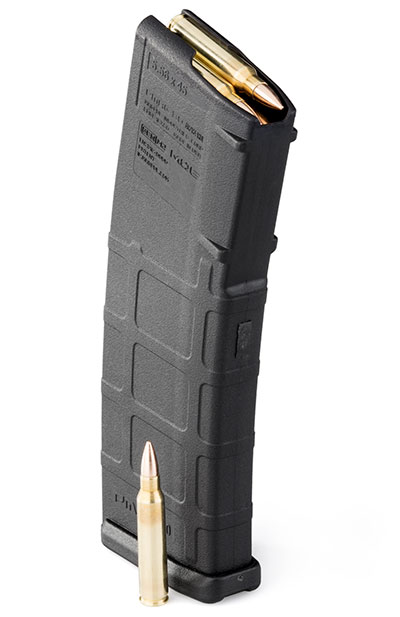 Another component that merits particular note is the RA-701 compensator. The black-nitrided, 416 stainless steel brake has three vertical slots combined with five ports on top. The bottom is solid as not to allow gases to blow up dust. Combined with the rifle's heft, the effective RA-701 unit makes the RA-350 T a very easy AR to get back on target in a hurry. Rise Armament asserts the RA-701 reduces muzzle rise by 50 percent. We don't doubt it.
At the range, our positive impressions were confirmed by the rifle's performance. It favored heavier bullets, but produced adequate accuracy with lighter ones, too. The rifle reliably fed, fired and ejected a variety of loads in both .223 Rem. and 5.56 NATO. All controls operated smoothly and positively, without too much—or too little—pressure.
Overall, the RA-350 T Series proved to be a very well made, solid rifle, and a handsome one, to boot. With the buyer's market in ARs right now, you can either buy multiple low-end rifles and hope for the best, or a premium AR that you can really get to know, one that you may not have been able to swing in the past or in an uncertain future, and that should keep humming along for a very long time. We know what we'd do.