The subject of firearm finishes is an extensive one, and given the plethora of options out there ranging from tried-and-true bluing/Parkerizing do-it-yourself products, to companies offering multi-purpose proprietary coatings the subject can be as daunting, if not intimidating.
Fortunately, I came across an article many years ago in "Combat Handguns" magazine by Chuck Taylor, an accomplished author, gunwriter and founder/director of the American Small Arms Academy. In it he suggests the most important criteria for a finish is that it must be, "…appropriate for both your mission and [the] natural environment in which the weapon is to be carried and utilized." In addition to discussing the pros and cons of tried-and true finishes like bluing and Parkerizing, he also discusses other alternative finishes worthy of consideration, including those of Bear coat, Metalife Industries, and The Robar Companies. (Taylor makes some salient points and his recommendations are spot on, not to mention worth the read.)
Since the article was originally published, many other offerings are available today. Products like Cerakote, which is not only durable, relatively inexpensive, available in a wide array of colors. There's also the uber-hard FailZero by UCT Coatings, combining nickel boron with mil-spec components.
While I can appreciate the DIY aspect Cerakote offers, the popular product is better-suited for the advanced amateur gunsmith, of which I don't consider myself, because I don't have access to critical tools such as a blasting cabinet or an oven for the curing process.
Since I plan on carrying the 1911s I'm building for personal protection, selecting a high corrosion-resistant finish was of key importance, but many of today's coatings/finishes offer other useful properties. For example, according to its website, "Robar's NP3 finish is an electroless nickel-based finish for steel, stainless steel and aluminum alloys that co-deposits sub-micron particles of PTFE (polytetrafluoroethylene), otherwise known as Teflon, with electroless nickel." NP3 permits firing for longer periods of time between cleaning, dirt and powder residue have no wet or oily surface to cling to. When cleaning is required, the effort needed is minimal – usually requiring only a soft cloth. NP3 is very corrosion resistant. It provides a high lubricity and low friction co-efficient, greatly increasing the life expectancy of a firearm due to reduced friction wear."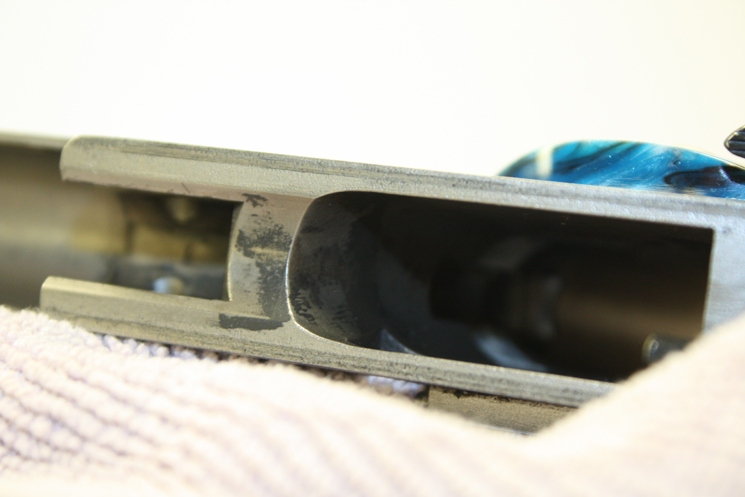 Similarly, FailZero involves a coating technology named EXO. According to Kuleck and Oldham, "EXO is hard…Because of the crystalline nature of Boron Nitride, the Koop hardness is the standard by which EXO is measured. There is no direct correlation between Koop hardness and Rockwell hardness, EXO is probably up in the 70s on the Rockwell "C" scale...EXO is 40-percent more wear-resistant than hard chrome…Further, EXO rejects fouling, so that the EXO-coated parts could be wiped clean with a rag rather than scrubbed with a solvent-laden brush."
Both FailZero and NP3 won't corrode and require little to no oil, making them ideal for a hard-use/hostile-environment pistol. Metal surfaces coated in FailZero and NP3 feel smooth to the touch,, "…as if the surface is covered in lubricant. But, it's not. It's dry, but it feels as though it should be wet."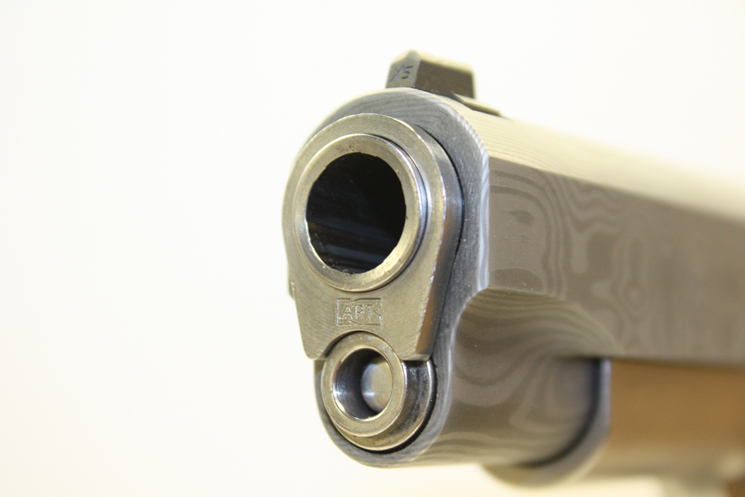 In the end, being the owner of a Robar-customized 1911, I'm been familiar with the merits of NP3 and Roguard first-hand, so the choice to pair the Commander's Damascus slide with an NP3-coated frame was pretty straightforward, and proved aesthetically pleasing. The combination of electroless nickel and Teflon also offer a practical component in that it makes cleaning/maintenance a snap—to the tune of being able use a cloth to wipe away several hundred rounds worth of fouling. That—in conjunction with NP3's high lubricity and its low-friction co-efficient—make the finish an ideal choice for a personal-protection pistol. I decided to have the pistol's thumb safety, magazine release, slide stop and mainspring housing pin coated in Roguard, which in addition to being equally corrosion resistant, offered an elegant contrast.
Though I have yet to select a finish for my Essex frame Government Model build yet, I can easily see any of the aforementioned finishes being used in future builds.

In the final entry the pistol we'll see how my build performs using Shooting Illustrated's accuracy protocol.