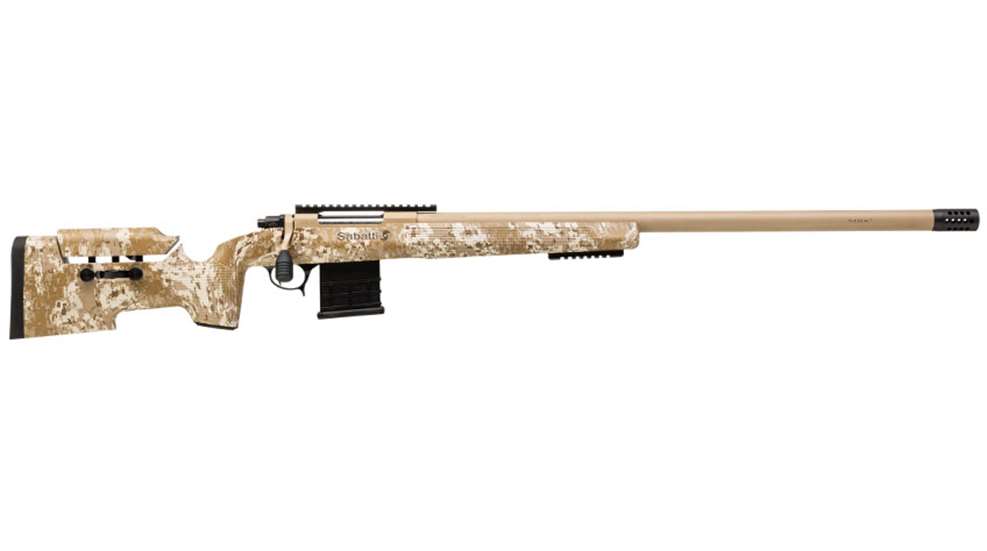 The Sabatti Tactical Desert rifle was adapted specifically for American shooters by the company's importer and direct U.S. representative, Italian Firearms Group (IFG). The test sample was chambered in 6.5 Creedmoor, but it's also available in .308 Win. It wore a beefy 28-inch barrel with an outer diameter of 1.1 inches just behind the muzzle's 5/8x24 tpi threads. A desert-digital-camo stock pattern nicely complements the FDE-Cerakoted barrel and action. The buttstock—built in-house by Sabatti—will feel very familiar to McMillan A3-5 and A5 stock users. The cheekpiece's 1-inch height range is adjusted by loosening a pair of friction knobs. Unfortunately, no left-hand option is planned for this rifle, so southpaws will have to work around those right-side-mounted knobs.
The test rifle shipped with a seven-round, AICS-pattern, single-column magazine. A .36-inch-long mag-release lever hangs off the front of the rifle's trigger guard and is actuated by pushing it toward the magazine body. The bottoms of the fore-end and buttstock toe are each flattened for steady bag support and a seven-slot Picatinny rail section is attached for bipod mounting up front.
The Tactical Desert's Sabatti-built, long action cocks on opening and uses a two-lug bolt with a spring-loaded ejector and hinged extractor. An oversize tactical knob is threaded to provide some modularity. The bolt release is hinge-pinned into the left side of the action. A two-position safety, located at right/rear of the action, allows bolt manipulation in either position. A full 7.375 inches of sloped 20-MOA Picatinny rail rides atop the receiver, secured by a quartet of T15 screws. Once the action is out of the stock, the rifle's single-stage trigger may be adjusted for pull weight. My test unit broke crisply at 2 pounds and needed no further adjustment.


Removing the Tactical Desert's action revealed a surprise: This rifle has no form of bedding whatsoever—not even pillars to solidify the action/stock union. IFG's representative informed me that Sabatti did not feel bedding was needed due to the stock's rigidity. An integral .395x1.055-inch recoil lug seats into the stock's recoil-lug recess in the usual fashion. The test rifle showed signs that the recess had been sanded to allow a somewhat customized fit. The manufacturer instructs that the T25 action-screw torque be set around 7 newton meters (Nm) and the rear guard screw set around 6 Nm. That translates to approximately 62 and 53 inch-pounds, respectively. Those figures can be varied slightly to try for better accuracy, but I was advised to keep the action screw at least .5 Nm tighter than the guard screw. I settled on 7 Nm and 6.5 Nm for my torque settings.
Sabatti's use of Multi Radial Rifling (MRR) in its hammer-forged barrels is another interesting feature. MRR uses different radii to help ease the projectile into the barrel's rifling so the two are more uniformly aligned. Sabatti claims several benefits to its MRR system, including less fouling, better velocities, decreased wear and increased accuracy.


I headed to the range with three good factory loads to test the Tactical Desert on paper. The rifle handled exceptionally well, due in no small part to both the extensively ported brake and heavy barrel. Felt recoil was virtually non-existent, and minimal movement allowed for easy follow-through. Firing off of a bipod and rear bag, I was able to group well with each of the loads tested. While my overall group averages were exceptionally good for an off-the-shelf rifle at any price point, they would have been better if I had not blown at least one group per ammo type. Each of the three largest groups included a shot that I was able to call as my own fault. Even so, of the 40-plus rifles I have tested for Shooting Illustrated over the past decade, Sabatti's Tactical Desert had the best group-size averages by a wide margin.
My test was not completely without hitches. None of the three polymer magazines used dropped free when empty, but this was not a big issue. The other problem was severe, and turned out to be entirely my fault. Nearly every spent case failed to fully eject on cycling. I contacted IFG after my test to report the problem—assuming it was caused by the extremely stiff ejector and/or a weak extractor—and proceeded to receive a very polite education.
I have been shooting turnbolts since the sixth grade and somehow have managed to avoid ever having my scope mounts knock brass back into the actions, yet that is exactly what happened. After changing the mount's position on the top rail as instructed, all ejections were clean and positive.
So what about those MRR barrel claims? Accuracy was excellent and post-range cleanup was quick and easy, but muzzle velocities were lower than I would have guessed. I used a proven chronograph, but was unable to drop true at longer ranges to confirm the data. Just to be sure the chrony was not the problem, I followed up by shooting the same factory loads through a rifle with a 22-inch barrel. The difference  between guns ranged from 25 to 50 fps among the ammo types; within normal ranges for the shorter barrel.
Aside from my shooter-induced ejection problems, the rifle came through this test with flying colors.