Support NRA Shooting Illustrated
DONATE
Finnish craftsmen and manufacturers have long been associated with high-quality, accurate armaments. Initially formed to repair and refurbish surplus Mosin-Nagant 1891-pattern rifles, Sojeluskuntain Ase- ja Konepaja Osakeyhtiö, better known (and pronounced) as SAKO, has an interesting history of ups, downs, ownerships and odd products since its official beginning in 1921. Throughout that time, the company has managed to keep its eyes on the manufacturing of accurate rifles and first-rate cartridges. From the point of Beretta's acquisition at the turn of century to the present, SAKO has enjoyed steady growth.
My first serious look at the company's products came nearly two decades ago, in the form of a .338 Lapua Mag.-chambered TRG 42 sniper rifle that was part of a U.S. DOD evaluation. While it operated smoothly and performed admirably out to 1,500 meters, the platform wasn't quite right for our needs. SAKO remedied many of the original TRG 22 (short action) and 42 (long action) designs' practical limitations with the introduction of the updated TRG M10 in 2011, which later did quite well in U.S. SOCOM's Precision Sniper Rifle (PSR) program. With so much having changed since my TRG testing, I jumped at the opportunity to get my hands on SAKO's newest version in the form of the TRG 22 A1.


Housed in the M10's skeletonized and highly adjustable chassis, the TRG 22 and 42 A1 employ the family's tri-lug bolt and silky-smooth action that make SAKO's rifles so easy to operate. Naturally, the bolt head houses SAKO's popular extractor design and in the case of the 22 A1, a single, plunger-style ejector. The bolt cocks on opening and is locked closed when the ambidextrous, two-position, paddle safety (inside the generously sized trigger guard) is applied. However, a small, right-side, bolt-handle-release button at the right/rear of the receiver can be depressed when in this mode, allowing one to open the bolt.
The paddle-style magazine release, positioned between the trigger guard and mag well, is likewise ambidextrous and easy to manipulate. Both of the SAKO 10-round magazines supplied with the rifle locked positively in place when fully loaded under a closed bolt and dropped free when empty. The rifle's trigger is a hybrid of tactical and competition-match styles. Its two stages are adjustable via a single screw, with a minimum recommended weight of 2.2 pounds and 4.6 pounds on the top end. My test sample was set at 2.7 pounds on arrival and easily reduced to 2.2 for testing. The nearly straight face is further adjustable for position within the trigger guard by way of a T10 screw at the end of the trigger. Custom hand-fitting is possible through three interchangeable panels that alter the thickness of the vertical pistol grip. My test rifle lacked the medium- and small-size panels that come with each rifle, but the large grip was made workable by adjusting the trigger's position.
When folded along the right side, the stock protects the bolt handle. Both extending and folding require the depression of an easy-to-manipulate button near the hinge. The buttstock offers toolless, highly customizable settings that should fit a wide range of body sizes and shooting styles. Three sets of ambidextrous buttons allow for an additional 1.75 inches in length-of-pull and 1.5 inches of height adjustment for both the comb and the vertically sliding butt pad. A removable, polymer "hook" just forward of the stock toe forms an excellent anchor point for a support hand, especially when a rear-bag rest is not used. A QD socket is positioned within the skeletonized portion of the stock and may be accessed from either side, as can a socket on top of the stock's hinge.


At the SAKO TRG 22 A1's business end, a fully freefloated, 26-inch, cold-hammer-forged, heavy-contour barrel is threaded 5/8x24 at the muzzle, fronted with what appears to be an 11-degree crown and shipped with a knurled thread protector in place. The rifle has an M-Lok-compatible, freefloat-tube handguard that is keyed to the receiver rail. Combined, they provide a full 21.5 inches of mounting surface with 30 degrees of built-in slope. The 15-inch handguard is retained by two captive through-bolts that clamp around a forward-mounted section of the chassis, similar to the way many MSR handguards mount on barrel nuts. A polymer hand and barrier rest, just forward of the mag well, is held in place by a T25 screw. This cover also contains a field toolkit comprised of the three Torx wrenches needed for basic rifle maintenance. The cover's securing screw, and several others on the rifle, can be removed with a T25 driver tip that's ingeniously integrated into the end of the bolt knob.
The TRG 22 A1's action is mated to an aluminum chassis by way of three action screws. The forward-most screw also affixes a sort of floating locking lug into a recess machined into the bottom of the barrel. While the screws' tightness can be hand-checked using the included T-handle driver, removal of the trigger assembly gives better torque wrench access. On that note, SAKO's recommended torque of 133 inch-pounds, or 15 Newton meters (Nm) is more than double what most modern action screws call for.


Aside from setting up the customizable features and checking screw tightness, there isn't much else to be done with this rifle because the barrel is hydraulically fitted at the factory in Finland. That means that if a SAKO TRG 22 (or 42) A1's owner desires or needs a barrel change, SAKO will ship the rifle back to Finland for re-barreling and service, including giving the entire system a once-over.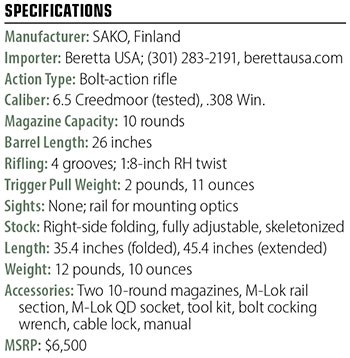 During my pre-test inspection, I discovered that the bolt-handle-release button on the test sample could not be fully depressed, so the bolt handle could not be lifted when the safety was applied. I had a similar problem with the right side-mounted bolt release. When I tried to remove the bolt from the action, the bolt stop did not recess far enough to allow the bolt head to pass. After lubricating the release-button assemblies and working the action approximately 175 times, they worked, so long as heavy and steady pressure was applied.
My first range test was performed at 100 meters, with all firing done from a prone, bag-rested position. Being a southpaw, I immediately appreciated that the 60-degree opening angle and smooth cycling of the bolt allowed me to remain partially in position while cycling the action. Accuracy was very good for a factory rifle and on par with a couple other high-performing 6.5 Creedmoor bolt-action systems I've tested in recent years.
Next, I took the rifle out to see how it would handle the June heat in a long-range, Southeastern U.S. field environment. My targets ranged from 200 to 1,200 meters over rolling hills, water and partially wooded terrain. For this test, I used only the 136-grain Scenar load, did all shooting from a bipod and without a rear bag rest. To evaluate the rifle's practical accuracy, I simply flopped down prone, identified my targets, ranged them, determined my elevation and windage holds and then fired. I shot at 8- and 12-inch plates at 200 and 500 meters and 3/4-size steel silhouettes at 775, 950, 1,100 and 1,200 meters. Making hits quickly became routine. All told, I put 150 rounds through the TRG. The nearly 13 pounds of rifle—in addition to a loaded mag, my scope, mount and Harris bipod—made the low-recoiling 6.5 Creedmoor a pleasure to shoot. No malfunctions or problems were en- countered during either live-fire evaluation.


If I had to get picky with the TRG 22 A1, it would be in three areas: finish, maintenance and cost. While the Cerakote options (black, gray, brown and OD green) are great, the phosphated, carbon steel barrel leaves me wondering about its wear and corrosion resistance. Some form of full nitriding would seem to be a better solution. Beyond that, the lack of a user or even gunsmith-level, barrel-change capability, like the M10 has, is another challenging aspect for prospective owners.
Regardless of the target market, as a single-caliber rifle with a rock-solid barrel-action-chassis interface and a very high level of custom-fitting possible, this modern incarnation of the TRG lives up to the storied lineage of good-shooting SAKO rifles that precede it. The test rifle's average half-MOA accuracy with SAKO's preferred ammunition, under the control of my worn-out eyes and hands, is a solid indicator of the 22 A1's potential. Had this rifle's features been incorporated into the sniper systems that my co-workers and I evaluated 19 years ago, the first .338 Lapua Mags. to see combat in the hands of U.S. Army SOF snipers may well have borne SAKO rollmarks.