When it comes to target shooting, many of us have grown accustomed to using what the range provides. Sometimes it's a piece of plywood, sometimes a pole to hang a piece of steel, and often it's something nearly useless because it has been shot to high heaven. For that last reason, many have been bringing their own equipment, as this ensures you will always have something in good condition and it will be exactly what you need. But with so many on the market, which one should you get? Join me as I share my experience with five solid target stands on the market. We'll take a deeper look at how they each bring something different to the table.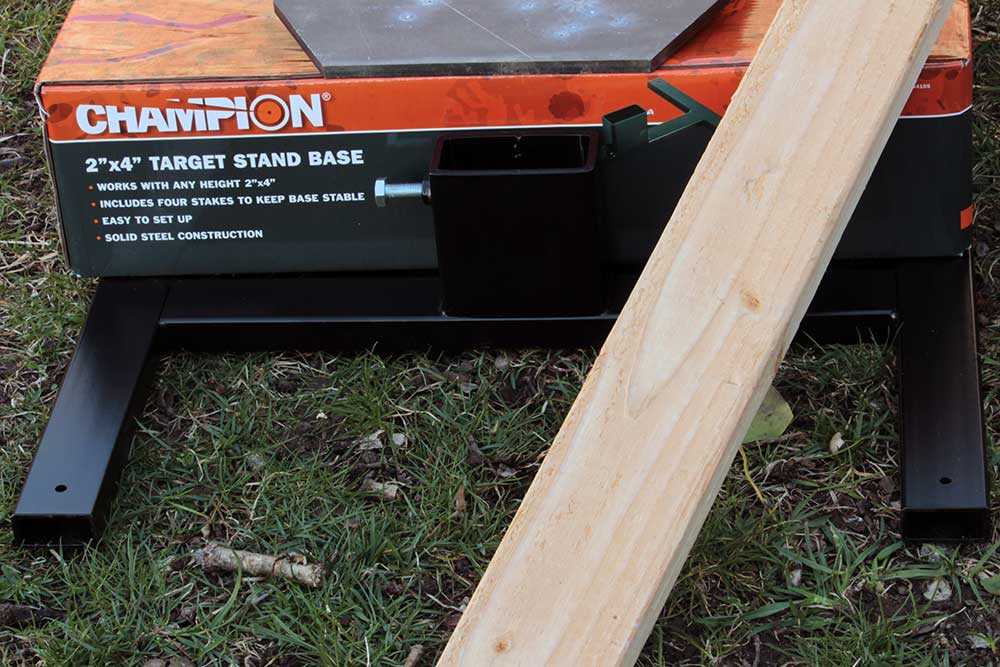 Champion 2x4 Target Stand Base

The Champion 2x4 Target Stand Base ($44.99 MSRP) is a beefed up version of a classic design. While these have been on the market in one style or another for years, Champion's version is made out of 100-percent steel tubing. Some target stands utilize traditional angle iron that while lightweight, deteriorates very rapidly as it is constantly being bombarded with splatter from lead bullets crash landing against a steel target.

These stands also utilize the most popular and one of the least expensive cuts of wood (a 2x4). This has always been a godsend, as we have had to replace sticks on the fly, sometimes in the middle of nowhere. This stand also holds the 2x4 with the wider part of the board facing the shooter, where it can take quite a few more hits when compared to shooting edge-on. I enjoy the sheer versatility of this stand, as I can top it with a hanger or even just a screw for a piece of steel and get to work.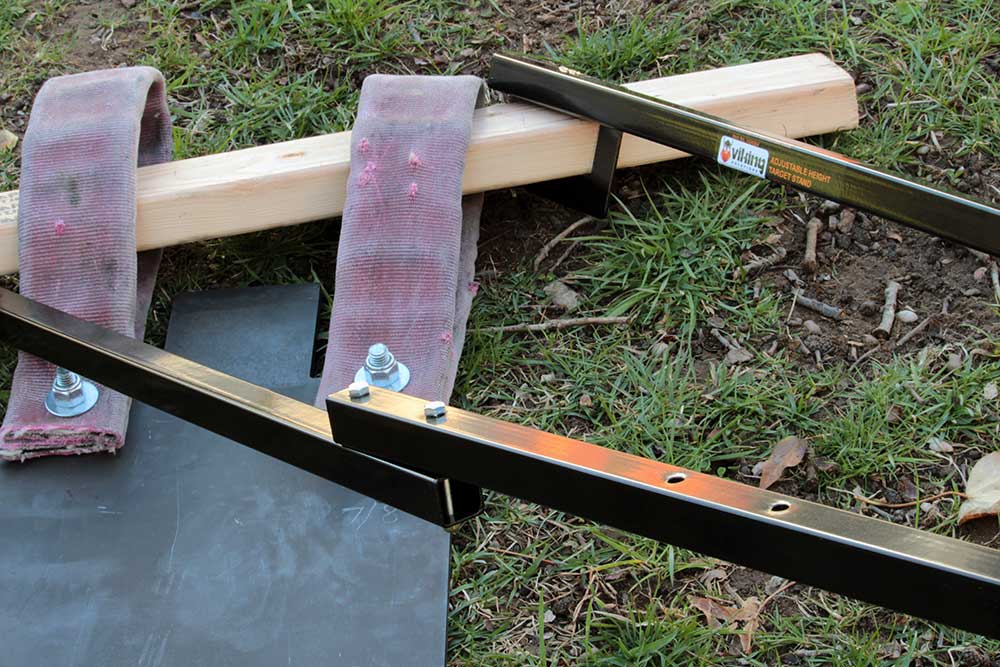 Viking Solutions Adjustable Target Stand

Again using a 2x4, the Viking Solutions Adjustable Target Stand ($39.99) improves on the traditional saw-horse design by incorporating height adjustment. I have found this to be particularly useful when shooting across a grassy field, as the target will indeed need to be elevated in order to see it. However, elevate your target too much and your stray shots may go over your backstop, creating a serious hazard. The 2x4 in this case is used to build a horizontal platform that is replaceable, should it get struck a few too many times. Again the 2x4 was likely selected for its popularity and affordability. We like using ours for when we want to set up multiple gongs. We sometimes use a complete 8-foot section to create an entire shooting gallery of steel!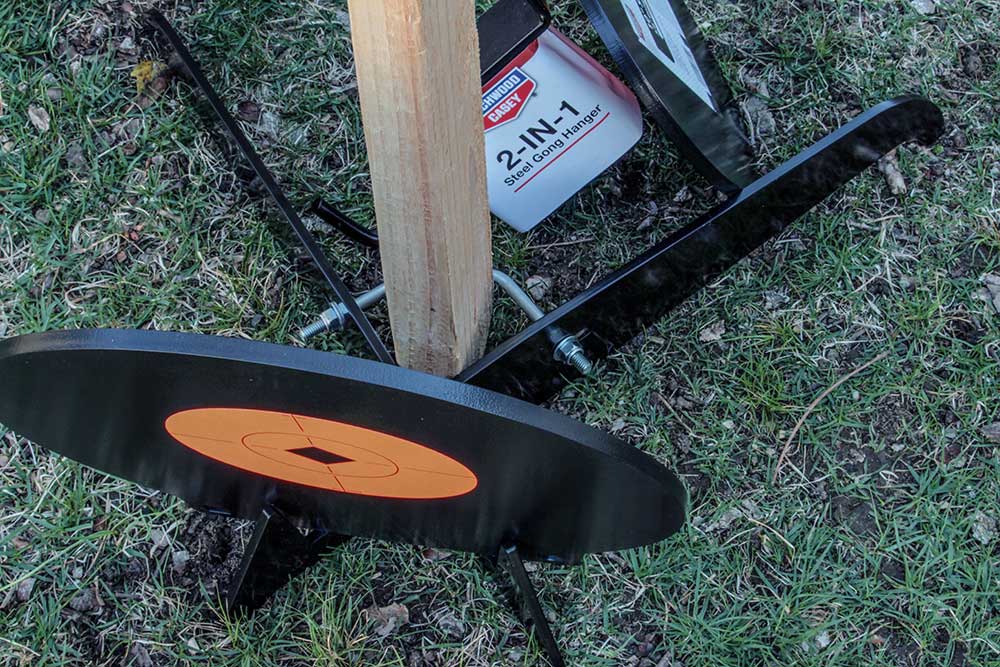 Birchwood Casey Universal Gong Holder

There is no better test of transitional skill than bouncing back and forth between two gongs. While it works in force on improving horizontal movement, it does little for developing vertical transition skill. The Birchwood Casey Universal Gong Holder ($99.99) not only holds a 2x4, but it also is notched to hold a secondary target at the base. Shooters can use just one or the other, so if your steel budget is tight, this is still a viable option. I enjoy having this around, because it reduces the amount of gear that I need to carry. I can set this up with a 2x4 and topper for pistol practice, or I can put a plate in the bottom slot and use it for long-range rifle work.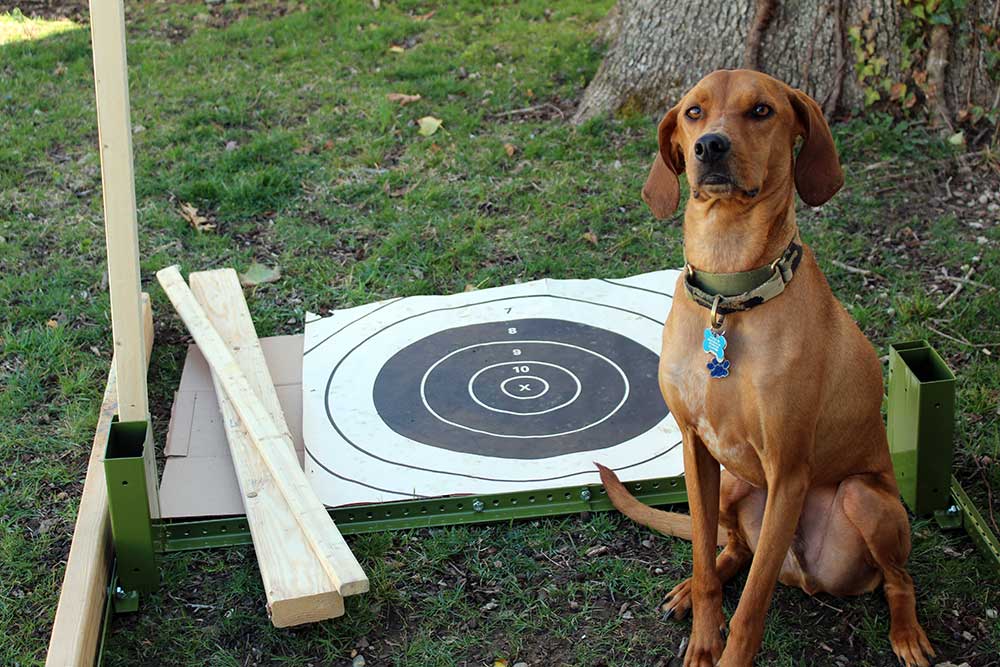 Hyskor Target Hound

As if New York politicians didn't suppress the shooting sports enough, the windy weather certainly finishes the job. No doubt the Long Island natives behind the Target Hound have shot on a windy beach, thus leading to the inspiration for this solution to the paper target shooter. The Target Hound ($34.89) is designed for holding paper or cardboard targets without toppling over.

This stand is extendable to accommodate oversized targets, which I found very useful for setting up the massive targets of NRA High Power and F-class. I liked how the base can support either 2x4 or 1x2 furring strips, letting you use whatever is lying around. I found this to be the best solution when shooting at my home club, which is essentially located on a beach. The design comes pre-drilled to extend the base with 2x4s, letting me REALLY beef it up for windy days.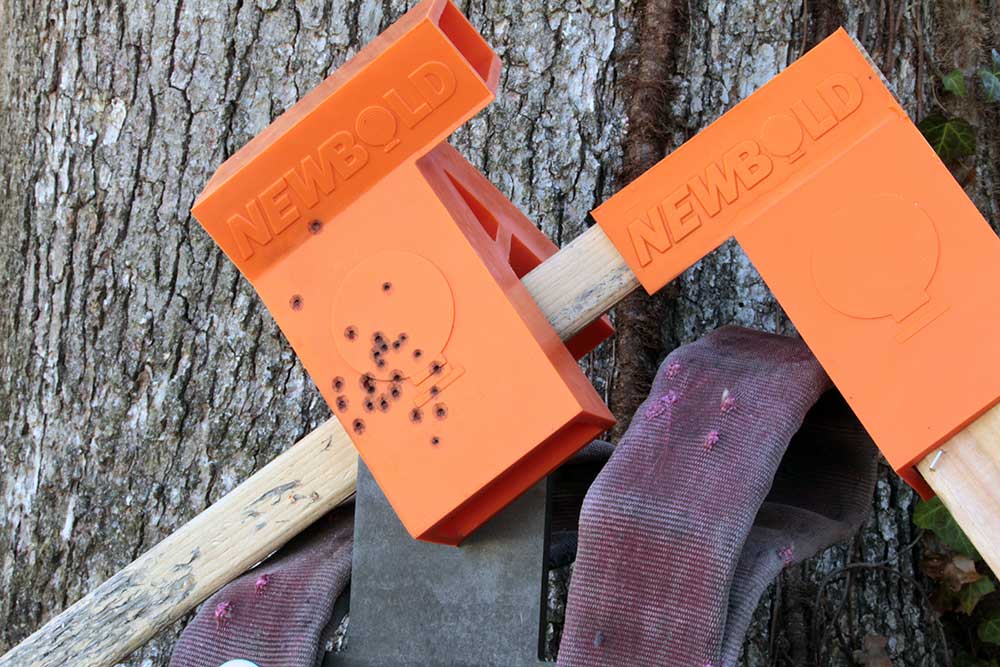 Newbold Alpha Stand Target Stand Brackets

Now don't go telling me something is "self-healing and virtually indestructible" unless you want me to try to break it. Well, that is exactly what we did with a set of these brackets. Newbold is known for the company's self healing polymer targets, and now the company created its Alpha Stand Set ($74.99) using the same material. The Alpha Stand uses (again) an everyday 2x4 for each leg and the cross piece. I like this, because it gave me the opportunity to adjust the height, although that had to be determined at my woodshop and not at the range.

The 2x4s just slip into the sockets without any hardware or tools and once you hang a target, you are off to the races. Where this system excels is in its durability. We fired more than 25 rounds of Aguila 9 mm ammo directly into the base, and we couldn't get it to collapse (SEE THE VIDEO HERE). I found the best application for this system to be training first time shooters, as they are more likely to send a shot a little wide.

As the shooting sports continue to grow, the required targets will as well. Naturally this means that support systems will have to develop and change. Having these five stands on the range really was an eye-opener as to not only how many options there are out there, but how important proper support is. Poorly placed steel can lead to ricochets and injury, and I've seen this in person. If potentially getting hurt isn't enough to convince somebody to use the right target stand, maybe just the sheer aggravation of having to stop and reset a target will do.