Firearm manufacturing is migrating from the northeastern United States, where the nation's concentration of industry originally ensured uninterrupted supplies of steel, established distribution routes and a skilled work force. The flight isn't exclusive to that region, though. Gunmakers are moving to warmer and more-welcoming climates—and milder temperatures aren't the main attraction.
Moves by Remington, Ruger and Mossberg, respectively, largely account for the massive trio of swings, but it's the medium-size players in the industry—coupled with the hundreds of boutique AR builders that appeared—that add a solid foundation to the trend. Florida yielded 9 shotguns in 2007, for example, but largely due to Kel-Tec, that number was 29,342 in 2016.
Some companies are outspoken and admit that scenery, lifestyle and climate have nothing to do with the move. A letter from Remington Outdoor Company's then-CEO George Kollitides sent to New York state officials—according an article in the Nov. 14, 2014, New York Times—explained the company was opening a new plant in Alabama rather than expanding its Ilion, NY, factory because of "…state policies affecting use of our products." The SAFE Act, enacted in 2013, impacted semi-automatic rifle sales and ownership in New York.
The same law caught the attention of Kahr Firearms Group, although its move from New York surfaced earlier. "We're looking for a more-friendly environment for our business," Frank Harris, Kahr vice president for Sales and Marketing at the time told the Associated Press. The company, which was considering expansion in New York, is now headquartered in Pennsylvania.
Beretta's moving its production to Tennessee and Weatherby recently announced it was pulling up its California roots—73 years' worth—and commencing production in Sheridan, WY. It will transplant between 70 and 90 jobs.
Kimber has been a staple in Yonkers, NY, for years, but it also recently announced relocation plans. Its new, state-of-the-art manufacturing plant in Troy, AL, is scheduled to open next year.
Magpul left Colorado after the state enacted a law that made magazine capacity in excess of 15 rounds illegal. The economic loss of Magpul's move was keenly felt when the company landed a sizeable contract with the U.S. Marine Corps that caused it to increase staffing to 385—nearly double the number it employed before the move—and run a second shift in its new Cheyenne, WY, plant.
Magpul Chief Executive Richard Fitzpatrick issued a statement in 2014 that explained, "Moving operations to states that support our culture of individual liberties and personal responsibility is important."
---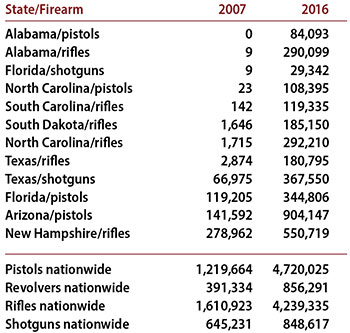 A Growing Business
The past decade has seen a radical increase in the number of firearms produced in states not traditionally known for firearm production. Data compiled from BATFE "Annual Firearms Manufacturing and Export Report," 2007 and 2016 editions.