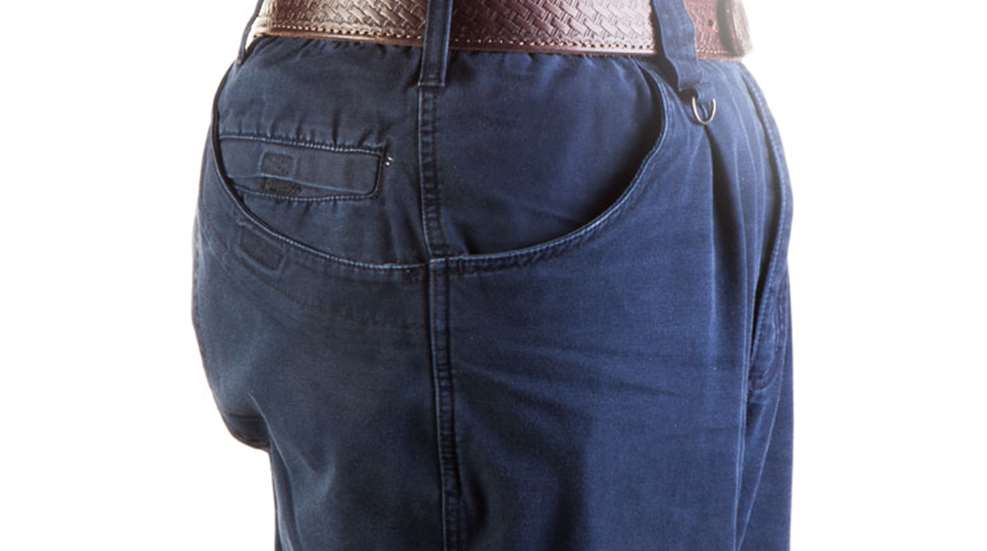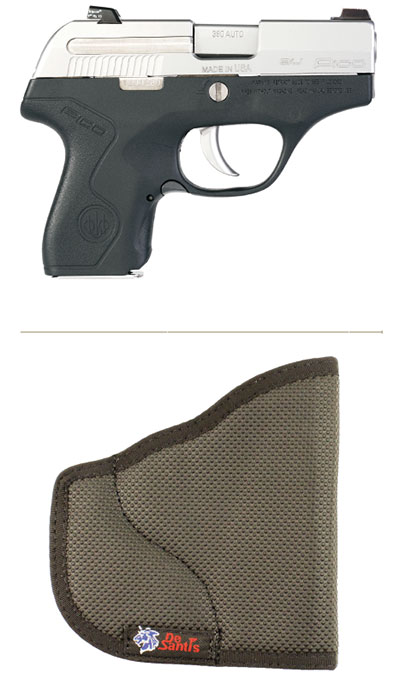 Pistol: Beretta Pico
Measuring slightly more than 5 inches long and weighing less than 12 ounces, the Beretta Pico proves an effective concealed-carry pistol is more than a matter of size. A modular subchassis and interchangeable frames allow owners to customize the pistol to fit their hand as well as their needs. This means—when not in your belt holster—the Pico can easily be configured for pocket carry. Its flat profile and ultrathin polymer grip minimize printing, while the addition of a stainless steel slide offers the added protection of sweat resistance. Beveled edges along the slide and flush, frame-mounted controls foster snag-free presentations. Best of all, unlike other pocket pistols, the Pico comes with factory-installed night sights and two six-round magazines, putting plenty of fight-stopping fodder at your fingertips.
Caliber:
.380 ACP Magazine
Capacity:
6 rounds
Barrel Length:
2.7 inches
Overall Length:
5.1 inches
Weight:
11.5 ounces
MSRP:
$400
Holster: DeSantis The Nemesis
Shaped to remain upright in your pocket, The Nemesis contains an extra tacky exterior that prevents the holster from shifting with movement. Its generously sized wing serves to catch the edge of the pocket's interior during the draw stroke, and the slick pack cloth interior aids in a smooth presentation.
MSRP:
$25.99
(800) 424-1236
,
desantisholster.com


---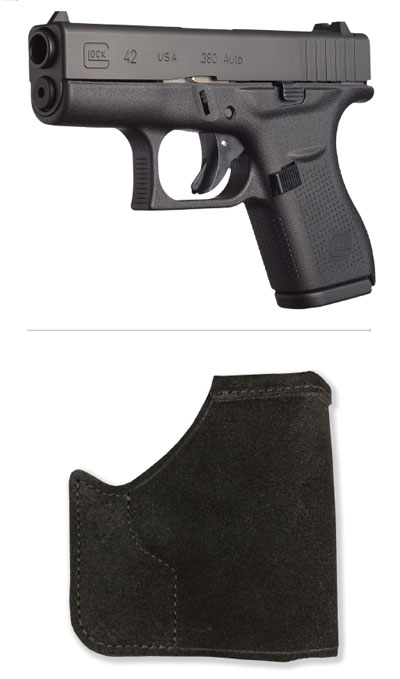 Pistol: Glock G42
Introduced last year as a late entry into the pocket .380 ACP wars, the G42 is a little larger than other micro-.380s on the market. This slight increase in size has a distinct trade-off in how the gun shoots—it retains the very familiar Glock feel and control, so your backup firearm handles just like your daily carry sidearm. A minimum of levers and safeties mean less to contend with when absolutely needed, and the striker-fired action means no lint or debris will interfere with the operation of the gun.
While some might view the size of the G42 as a detriment—it is larger than comparable .380 ACP pistols like the Ruger LCP or the Smith & Wesson Bodyguard—it's not so much bigger as to be unwieldy. The G42 is .7 inches longer, .3 inches taller and 3.9 ounces heavier than the LCP, one of the smallest of small .380s. None of these dimensions are deal-breakers in the grand scheme of things, and serve to make the G42 easier to shoot in a class of pistols that are notoriously tough to control.
Caliber:
.380 ACP
Magazine Capacity:
6 rounds
Barrel Length:
3.25 inches
Overall Length:
5.94 inches
Weight:
13.76 ounces
MSRP:
$480
(770) 432-1202
,
us.glock.com
Holster: Galco Pocket Protector
Designed for front-pocket carry in pants or a jacket, the Pocket Protector keeps the pistol in the same position for rapid presentation. It conceals the shape of the firearm to minimize printing and allows one-handed release of the gun from the holster. Reinforcements at the holster mouth and under the trigger guard maintain rigidity and allow a smooth draw. The holster's hooked shape is designed to catch on the edge of the pocket to prevent unwanted removal of the holster from the pocket while drawing. The Pocket Protector is ambidextrous and constructed of premium steer hide.
MSRP:
$28.95
(800) 874-2526
,
galcogunleather.com


---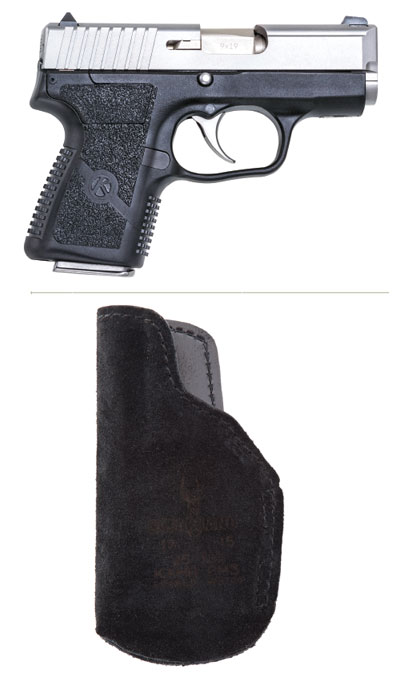 Pistol: Kahr PM9

This polymer-frame, striker-fired, single-stack 9 mm has been among Kahr's best-sellers since it was introduced. Compact and lightweight, it is as ergonomic as its dimensions allow. Its popularity has led to multiple versions: There is a PM9 with a stainless slide; a stainless slide and night sights; a blackened slide; a blackened slide and night sights; an external safety and loaded-chamber indicator; an external safety, loaded-chamber indicator and night sights; a Crimson Trace laser; and even one engraved with a black rose. The drift-adjustable rear sights feature a white post that aligns with a white dot on the front. The PM9 comes with a flush-fitting, six-round magazine and extended seven-round magazine. Follow the manufacturer's recommended break-in procedure and the PM9 becomes a rather sweet-shooting little pistol.

Caliber:
9 mm
Magazine Capacity:
6 rounds
Barrel Length:
3.1 inches
Overall Length:
5.42 inches
Weight:
15.9 ounces
MSRP:
$810
(508) 795-3919
,
kahr.com


Holster: Safariland Model 25 Inside-the-Pocket Holster

The Model 25 features a reinforced inner lining which keeps the holster open for easy reholstering, and also obscures the outline of the gun. An internal membrane prevents perspiration from reaching the pistol, while the black suede outer material helps anchor the holster in the pocket and keep it there during the draw.
MSRP:
$32
(800) 347-1200
,
safariland.com
---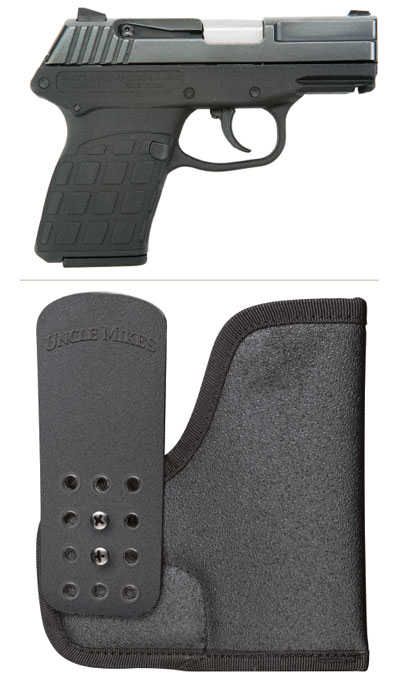 Pistol: Kel-Tec PF-9
With an unloaded weight of less than 13 ounces, a size smaller than a standard five-shot revolver and a total of 8 rounds at the ready, the PF-9 makes a formidable pocket pistol presence. A 5-pound trigger pull weight puts it squarely in the middle between too heavy to shoot with any degree of accuracy and too light to safely carry. And it doesn't hurt that the MSRP of a new pistol is less than the going price for many used firearms.
The Kel-Tec PF-9 brings your concealed carry pocket pistol to a new level, bringing 9 mm performance to a package previously occupied solely by .380 ACP. Other pistols, some even on this list, offer similar-size firearms but at a higher cost; others are significantly heavier or feature lower capacity. The PF-9 represents a moderate mix of capacity, concealability, power and affordability. If your search for a pocket pistol includes a major caliber in a lightweight handgun that won't cost you appendages, the PF-9 is worth a look.
Caliber:
9 mm Magazine
Capacity:
7 rounds
Barrel Length:
3.1 inches
Overall Length:
5.85 inches
Weight:
12.7 ounces
MSRP:
$333
(321) 631-0068
,
keltecweapons.com
Holster: Uncle Mike's Inside-the-Pocket holster
Laminate construction lessens printing, adds cushioning and blocks perspiration. This open-top holster features a non-slip band to retain the holster in the pocket as the gun is drawn. The firearm rides upright for a smooth draw and is protected from lint and debris inside the pocket.
MSRP:
$13.95
(800) 423-3537
,
unclemikes.com
---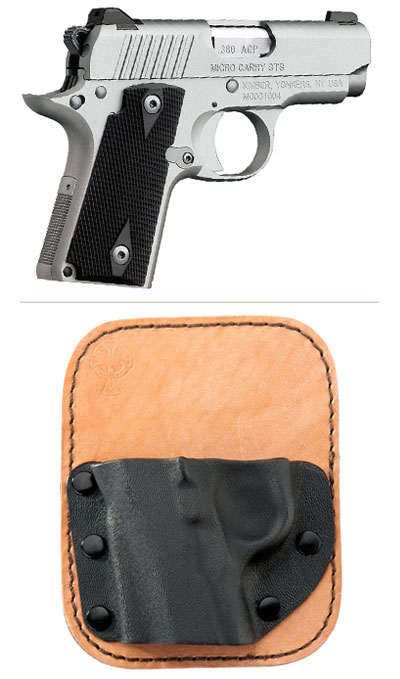 Pistol: Kimber Micro Raptor Stainless

Selecting pocket carry as your primary method of concealment places more constraints on the size of pistol you select than other modes of conveyance. A scaled-down version of one of America's most favorite pistol platforms, the Kimber Micro line of pistols are an excellent pocket-carry option for those who carry a 1911 as their primary sidearm, thanks to its inherent ease of operation and an identical manual of arms. Despite its diminutive size, however, the pistol is chock-full of features that help to set the Micro Raptor Stainless apart from its siblings. Thanks to its carry-melt treatment, all sharp edges have been removed from the pistol, so there's no need to worry about the gun cutting your clothing, your hands or your pocket holster. A grip-enhancing, scale-like pattern adorns the pistol's stocks, as well as the rear of the slide. Other welcome features include low-profile night sights and an ambidextrous thumb safety.

Caliber:
.380 ACP
Magazine Capacity:
6 rounds
Barrel Length:
2.75 inches
Overall Length:
5.6 inches
Weight:
13.4 ounces
MSRP:
$960
(888) 243-4522
,
kimberamerica.com

Holster: CrossBreed Holsters Pocket Rocket

Expanding on the company's popular line of Kydex and leather holsters, the Pocket Rocket features a square-shaped horsehide backer that is positioned away from the body to break up the pistol's outline, thereby allowing the pistol to adopt a wallet-like shape, rather than the telltale print of a handgun.

MSRP:
$32.95
(888) 732-5011
,
crossbreedholsters.com
---
Pistol: Ruger LCP
The gun that started the latest pocket pistol craze, the Ruger LCP is likely the most popular model we've covered. Introduced in 2008, the .380 ACP handgun weighs a mere 9.65 ounces and is only .82-inch wide, making extremely easy to carry and conceal. Thanks to its diminutive dimensions, LCP owners are pretty much guaranteed to have their micro Ruger on board, ensuring they always have a means to defend life and limb.
While it is chambered for a round not known for superior terminal performance, the LCP's success—and the many .380 ACP pocket guns that followed it—helped convince ammunition manufacturers to invest in improving defensive offerings in the caliber. The LCP has been so popular, Ruger now offers four standard models and a host of distributor exclusives of what is arguably the 21st century's most popular pocket pistol.
Caliber:
.380 ACP
Magazine Capacity:
6 rounds
Barrel length:
2.75 inches
Overall length:
5.16 inches
Weight:
9.65 ounces
MSRP:
$389
(336) 949-5200
,
ruger.com
Holster: Bianchi Model 152 Pocket Piece

A solid rig for the LCP, the Bianchi Model 152 is a premium leather holster built specifically for pocket carry and formed to the shape of the pistol it is designed to hold. Dual pocket hooks and a vertical assist pad ensure the holster stays in the pocket during the draw stroke, while its smooth lines minimize printing to keep your LCP concealed.

MSRP:
$29.75
(800) 347-1200
,
safariland.com
---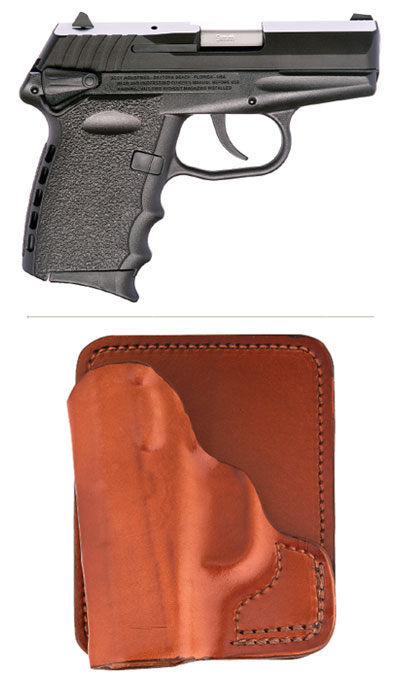 Gun: SCCY CPX-1
Although it's a relative newcomer to the pocket-carry world, serious shooters should start thinking about the SCCY CPX-1. This compact 9 mm handgun has an overall length of 5.7 inches, height of 4 inches and width of 1 inch, making it well-suited for pocket carry despite its double-stack magazine. Weighing only 15 ounces, it won't be a burden in your pocket, but with its powerful performance and large capacity for a micro-compact pistol, this small package will serve well for self-defense. The original CPX-1 design includes an external safety lever that moves in a recess in the frame for further peace of mind with only minimal added width, but the company's new CPX-2 model comes without a manual safety for those seeking an even svelter pistol. SCCY Industries built the CPX to take a beating, so banging around in your pocket on a daily basis won't hurt it.
Caliber:
9 mm
Magazine Capacity:
10 rounds
Barrel Length:
3.1 inches
Overall Length:
5.7 inches
Weight:
15 ounces
MSRP:
$334
(866) 729-7599
,
sccy.com


Holster: IDF Holsters Front Line Back Pocket

Designed to mimic a wallet in shape and size, the Front Line Back Pocket holster is intended for—surprise—back-pocket carry. If that's where you carry your backup pistol, this leather holster may be the best accessory that no one will notice. One panel is molded to your SCCY CPX-1 (other models for a variety of handguns are available), while the outward-facing panel is flat to eliminate printing. It has a textured surface to ensure it stays inside your pocket during the draw. Back Pocket holsters are available in black or brown leather and come designed for both left- and right-handed users.
MSRP:
$41.50
(631) 843-0490
,
idfholsters.com


---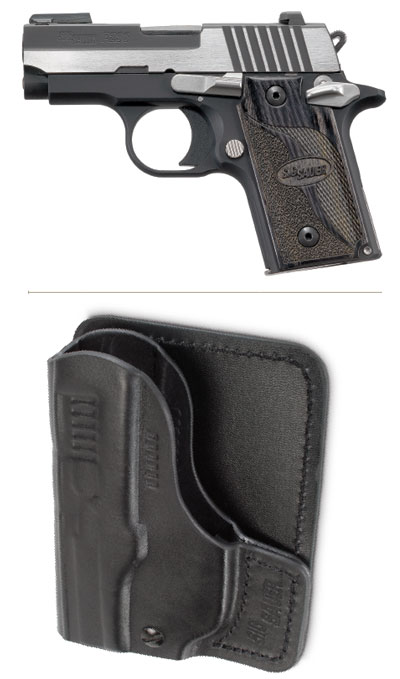 Gun: SIG Sauer P238

For those seeking a bit more authority in a .380 ACP pocket pistol, the SIG Sauer P238 offers a steel-frame handgun with controls virtually identical to those found on a 1911. Beyond its familiar controls—making it an ideal backup gun for anyone carrying a .45 ACP 1911—the P238 is remarkably concealable for such a substantial pocket gun. Despite its steel frame and slide, it weighs only 15.2 ounces, so it remains comfortable to carry.
The P238's relatively normal-size sights are perhaps its greatest asset. Adjustable SIGLITE Night Sights grace this tiny pistol, giving it a major advantage over many pocket guns when it comes to self-defense in low light. In fact, the sights are a huge plus in daylight when compared with other micro handguns, too, since they are easily acquired and quite visible.

Caliber:
.380 ACP
Magazine Capacity:
6 rounds
Barrel Length:
2.7 inches
Overall Length:
5.5 inches
Weight:
15.2 ounces
MSRP:
$679
(603) 610-3000
,
sigsauer.com


Holster: SIG Sauer Concealment Holster

When looking for a pocket rig for your P238, look no farther than the gun's maker. SIG Sauer offers accessories for most of its firearms, and the Concealment Holster is a fine example of the quality one expects from the company. The black leather holster is flat on one side to minimize printing inside a pocket, and its deeply scalloped cut facilitates an easy draw.

MSRP:
$25
(603) 610-3000
,
sigsauer.com
---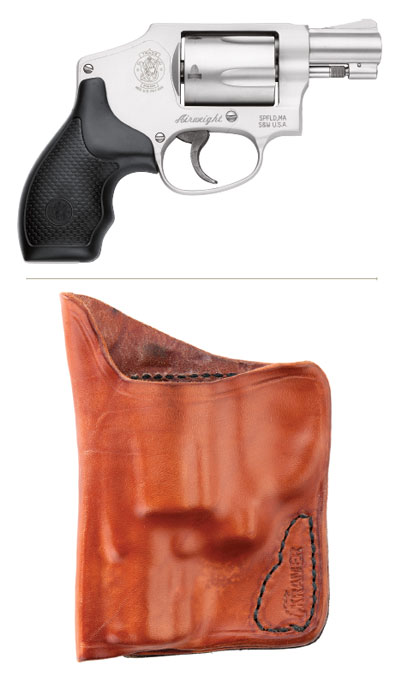 Gun: Smith & Wesson Model 642

The "airweight" version of Smith & Wesson's popular Centennial series of internal-hammer revolvers, the Model 642 is a highly appealing pocket wheelgun. Loaded with .38 Spl. +P ammunition, the diminutive gun offers adequate fight-stopping oomph. Though it's a revolver, the five-shot cylinder is narrow enough for discreet carry in all but the lightest-weight slacks. Also, the wheelgun's aluminum-alloy frame means it doesn't tug down those pants over the course of the day. Further, the combination of aluminum alloy and stainless steel minimizes maintenance concerns. The absence of a hammer spur means the little gun won't snag on the draw, and the double-action-only trigger offers an extra measure of safety while still being accurately shootable at realistic confrontation distances. So popular is this handgun, there are Crimson Trace and LaserMax versions available from the factory, as well as LadySmith, TALO and Deluxe editions, and one without an internal lock.

Caliber:
.38 Spl. +P Cylinder
Capacity:
5 rounds
Barrel Length:
1.875 inches
Overall Length:
6.31 inches
Weight:
15 ounces
MSRP:
$469
(800) 331-0852
,
smith-wesson.com
Holster: Kramer Handgun Leather Pocket Gun Holster
Kramer Handgun Leather's Pocket Gun Holster has practically achieved iconic status among J-frame aficionados. Close-molded from super-strong horsehide, the holster is distinguished by a large, rigid lip at the top front. This lip catches the pocket lining and keeps the holster in the pocket during the draw. The other distinguishing feature is a Kydex facing stitched to the outer surface of the holster. It disguises the outline of the gun, preventing even the cylinder from printing. The holster is available for several makes and models of compact handguns, but is particularly loved by those who carry small revolvers.
MSRP:
$99
(800) 510-2666
,
kramerleather.com
---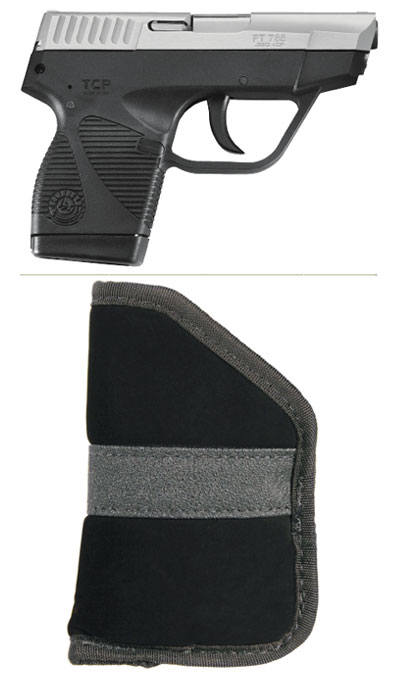 Gun: Taurus 738 TCP

This small .380 ACP pistol is the lightest semi-automatic in the Taurus line—in fact, it's lighter than the company's popular small-frame revolvers, too. All of the 738 TCP's dimensions are ideal for pocket carry, so as the weather warms and your T-shirts and shorts make their annual debut, you can covertly and comfortably be armed with a defensive handgun in your pocket. Additionally, the 738 TCP is equipped with low-profile fixed sights, which, while small, won't snag on the inside of your pants during the draw.
Even though it's built to be durable and tenacious, the diminutive 738 TCP comes with Taurus' lifetime warranty should your pocket holster fail to protect it from sweat or impacts.

Caliber:
.380 ACP
Magazine Capacity:
6 rounds
Barrel Length:
2.84 inches
Overall Length:
5.2 inches
Weight:
10.2 ounces
MSRP:
$355.66
(800) 327-3776
,
taurususa.com
Holster: Blackhawk Inside-the-Pocket Holster
The Inside-the-Pocket Holster from Blackhawk is made of a soft-laminate, suede-like material to protect your skin from a pistol's sharp edges and to act as a moisture barrier to protect the gun from sweat. Its open-top makes for an easy draw, and the non-slip band keeps the holster in place inside your pocket.
MSRP:
$13.45
(800) 379-1732
,
blackhawk.com