Occasionally, a firearm comes along that really takes my breath away.  This was the case a while back when I received a package from Bobby Tyler, owner of Tyler Gun Works in Friona, TX. Bobby sent one of his fine specimens for me to shoot and evaluate, and it was truly a piece that I never wanted to return.

I found the gun to be absolutely stunning. It was based on a Republic Forge longslide 1911 chambered in 10mm, my favorite handgun cartridge. Had the pistol just been a stock gun from Republic Forge, I still would have liked it. But this gun was far from stock. The gun had been fully floral-engraved by Rocky Sharp of Portales, NM. I've seen some great engraving in my day, and Sharp's work is right up there with the best. 

Along with the fine engraving, the 10mm's finish was just beautiful. Bobby specializes in fine finish work, and this gun really showed it off well. The slide featured Bobby's stunning case color work. The components, including the thumb safety, which was ambidextrous, the slide release, and all screws featured a beautiful, bright nitre blue which contrasted perfectly with the case colors. Nitre-bluing was often seen on early Colt revolvers and I believe the color really enhances a firearm, particularly this 10mm.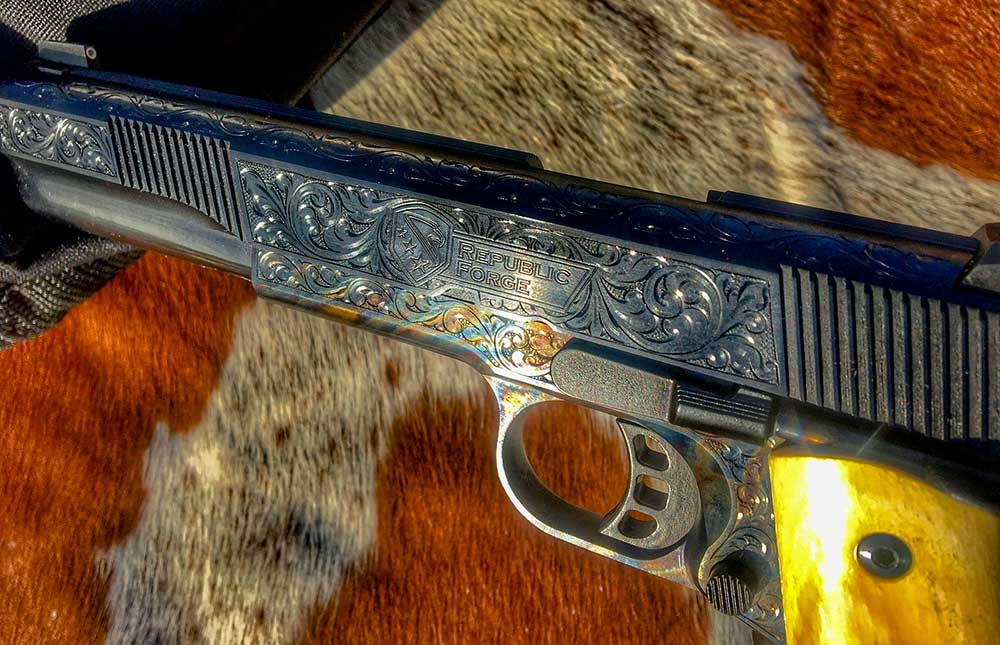 Another premium feature were the grips. I'm quite fond of ivory on virtually any firearm, and was highly impressed with the stocks on the 10mm. They were done in mammoth ivory, which were a deep yellow in color. The ivory had an aged look, obviously, and contrasted nicely with the other first-class features. Bobby had the stocks made by grip maker Dan Chinnock, who did an outstanding job.

Yet another very interesting feature was the pistol's hammer, manufactured by Republic Forge. Instead of a standard round hole through the hammer, this one is cut out in a star pattern, and is called the Texas Star hammer. Republic Forge was initially based in Texas, thus the Texas Star. The company has relocated to New Mexico, and I'm told they are now offering hammers cut through with the New Mexico state symbol, the Zia.

The rest of the RF/TGW 10mm was pretty straightforward. The sights were Trijicon combat style with tritium inserts. The pistol featured a six-inch match barrel with bushing. The frontstrap and mainspring housing featured very finely done checkering, offering the shooter a good grip on the pistol. The match trigger had an excellent, crisp pull. Overall, the pistol was extremely smooth to handle in every way.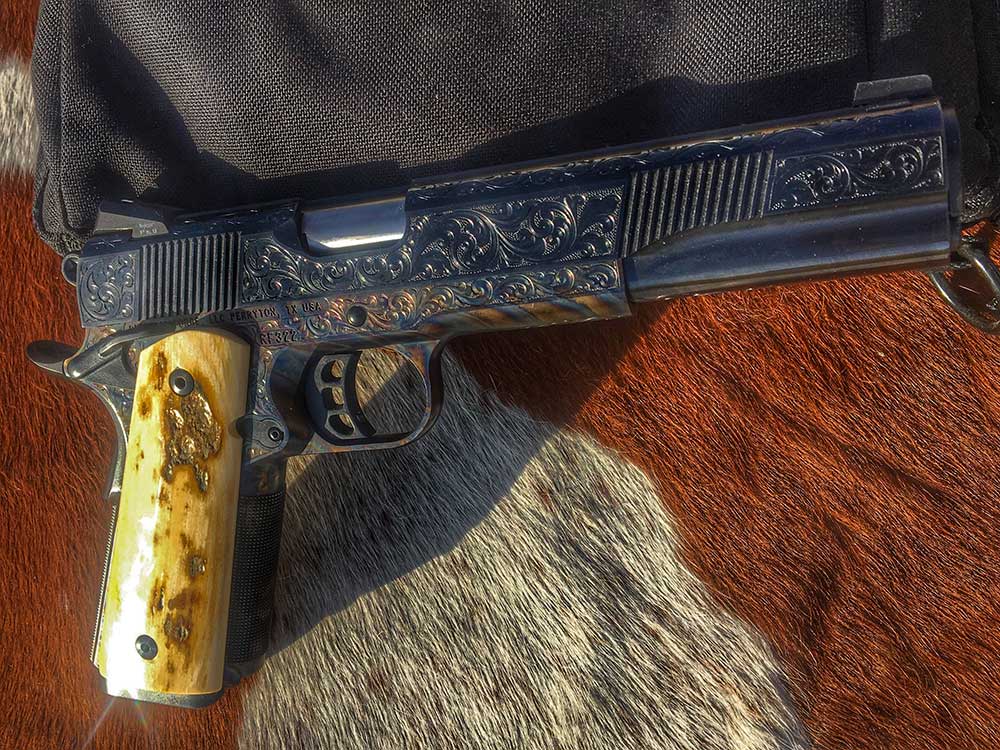 I thought twice about actually shooting such a fine piece of art, but, alas, I couldn't help myself. I shot a few groups at twenty-five yards using Winchester Silver Tip 10mm ammunition. The results were outstanding.

Finally, Bobby advised me that the gun had been put together for one of his customers back east who was eager to get his hands on it. With a bit of sadness, I shipped the gun back to TGW. 

Bobby and I didn't discuss the price of this magnificent pistol. All he would say was that it was expensive. I don't doubt it. For those whose budget allows for such things, I'd say the price would be very well worth it. For more information on Bobby's custom work, contact Tyler Gun Works here.