Without question, the popularity of the 1911 has soared over the past several decades—so much so that hundreds of variations of the old warhorse are available today. While there are many reasons for America's ongoing love affair, a large part of its attraction stems from the availability of affordable 1911s with a wide array of semi-custom features.
Thankfully, wayfarers searching for the 1911's mythical middle ground need venture no further. I've discovered shooter's Shangri-La. It goes by the lesser-known name of Schuetzen Pistol Works (SPW)—a division of Olympic Arms dedicated solely to the 1911 maven.
With a handgun line comprised of nearly 10 different models, three different slide and barrel kits, and a variety of pistolsmithing packages, SPW proves to be a monumental discovery, especially for the meticulous marksmen striving to add a custom-built .45 to their collections. Although Olympic Arms is largely known for its selection of AR-15s, the company has actually been producing custom 1911s for more than 30 years.
Out of numerous offerings available from SPW, I chose to test the Enforcer because it reflects the company's philosophy of offering features available nowhere else. One glance is enough to confirm the Enforcer is not a typical 1911.
Not long after lifting the lid, I discovered treasured elements from defensive semi-autos of the past. A well-balanced pistol with an elegant brushed-stainless finish, the Enforcer is a crafted blend of the ever-popular, 4-inch barrel mated to a compact frame with a truncated grip reminiscent of an Officer's Model. The hooked trigger guard serves as a hallmarks of the coveted Devel Socius.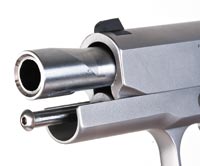 A solid trigger with a long aluminum shoe provides better length of pull than shorter models for improved accuracy. A beavertail grip safety helps shooters maintain a higher grip, and the lower portion of its face is built up to promote positive sear disengagement. The test pistol was also equipped with an ambidextrous thumb safety. A 20-lpi checkered mainspring housing, along with a frontstrap sporting both a finger groove and subsequent cast-in checkered section provide more than adequate purchase.
Being the first 1911 I've ever tested with a modified trigger guard, I anticipated difficulty selecting a holster. Thankfully, that's not the case. A standard 1911 holster worked fine.
The Enforcer's slide contains an ejection port that's lowered and scal-loped at the rear for added reliability. Pronounced serrations aid when working the slide.
More than an aesthetic whim, the Enforcer's 4-inch bull barrel extends just shy of 1⁄4 inch past the slide, ending in a nicely protected muzzle crown. Its tapered contour eliminates the need for a barrel bushing. It uses a Triplex, counterwound, self-contained recoil system—dual recoil springs captured on a guide rod and capped with a reverse plug. Both are appropriate accoutrements to Olympic Arms 1911s.
While the majority of the Enforcer's features were easy to rationalize, the rear sight was the exception. Adjustable sights on a self-defense semi-auto is uncharted territory for this 1911 fan. So, I decided to consult company's 1911 Production Supervisor Richard Niemer for insight. The use of adjustable sights stems from his service as a law enforcement officer and firearms instructor, competing in PPC and IPSC matches and his work as a pistolsmith for Detonics and Olympic Arms. He said he's seen a growing lack of consistency in self-defense ammunition during his nearly 30-year career dealing with firearms.
Adjustable sights provide a shooter with the means to offset the inconsistency. Niemer considers the Champion rear sight on the Enforcer as durable and capable of greater accuracy for defensive applications than popular fixed, low-profile designs. Its straight edge also provides greater leverage for one-handed stoppage clearances than traditional, combat variants.
Without question, discovery of the Enforcer resulted in a need for exploration of the clone-clad 1911 realm, but the occasion still required shooting to discover how it compared to other, similar, pseudo-custom semi-autos. Perhaps my newly acquired pith helmet and Acme all-terrain wheelchair would still come in handy after all.
Another element to pique my interest is the claim that each SPW pistol is fired at the factory for reliability using military full-metal-jacket, jacketed-hollow-point and lead semi-wadcutter ammunition. To my knowledge, it is the only commercial firearm manufacturer to make such a claim.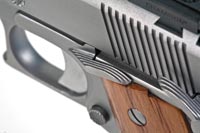 Accuracy testing was conducted at 15 yards. Each load grouped extremely well. Two stoppages occurred while shooting the Winchester hard ball, during the second and third groups. In both instances, the slide locked back despite a loaded magazine. I cured each by simply depressing the slide stop, chalking them up to break-in-related hiccups or upward pressure applied to the magazine from shooting from a bench. Still, the fact that the Enforcer was able to feed three bullets of different design with virtually no difficulty proves as significant a find as the discovery of the pyramids.
My complaints about this pistol are few. At 5 pounds, the trigger let-off weight is a bit heavier than I'd like. My other issue concerns the pistol's grip and mainspring being proprietary parts.
The best group was achieved with Hornady 185-grain Critical Defense, measuring 1 inch. While the round utilizes a lightweight bullet, recoil from the increased velocity was akin to a super-charged +P.
For those wandering wayfarers engaged in the timeless quest for a custom 1911 in a realm proliferated by mere semi-custom clones, exploration of Olympic Arm's Schuetzen Pistol Works for custom-built, customer-designed 1911s will keep you from wandering woefully or wrecking your wallet.