Republic Forge is a Texas-based company that believes 1911s should be made in America.

That means 100 percent, completely, without exception, made in America. The company is so serious about this creed that it only uses American tools and machinery—even the benches on which these pistols are built are made in America.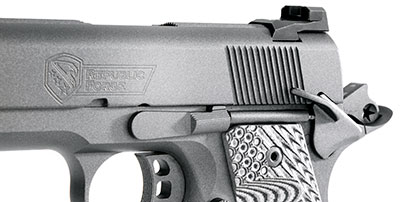 Does this make it better? That's debatable, but it does make it more expensive. According to Benny Deal who owns Republic Forge, it could save about $500 per gun if the company did not take "American made" so literally. The single exception is the $1,300 upgrade to a Damascus steel slide, which is outsourced due to the lack of a quality option in the States.
Standard slides and frames are forged in Texas. Kart barrels are standard, but on occasion others are used. The remaining parts are chosen from various American sources, based on the recommendations of Republic Forge's lead 1911 gunsmith, Jeff Meister, who has 33 years of pistol-building knowledge.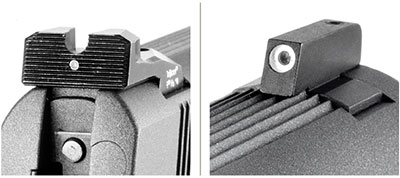 Republic Forge has a dealer network, but most of its pistols are sold online through a build-your-own, virtual design template. Through various drop-down menus customers alter the configuration of their dream 1911 and those selections are instantly illustrated. It's a different approach that allows the customer to see the finished product before the first screw is turned.
Republic Forge provided one of its Patriots—chambered in 9 mm—for review. I'd asked for one suited to shooters with small hands and two alterations were administered to accommodate that request. The bottom rear of the frame was bobbed, and thin VZ G10 grips were installed. My reasonably large hands found the pistol comfortable and compatible since it had a long trigger. A short trigger would have been more appropriate considering the request.
The Patriot is a Commander-size 1911, and the test pistol was relatively clean and uncluttered with only minor enhancements beyond the bobbed frame. The frontstrap and upper portion of the mainspring housing were checkered at 25 lines per inch. The top of the slide was serrated between the sights, and the cutout in the hammer was shaped like a star—representing Texas, I'm sure. Obviously, you could customize a Patriot to include an ambi safety, carry cuts or a standard round hole in the hammer. Nothing wrong with Texas, but not everyone thinks it's Shangri-La.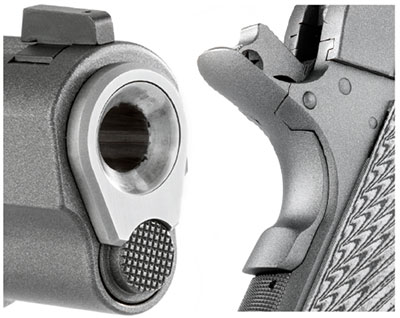 At 4.5 pounds, the trigger pull was heavier than I like, but it broke so crisply I didn't mind. The thumb safety was very positive and required conscious—not too much, not too little—pressure to activate. The grip safety worked without issue; in firing 200 rounds I never failed to depress it and hear a bang when I pulled the trigger.
With a high-end 1911, a customer should expect exceptional fit and finish, and the finish on the Patriot was as good as I've seen. The slide was tight and smooth, too. The barrel bushing was also tight; you'll need a bushing wrench to take this pistol apart. As for the rest of the pistol, on a scale of 1 to 100 I'd give it a 98. My complaint was with the beveling of the sharp edges. This was done exceptionally well at the front and along the bottom of the slide. I'd have liked to seen the forward edge of the dust cover and leading edge of the slide stop treated similarly.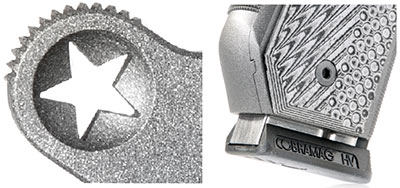 I went through the somewhat pointless exercise of shooting the pistol from the bench to establish accuracy. Readers like these results, which in truth are more a representation of the kind of shooting day the journalist is having than of the pistol's true capability. Three loads—one practice and two carry—were tested, and the average for five, five-shot groups at 15 yards was 2.0 inches. As expected, this was about the same performance obtained when firing from 10 yards while shooting off-hand. With ammo it likes, the pistol will shoot better than you or me.
More importantly, I put the Patriot through two drills. With the Forty-Five Drill, where you fire five shots at a 5-inch circle, at 5 yards in less than 5 seconds, my average time was 4.04 seconds, with only one shot outside the 5-inch circle in five tries. I ran the failure drill five times at 5 yards, too, and my average was 2.99 seconds with no misses. The drills were conducted from concealment and the pistol was easy to shoot rapidly due to its weight and chambering. The only stoppage was with the 124-grain Federal HST +P ammo. When shooting the 25 rounds off the bench I had several failures to feed. The other 25 rounds from that box were fired off-hand and the issue never resurfaced. I'd not call this a black mark; 9 mm 1911s are notoriously finicky when it comes to ammo and magazines.
If you order a Republic Forge it will be about 90 days to get your pistol, assuming your check doesn't bounce. But, part way through that process Republic Forge will contact you to discuss your build. The man calling will be the only guy working on your pistol, because Republic Forge subscribes to the one gun/one gunsmith philosophy. But, that one guy is not the only person who will touch your pistol. When complete, his peers will take the pistol, shoot it, and evaluate his labors before it ships to you, complete with a sign-off sheet and a test target.
The world is full of 1911s and many are custom creations. If the Patriot I tested is any indication, those from Republic Forge are indeed first-class examples of John Browning's most-famous creation. They may not be cheap, but they are red, white and blue, through and through.