My wife asks me "why do you need more than one AR?" and I ask her why she needs more than one pair of shoes. An AR is an AR is an AR may be true in the military, but it is certainly not the case in the consumer market where we have choices—lots of choices. When it comes to offering interesting AR choices and accessories, there are few manufacturers better suited or more creative than Yankee Hill Machine (YHM).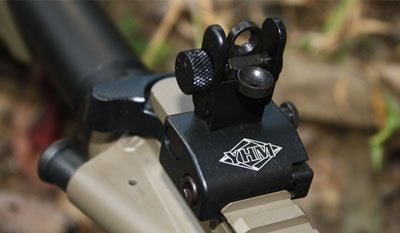 The latest example of this phenomenon is the company's Desert Enforcer carbine, which comes more tricked out than the average car in the "Fast and the Furious" movies. The upper and lower receivers and the handguards sport a Flat Dark Earth Cerakote finish, with matching Magpul furniture for a very distinct look.
Cerakote is probably the toughest and most corrosion resistant finish that can be applied to any firearm, as this online salt test video shows. That is far from the only upgrade on this direct-gas-impingement-operated, semi-automatic rifle chambered in 5.56 NATO, however.
For this project YHM started with its Todd Jarrett Competition Series AR, developed by YHM and Jarrett for high-speed tactical competition. The Desert Enforcer uses forged 7075-T6 aluminum matched upper and lower receivers. The rifle-length freefloated 6061-T6 aluminum handguard has a narrow and smooth profile, with 2.5 inches of machined accessory rails at the 3-, 6- and 9-o'clock positions. It is secured to the barrel nut with two steel anti-rotation screws for extra strength, and features a full-length Picatinny rail on top.
You almost can't find an AR with the old traditional carry handle any more, and good riddance to that thing. Instead YHM has installed its own removable, folding Quick Deploy (Q.D.S.) front and rear backup sights made from aircraft-grade aluminum. These are adjustable for windage and elevation, and fold down low enough for use with most optics.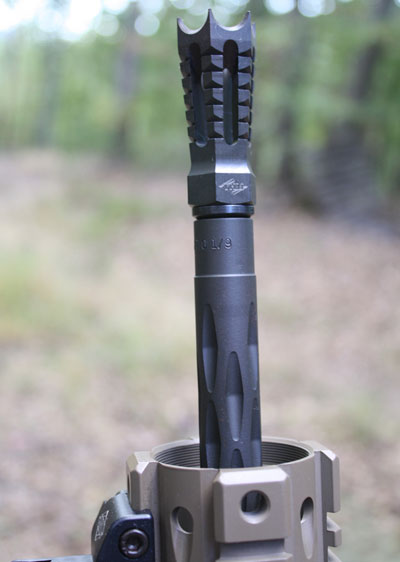 The 16-inch, 4140 steel barrel is chrome lined with a 1:9-inch twist and has YHM's distinct diamond fluting pattern cut into its surface. This increases the surface area of the barrel, which helps to dissipate heat. The pattern also increases the strength and rigidity of the barrel while keeping the weight down, sort of how corrugated cardboard works. It also adds to the Desert Enforcer's assertive looks. The rifle also has a low-profile, pinch-screw gas block with a mid-length gas system for added reliability over a carbine-length system.
However, nothing makes this rifle more bad-ass than the Annihilator flash-hider, which looks like a medieval torture device. It features angled sides and very sharp scalloped points that can be used as a standoff device or a glass breaker. According to YHM, the device eliminates 99 percent of muzzle flash while looking mean, so it is functional beyond the rare instances where a sternum tap may be necessary.
Mil-Spec fans will be pleased by the guts of the Desert Enforcer as well. They include tool-steel bolts and bolt carriers, and M4 feed ramps. YHM also installed a proper heavy buffer and standard AR controls for familiar operation. The rifle has a standard single-stage trigger, but unlike most factory AR triggers, this one is pretty good with minimal creep and a crisp, 7-pound break. While certainly not a precision-rifle trigger, it is suitable for tactical applications.
To match the Flat Dark Earth Cerakote YHM installed Magpul's CTR collapsible stock, MOE Enhanced Trigger Guard and MOE Grip in the same color. There is a good reason Magpul furniture is the most common standard upgrade on high-end ARs, and the company offers a wide variety of options and choices for consumers. I also found the fit and finish on the Desert Enforcer to be outstanding, with almost no play between the upper and lower receiver.
But looks can only get you so far. She has to have a good personality as well to make me happy, and I was eager to get this beauty out on the range. The AR was designed to be lightweight, but a lot of times, tricked out rifles can feel more like you are lugging around an M1 Garand. Not so with the Desert Enforcer, which, despite its many upgrades, weighs only 6.5 pounds.
The rifle is very well balanced and the long handguard makes shooting from different positions much more comfortable. I have been holding on to this rifle for a few months now and shooting it repeatedly with no cleaning or maintenance. I have run hundreds of rounds through it in rapid fire drills and from a bench with zero malfunctions using both brass- and steel-cased ammunition.
To test the accuracy, I ran several different-weight bullets through it, from 55-grain FMJ to 75-grain hollow points. To maintain consistency, I almost exclusively use the Trijicon 3-9x40 mm TR20-2 AccuPoint scope in all my rifle testing. I tested the Desert Enforcer at 100 yards from a sturdy rest firing five groups of five shots each with three different types of ammunition. Accuracy was good, averaging in the low 2-MOA range, but what was most impressive was the consistency of the groups across all types of ammunition.
I often find that with a slower twist rate and a wider range of bullet weights, the consistency of the groups can become very disparate. That was not the case with the Desert Enforcer, and its ability to digest and maintain consistency with a variety of loads can come in handy. For example, if you have your rifle zeroed using one type of ammunition and circumstances require you to feed it very different load, it is nice to know your rifle will still shoot approximately the same.
The Desert Enforcer is a high-quality AR with a lot of upgrades, and like my wife's shoes, it doesn't come cheap. As she says, you get what you pay for.
Specifications
Manufacturer: Yankee Hill Machine; (877) 892-6533, yhm.net
Action Type: Direct-gas-impingement-operated; semi-automatic
Caliber: 5.56 mm NATO
Capacity: 30 rounds
Finish: Flat Dark Earth Cerakote
Barrel Length: 16 inches
Sights: YHM 5040 QDS; adjustable for windage and elevation
Stock: Magpul CTR
Length: 32.8 inches (collapsed); 36.5 inches (extended)
Weight: 6.6 pounds
MSRP: $2,050
Shooting Results
| | | | |
| --- | --- | --- | --- |
| Load | Velocity | Group Size |   |
|   |   | Average | Best |
| Hornady Steel Match 75-grain BTHP | 2,532 | 2.09 | 1.68 |
| Black Hills 60-grain SP | 2,851 | 2.24 | 1.30 |
| Winchester 55-grain FMJ | 3,069 | 2.15 | 1.50 |

Velocity measured in fps 15 feet from the muzzle with a Competition Electronics ProChrono chronograph. Accuracy measured in inches for five consecutive, five-shot groups at 100 yards from a benchrest.