by
posted on December 22, 2010
Support NRA Shooting Illustrated
DONATE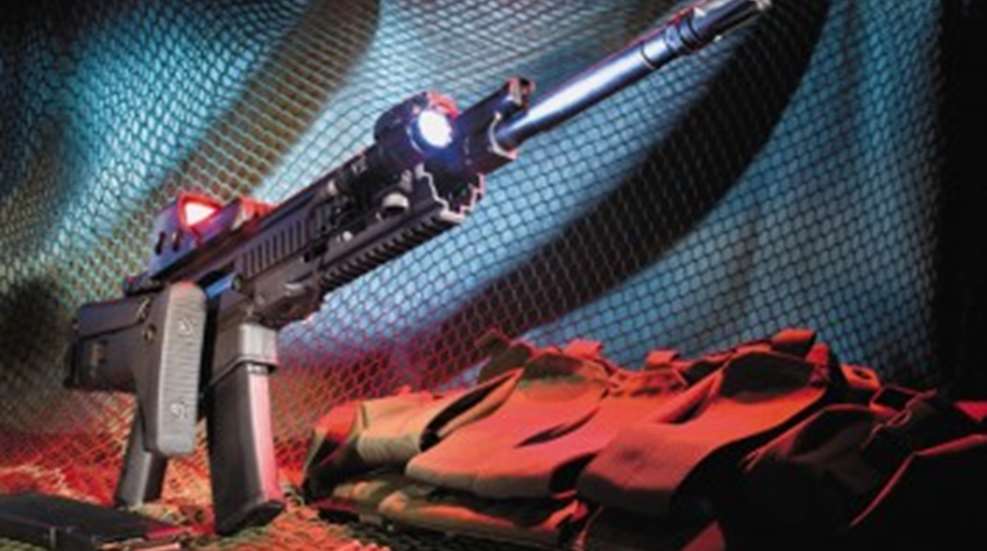 I spend a lot of time working with tactical firearms. While I love the AR platform's flexibility, the only method for changing barrel lengths, profiles or chamberings is to swap out complete upper-receiver assemblies. This may seem easy enough, but the seemingly unending list of possibilities it provides comes at a price, due to the need for redundant parts and sighting systems.
Should someone ever crack the nut on easy AR-barrel switching with repeatable zero retention, they're going to have a winner. If that same system also shoots accurately, it will be worth a small mint.
While the Bushmaster Adaptive Combat Rifle (ACR) is not an AR, this new gas-piston-operated carbine capitalizes on AR ergonomics while offering tool-less barrel-swap capabilities—with no extra parts needed. The ACR was originally conceived by Magpul as the Masada, but Bushmaster later took over the tweaking and production of the gun, providing the needed horsepower to bring it to market successfully. The result is a well-designed shooter, available in 5.56 NATO and eventually 6.8 mm SPC with the potential for even more flexibility down the road.
Fit and Feel
The ACR's futuristic profile is eerily similar to FNH's SCAR family, but the functional differences I found on the ACR tell me its designers took their time developing it. The grip angle, selector placement, sight plane and magazine are similar to what we've grown accustomed over nearly five decades with the AR platform. The differences start from there and are noticeable in both handling and function. In both the Basic (fixed stock, no fore-end rails, A2-style flash suppressor) and Enhanced (side-folding stock, fore-end rails, AAC flash suppressor) configurations, an adjustable cheekpiece allows relative comfort in obtaining a good sight picture.
The Enhanced model's folding stock locks in the extended position by way of large detent. The robust, metal receptacle and polymer, spring-loaded catch locked up solidly. I've seen other polymer-catch folding stocks that "break" into the folded position unintentionally, but the ACR I tested did not have that problem. The folding stock also has six collapsible positions, allowing ample length-of-pull adjustment for different-sized shooters, an array of optics mounts, use of body armor and a multitude of firing positions. To adjust in or out, users must simultaneously squeeze two buttons on either side of the stock. This prevents any chance of inadvertent collapse due to contact with the bottom-mounted release common on M4-style collapsibles. The stock isn't locked when folded, but does rest in a light detent, allowing rapid deployment should the need arise.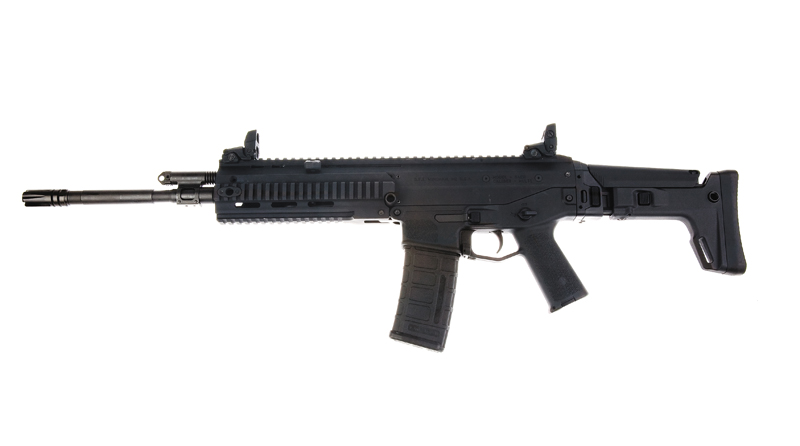 The ACR's stock, lower receiver and handguards are all made of rigid, non-reflective, high-impact polymer. Its pistol grip comes standard with modular storage for small spare items. The magazine release, bolt lock and selector lever are all ambidextrous. Located at the forward edge of the trigger guard, the bolt lock/release is easy to operate with minimal practice. I found the selector switch worked well in any position except prone. Lying down required more effort to rotate the safety than on other rifles with similar selector placement due to the change in firing-hand grip.
Like the FAL and other European firearm designs, the ACR's upper receiver is the serial-numbered half. It features a continuous rail-top surface that extends to the rear of the gas block and provides limitless optics-mounting options. Magpul's folding, polymer MBUS backup "iron" sights are included on both models, and are adequate for both near and intermediate targets via a quick-flip rear-aperture setup. The rear sight is windage adjustable, while the front post adjusts for elevation. Multiple sling slots and QD sockets are present on both ACR configurations.
Topping off these convenient features is the ACR's convertible charging handle, which can easily be switched from side to side in about 7 seconds with the aid of any small, pointed object. As a lefty, I've learned to adapt to everything from right-handed bolt actions to the very southpaw-unfriendly G3/CETME-style charging handles. Having the ability to tailor the ACR's charging handle for my shooting style was a real treat.
Even more important is the fact that the handle doesn't reciprocate. For tactical shooters this is a huge benefit, as external, moving gun parts can (and do) get caught on equipment and barriers, inducing malfunctions. Its charging handle is captive on the forward stroke, releasing hold of the bolt carrier only when fully forward. The result is it functions as a forward assist when needed. Genius.
At the Range
My first shots with the ACR were taken in October 2009 at a new product demonstration. I was unable to get a good feel for its accuracy, but I did notice the ACR's trigger was rough. Upon opening my evaluation sample, I discovered it had a stock AR trigger. Fortunately, it was in a metal sub-housing inside the lower receiver that any AR-savvy gunsmith could remove to swap the trigger assembly with a better one. I tested the ACR with the issued trigger, which measured a gritty 7 pounds. With a bipod mounted on the free-floated handguard's bottom rail, I did all accuracy firing prone. The cheekpiece adjusted easily, making this position very comfortable.
What the Enhanced model's flash suppressor lacks in muzzle braking, the ACR's weight and piston operating system more than make up for. Follow-through from shot to shot was amazingly easy, and felt recoil was generally light in all positions, especially standing. In fact, I found muzzle climb to be minimal to the point of boredom, so I proceeded to work through some advanced-movement drills just to keep things lively.
The ACR's adjustable gas regulator is a good news/bad news story. On the positive side, it is very easy to adjust by hand. Unfortunately, there are only two adjustments: "S" for sound-suppressed and "U" for unsuppressed fire. A third option for heavy fouling or other extreme conditions requiring a larger gas port would have been nice. The ACR is very clean firing, so it's possible this system simply doesn't need another position.
I've noticed many piston rifles radiate and conduct excessive heat to the support hand but, I never felt it on the ACR during rapid-fire strings. The exaggerated space between the handguard and free-floated barrel appears to aid cooling.
My evaluation sample performed well, but one nuisance was that spent brass tended to rebound off the polymer brass deflector and onto my non-firing shoulder while firing prone. This should only be noticeable to lefties, and a change to the bolted-on brass deflector's design would likely fix the problem. Reliability was almost perfect through 200 rounds fired. The only malfunction was a single failure to go fully into battery, which was easily remedied.
Smooth Swap
I was eager to check zero retention between barrel changes, but I only had one 16.5-inch barrel. So I installed, removed and reinstalled it repeatedly, checking for shift in the point of impact (POI) each time.
After ensuring the carbine is cleared, changing the ACR's barrel requires pushing out a captive pin, then sliding the handguard forward and off. The barrel uses an ingenious ratchet system for indexing an interrupted thread nut, making installation and removal very easy. Simply unfold and grasp the wire handle, depress the spring-loaded ratchet lock, turn counterclockwise approximately 1⁄3 turn, and off comes the barrel nut. The barrel can then be fully removed and changed to a new length or alternate chambering by installing in the reverse order.
I found if I reinstalled the barrel to the exact same ratchet position, POI shift was 1⁄2 inch at 100 yards. The shift was in different directions each time, so I could not predict the exact POI movement from group to group. While this would not suffice for precision work, it is more than adequate for a general-purpose carbine. Conversely, when I reinstalled the barrel with the ratchet just one click off of the zeroed position, POI shift was more than 3 inches in different directions, which is to be expected. I think—provided this system proves durable—Bushmaster has done a good job of mass producing a quick-change barrel system.
Quick and Not Dirty
Cleanup was a cinch once my range work was done. The ACR uses the familiar dual captive-pin setup to separate upper and lower halves. When the charging handle is fully forward, the bolt-carrier group is free to fall out of the rear of the opened upper receiver, just like a .308 Win. AR, so use caution when disassembling.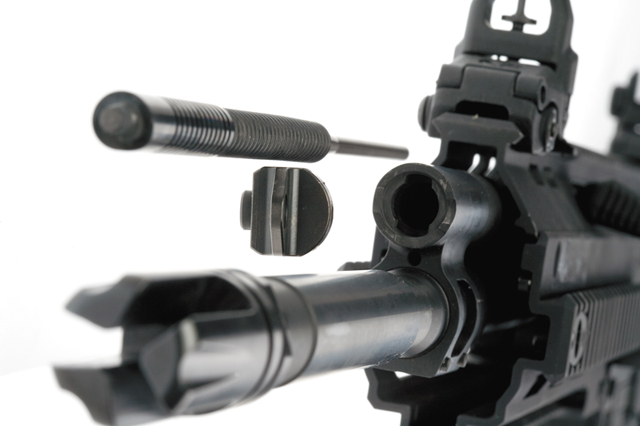 The bolt appears to be a modified AR design in a block-style bolt carrier. Disassembly of the carrier is simple, but was unnecessary for cleaning. The only fouling noted was a small amount of carbon on the front of the locking lugs and bolt face, which wiped away without difficulty.
Likewise, gas-piston disassembly from the barrel group was easy. I've recently tested several piston designs that shot very dirty up front, requiring heavy scraping to remove carbon buildup. The small amount of carbon that gathered on the ACR's piston wiped away with ease, and no scraping was required. The entire piston assembly can be removed from the regulator while the carbine is otherwise fully assembled, further easing maintenance on the ACR.
Instead of chrome lining, Bushmaster opted for a Melonite nitrocarburizing process for the bore, chamber and all internal bearing surfaces. Meloniting is considered superior to traditional nickel and chrome plating, creating a very durable, porous-surface coating that protects the subsurface metal while providing enhanced lubricity. I can't vouch for long-term durability, although I can say cleanup was nearly effortless.
The Price of Progress
While this review may read like I did my testing while wearing rose-colored shooting glasses, I have some ACR dislikes, too. Retail on the Basic model is currently $2,685. That's quite a jump from the AR world, even in custom form. It places the ACR in the same range as the FNH SCAR 16. But to get the same features—folding/collapsible stock, fore-end rails—you have to upgrade to the Enhanced ACR configuration that retails at $3,061. Actual street pricing for both models places them slightly lower, and hopefully they'll descend further from the stratosphere as the new-product sheen wears off.
I complain a lot about mediocre accuracy, and the ACR doesn't escape that criticism. Accuracy was decent, though likely hampered by the rough trigger. For the price, I'd expect a tighter-shooting carbine. I saw several areas where I think accuracy improvements can be made on these guns, so 'smithys should be able to squeeze a bit more out of them as ACR's populate private collections.
The ACR weighs in at more than 8 pounds dry—on the high side for a slick carbine. Although this won't negatively affect those of us who don't carry our means of survival on our shoulders for a living, it will affect those who do. Hopefully Bushmaster will find a way to trim weight without compromising function if it steps into the military market.
Bushmaster is not resting on its laurels as the ACR gains momentum. I asked Ryan Smith, Bushmaster's product manager for LE/tactical firearms, what's coming down the pike. He explained a new lower-receiver group and magazine will accompany a 7.62x39 mm barrel-and-bolt option in 2011. The company is also determining whether a .30 Rem. AR version will be developed. Contrary to Internet rumors, there is no current plan of action for a 6.5 mm chambering, but work continues on a 6.8 mm SPC version. Finally—and always exciting for long-range nuts like me—Magpul is working on the design for a .308 Win. that may see life as a big brother to the ACR.
Whether you love or hate the styling of new firearms like the ACR, their presence in the commercial market represents progress in arms development, and that's a good thing in my book. The ACR was a lot of fun to shoot and has the potential to be a very versatile shooting system.