My inability to wring out its full potential is the source of my aggravation. If we tested accuracy in four-shot groups, I could report the Black Hills 55-grain FMJ load yielded a 3⁄8-inch group at 100 yards. Our protocol requires five-shot groups, so that number swelled to a testing-session best of 3⁄4 inch with four of the holes literally on top of each other. 
It might be easy to assume the rifle prefers lighter .223 Rem. fodder, were it not for the fact that three 69-grain Sierra MatchKing bullets made a similarly small cloverleaf. Unfortunately, the fifth shot wound up in orbit somewhere around Pluto, icing the results to 1 1⁄8 inch.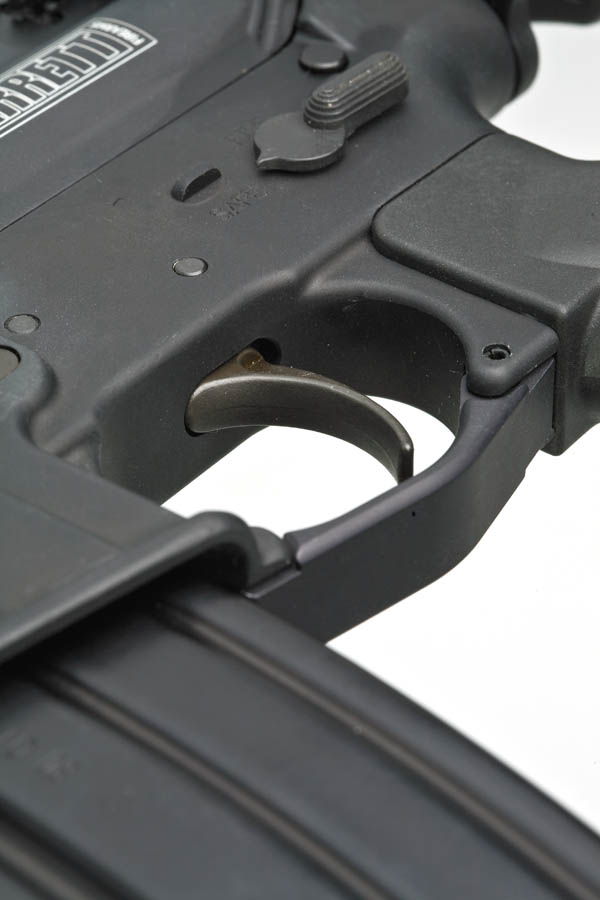 I slowed down, ensured the barrel wasn't hot and noted the flyers came at unpredicatable times. I even gave my trigger finger several scoldings, the likes of which put Mark Fidrych's mound antics to shame.
Plain and simple: the Barrett REC7 is accurate enough to put lack of practice on public display.
Out of frustration, I adjusted the gas system to its suppressed setting. There was no significant point-of-impact shift or improvement in my groups.
Interestingly, on the suppressed setting I always had to work the charging handle to extract brass and chamber a new round with the Black Hills load. Brass would occassionally eject with the Winchester 55-grain Ballistic Silvertip load, and you never really knew what was going to happen with the Federal Gold Medal Match ammo. Sometimes the rifle would cycle completely.
The REC7 forgoes the AR's more traditional gas-impingement system by using a one-piece, stainless steel piston Barrett claims is "the most robust in the industry." The gas block is chrome-lined to minimize carbon buildup and is topped with a section of rail for mounting backup iron sights.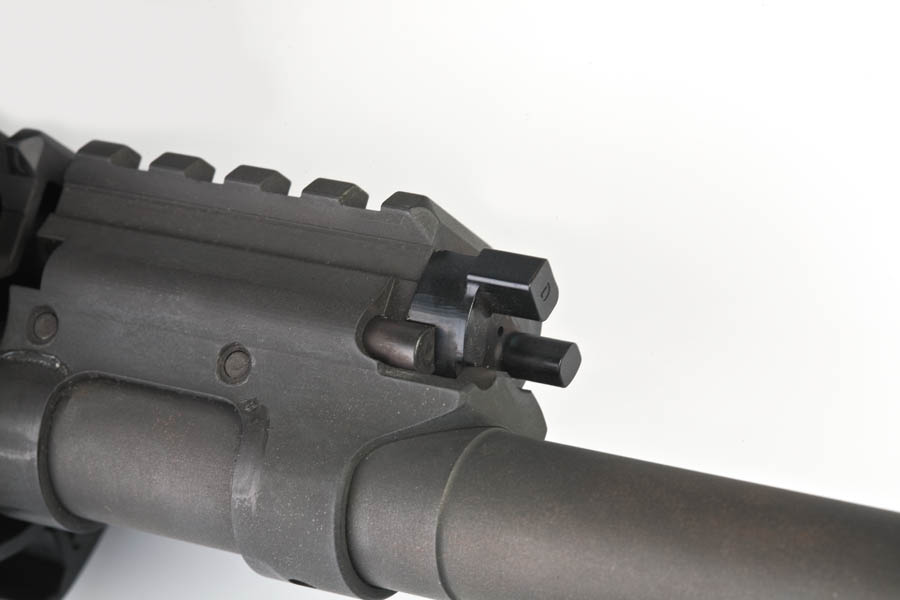 One of the claims about piston guns is they run cleaner, something that's hard to quantify. What I discovered after my range session was interesting, though. The piston was easily removed and had only a small amount of fouling. The real shock came when I removed the bolt-carrier assembly. It looked factory clean and my hands were unsoiled until I really started probing the bolt face. Most ARs—even piston guns—don't finish that clean.
I'd love to blame my obvious ineptitude with the rifle on the trigger, which has a let-off weight that varies with eerie regularity between 6 1⁄2 and 7 pounds. It's a single-stage version with very little in the way of takeup, but there is palpable friction during initial movement.
The REC7's hammer-forged, chrome-lined, 16-inch barrel is tipped with an A2-style flash hider. It's free floated within a Daniel Defense AR15 Lite Rail 9.0 quad fore-end. Attachment points for aftermarket gear are numerically indexed to speed removal and replacement to previous configurations. The gun ships with three rail covers that have a rubbery feel. Some who handled the gun said they didn't like them, but I do. Their black, slick-looking finish gives the gun a more modular look when they're attached and they feel great to the touch.
One of the big differences in the REC7 is the bolt carrier, which is machined from a monolithic block of 8620 steel. It features an integral piston strike face, which means there's one less part to rattle loose during heavy use.A six-position Magpul adjustable stock allows shooters to tailor length of pull to their needs. While the stock's adjustments are positive, I found getting a good cheek weld—as I looked through the Leupold 6.5-20x50 mm LR/T riflecope I mounted for testing—to be something of a challenge. That fix is fast and easy, but this was a loaner gun.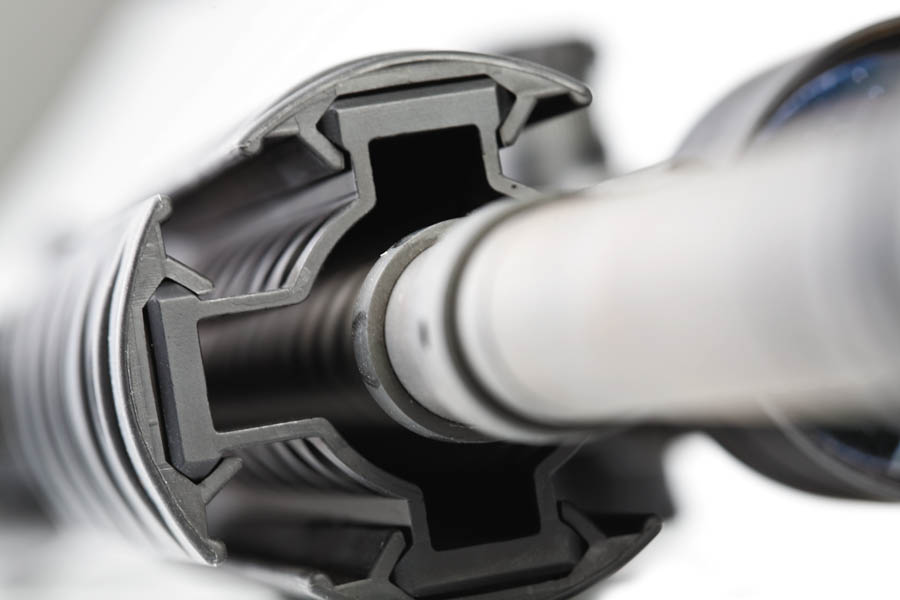 Both the upper receiver and lower receiver are forged from 7075 aluminum and hard-coat anodized. The REC7 ships with two magazines, three rail covers and a tactical soft case.
Removing the piston for cleaning was a snap—yet another testiment that this gun runs clean. After range sessions with some piston guns, I've had to hold the gun muzzle down and work the charging handle several times so the bolt carrier could jar the grungy piston free. That wasn't the case with the REC7. Removing the nitrided gas regulator was also easy, although the retaining pin is far from glove friendly.
The fire-control mechanism was a little stingy at first, although I could feel it starting to loosen up during testing. I attribute that mostly to the carbine being brand-new. Were it my gun, I'd strip it apart and lubricate liberally.The beveled magazine well sped my reloads, as advertised, and the generous Magpul triggerguard is plenty big for gloved use.
The REC7 chambered in 5.56 NATO more than lives up to its acronym, Reliability-Enhanced Carbine (REC). Producing one of the cleanest bolt-carrier groups I've seen after testing, it undoubtedly will require less maintenance and attention than most other ARs. It's a pleasure to shoot, has the kind of accuracy guaranteed to challenge even the best marksman and it's good looking enough to be seen with in public.
Manufacturer: Barrett Rifles; (615) 896-2938
Action Type: Gas-operated, semi-automatic
Caliber: 5.56 NATO
Capacity: 30 rounds
Barrel Length: 16 inches
Rifling: 5 grooves; 1:7-inch RH twist
Stock: Adjustable, six-position Magpul
Sights: None, Picatinny rail for mounting optics
Trigger Pull Weight: 6.75 pounds
Length: 33.375 inches
Weight: 7.62 pounds
Accessories: Two Magpul PMag magazines, soft case, three rail covers
MSRP: $2,519.99