The Colorado-based company's products are coveted by the military, law enforcement and civilians alike for their superior design and quality. It makes sense, then, for a major gun manufacturer to include Magpul Original Equipment (MOE) products as standard gear on its AR-15s. What is more difficult to understand is how Smith & Wesson managed to include a multitude of MOE gear on an M&P15 without raising the price a single cent, yet somehow, the boys in Springfield, MA, managed to do just that.
Spokesman Matt Rice said, "Smith & Wesson's market research showed that the Magpul accessories are some of the most requested and purchased add-ons by consumers, so it only made sense to offer them directly to the consumer. Smith & Wesson recognizes the quality in these products and feels they are well-suited for its high-quality rifles." He declined to explain how Smith & Wesson managed to keep the price so low, however, so we'll just have to assume the company's engineers are sorcerers well versed in alchemy and other black arts.
The company's M&P15 MOE rifles are available with black or Flat Dark Earth MOE accoutrements and are identical in terms of function to the base model M&P15. With a receiver machined from 7075 T6 aluminum and a 16-inch, 4140 steel barrel, you know the rifles are sturdy and have great accuracy potential. Where the MOE models differ from the rest of the M&P15 line is, unsurprisingly, the areas where Magpul products replace generic parts.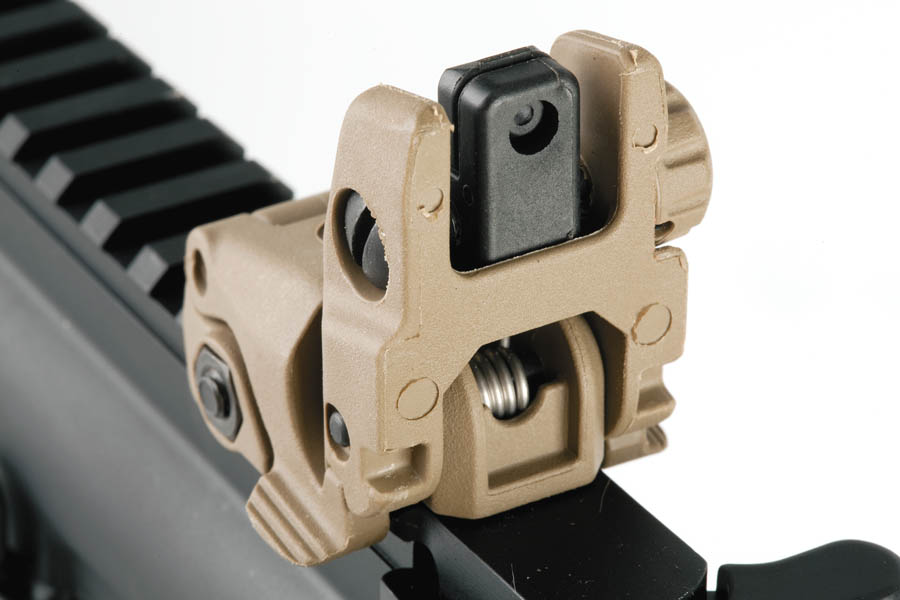 We'll start at the front, with the carbine-length MOE handguard. When I picked the gun up for the first time, I immediately noticed its lighter weight compared to most ARs I've shot. A large part of the weight loss comes from the use of this polymer handguard as opposed to aluminum models (or models with aluminum heat shields) found on most modern sporting rifles. Beyond weight-reduction, the MOE handguard has flared front extensions and a lower lip that both protect the support hand for those who prefer a longer grip radius and provide a tactile means of telling the shooter he's at the end of the unit and shouldn't move his hand any farther forward. It also has slots at two-, six- and 10-o'clock for mounting rail sections should users want to attach accessories to the fore-end.
The M&P15 MOE comes with a 30-round Magpul PMAG magazine, a polymer design that may very well be the most sought after AR accessory on the market, and with good reason—it's tough as nails and it works. PMAGs come with a pop-off impact cover to protect the feed lips when the magazine is not in the gun, which further helps enhance the unit's reliability. A MOE grip is also included with the Smith & Wesson rifle. It is slightly thicker than a standard AR grip and has more pronounced checkering for added purchase. The MOE grip also has a storage compartment protected by a sturdy cap, though I found the cap a tad difficult to reinsert, likely because of my simian mechanical abilities.
The M&P15 MOE lacks a carrying handle, but it includes a rail section running from the charging handle to just above the chamber for mounting optics. Given the presence of an A2-style gas block and front sight, this may seem odd, but Smith & Wesson did not skimp on the gear included with this M&P15. A Magpul Back-Up Sight (MBUS) rear sight makes shooting the rifle with optics or iron sights a breeze. Technically, that statement is incorrect, as MBUS sights are injection-molded polymer, not iron, so sue me. The MBUS rear sight is particularly useful because it includes an easily adjustable (for windage) dual-aperture sight shielded by protective wings. Also, the entire unit folds down to less than .75-inch in height, allowing shooters to mount conventional optics toward the rear of the receiver without interference from an iron sight.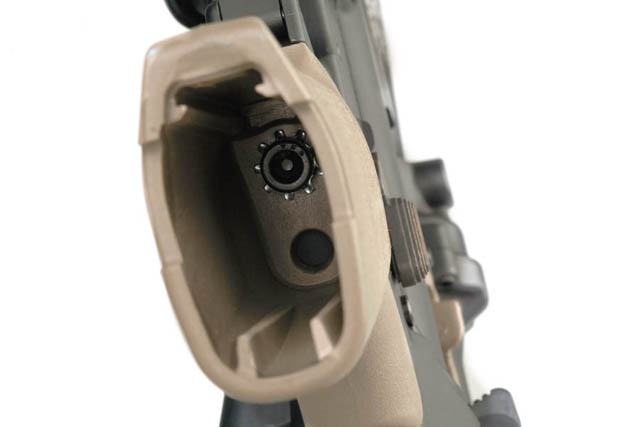 The last bit of MOE included on this M&P15 is a MOE Carbine Stock, a collapsible model that provides 3.6 inches of adjustment. The adjustment lever is located inside the skeletonized unit, providing some degree of protection from unwanted pressure on the lever. I found it to be particularly smooth compared to similar-purpose models, and I appreciated the sloping comb, which made the stock a far more comfortable platform than any comparable version I've tested. The MOE Carbine Stock includes a rubber buttpad, more for preventing the rifle from slipping than for absorbing recoil—hardly a problem on a 5.56 NATO rifle. It has two sling attachment points, one at the rear in front of the buttpad and one on the diagonal support section, allowing for multiple slinging styles.
I took the M&P15 MOE to the range with some American Eagle,  and Winchester ammunition to see how it shot, but I was reasonably confident in the gun based on past experience with a fundamentally unchanged rifle. My real goal was to see if the MOE gear provided the expected benefits. It did. The handguard and grip were easier to hold, the magazine easier to load, the MBUS sight easier to deploy, fold and use and the stock more comfortable and easier to adjust.
Smith & Wesson is doing its customers a huge favor by offering the M&P15 MOE at the same price as a base-model M&P15 (with sights). To give you an idea of how much of a favor, were you to purchase each piece of Magpul gear included on the M&P15 MOE, you would spend about $183.75, and then you would have to install each piece on your rifle. Don't bother—just get an M&P15 MOE.
Manufacturer: Smith & Wesson; (800) 331-0852
Action Type: Gas-operated, semi-automatic
Caliber: 5.56 NATO
Capacity: 30 rounds
Receiver: 7075 T6 aluminum
Barrel: 16 inches, 4140 steel
Rifling: 6 grooves; 1:9-inch RH twist
Sights: A2-style front post; Magpul MBUS rear
Trigger Pull Weight: 7 pounds, 10 ounces
Stock: Magpul MOE Carbine Stock
Overall Length: 35.6 inches (extended); 32 inches (collapsed)
Weight: 6 pounds, 8 ounces
Accessories: Magpul PMAG 30, cable lock, manual
MSRP: $1,406