by
Shooting Illustrated Staff
posted on February 15, 2015
Support NRA Shooting Illustrated
DONATE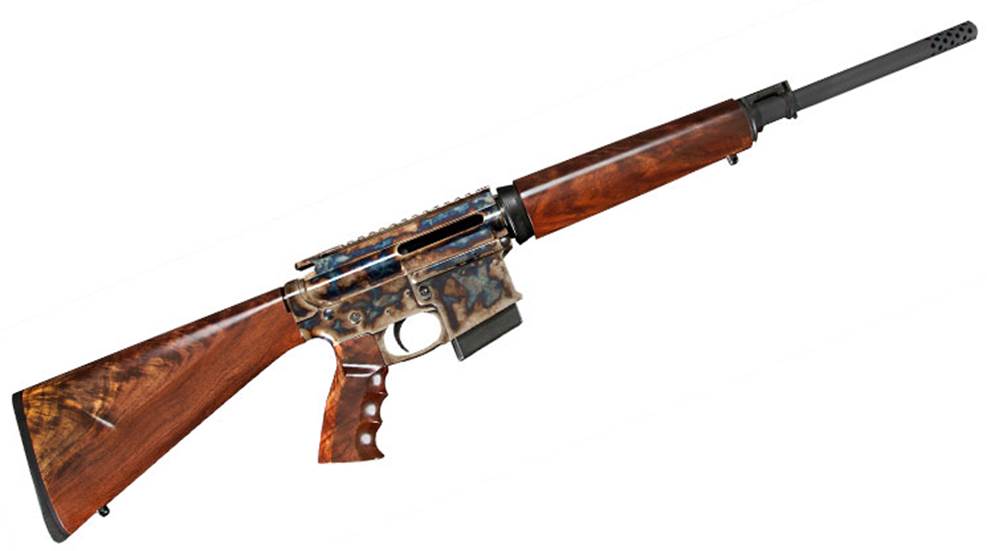 Turnbull Mfg. Co. introduced its latest rifle, the carbon steel .223 Rem. TAR-15. This semi-automatic rifle was developed for the shooter or collector who wants a one-of-a-kind AR and intends to add his own sighting system. Like all Turnbull rifles, the TAR-15 features the workmanship and detail that is the mark of a Turnbull firearm.
"With the rising popularity of the AR-15 platform, it seemed time to design and produce a truly collectible version of this amazing shooting platform," commented CEO Doug Turnbull, "while still turning out what is one of the most accurate and easy shooting AR type rifles. I am very proud to put my name on the TAR-15."
The TAR-15 is based on the standard AR-15 platform, but the "standard" stops there. The upper and lower are both crafted from 8620 carbon finished in the Turnbull bone/charcoal case hardening process that lends both the colorful finish and hardens the steel. The barrel is chrome lined in both the bore and chamber ease of maintenance, durability and maximum accuracy.
The TAR-15 comes standard with a 16-inch barrel and includes a screw-on muzzle brake. Other barrel lengths up to 24 inches are available at an additional charge. These rifles use the direct-gas-impingement system for smoother recoil and control. The gun ships with an oversize integral trigger guard to fit a gloved finger easily for cold weather or other gloved situations.
The stocks and fore-end are premium American black walnut that has been designed to maximize the ergonomics of the AR-15 design while allowing for the aesthetics of fine wood furniture. The wood is available in either a urethane or oiled matte finish in several grades. The TAR-15 ships in a lockable hard travel case with a four- and 10-round magazine. All TAR-15 rifles carry the Turnbull one-year warranty.
MSRP is $2,495 complete with case and muzzle brake.