by
Shooting Illustrated Staff
posted on November 17, 2014
Support NRA Shooting Illustrated
DONATE
The WSKTS-KO Blade Grinding Attachment is a horizontal belt attachment designed for knife shaping, sharpening and honing tasks. This 4-pulley attachment is fully adjustable from 10 degrees to 35 degrees (in 1-degree increments) and includes 1-inch x 18-inch engineered abrasive belts in a wide range of grits.
The top pulleys have two center distance positions so you can choose your preferred belt deflection to create the edge profile you want – a full convex or a flat convex. This allows you to customize your blade edge to best meet your needs or preference. This attachment is similar in design to what blade makers use and provides a wide range of adjustability so you can custom shape, sharpen and hone your blades at home without the cost or size of full scale blade maker's equipment.
It is designed with cast metal components and engineered polymers to hold up to the rigors of heavy sharpening tasks. This attachment is quickly installed thanks to the tool-less design so changing belts and attachments is quick and easy. The belt speed is adjustable from 1200 SFM to 2800 SFM to accommodate a wide range of sharpening and honing tasks. The Blade Grinder attachment provides a full selection of 1-inch x 18-inch abrasive grit belts and also accepts an optional leather belt for power stropping.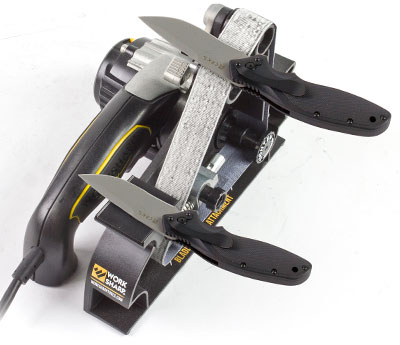 Premium belt selection provided: Norton ceramic P120, Norax X65 (P220), X22 (P1000), X4 (P1000) and Micro-Mesh 12000 so you can shape, sharpen, hone and strop all of your blades. A flat reference plate is provided so you can level your blade before you approach the belt (which determines your grind angle) and create a very consistent edge angle on your blade. Since the angle adjustment is done in the belt, the sharpening method is always the same – simply hold the blade horizontal and sharpen the length of the blade across the belt. Attachment also includes a flat work space that provides 90-degree angle access to the abrasive belt for various grinding tasks.
The micro-adjust belt tracking knob ensures you keep your belt centered while working, without using tools or losing momentum. The spring tensioner with a sealed bearing has a lock out feature that makes belt changes fast and easy without the need for tools – simply push and turn the tensioner to install a belt in seconds. Not intended for grinding or creating primary bevels into steel blade blanks, but is capable of shaping, profiling, sharpening, honing and stropping tasks on existing blades. Not intended for industrial or commercial applications.
Work Sharp Engineered, Ken Onion Designed. Attachment only, requires the WSKTS-KO Sharpener for use. Does not fit Work Sharp model WSKTS. Replacement belt kit WSSAKO81115 with qty. 5 belts sold separately.
MSRP: $99.95.