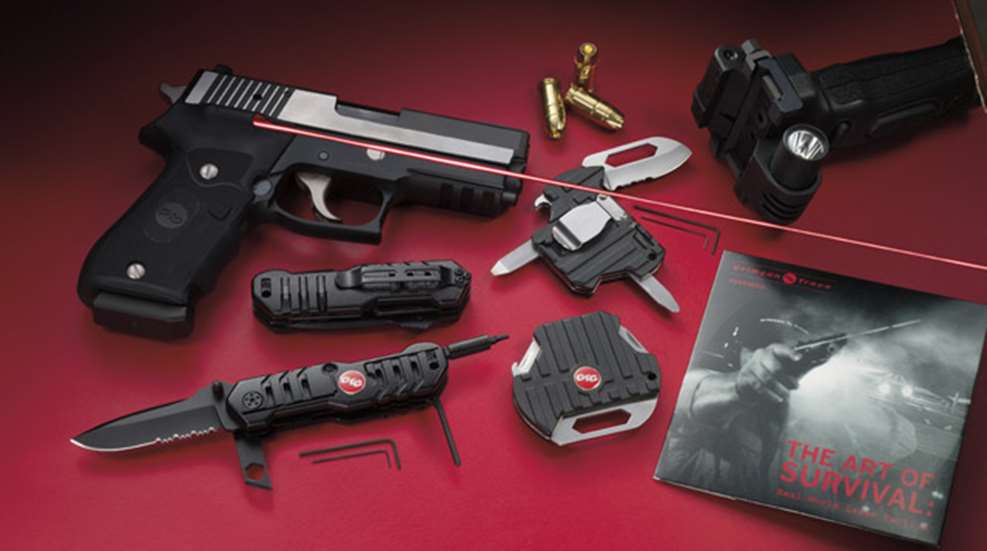 Optics, lights and lasers are increasingly seen as standard and necessary accessories for any self-defense or tactical handgun, rifle or shotgun. However, mounting them and getting them sighted in requires the use of very small tools. Most manufacturers include the minimalist hex keys you need, but I either forget them at home or eventually lose them.
If only there were some way I could keep these tools secure and at hand when needed and not lose or forget them...Well the folks at Crimson Trace Corporation (CTC) in Wilsonville, OR, who make excellent laser sights, must have gotten tired of sending out replacements to people like me. The company teamed up with well-known knife maker Columbia River Knife & Tool (CRKT), in neighboring Tualatin, OR, to produce two new, convenient multi-tools that integrate the most commonly needed small sight tools with a pocketknife.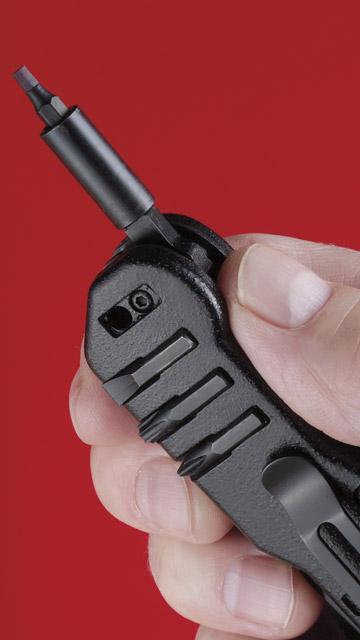 The solution, in hindsight, seems obvious. I always have a pocketknife with me (often more than one), and now I can carry many of the range tools I need as well. To add to the versatility, CTC and CRKT came up with two distinct models, both of which feature CTC's distinct, circular red logo mounted on rugged, grooved, non-reflective black Zytel scales and a skeletonized design. Also, both versions include lanyard holes and two CTC hex keys (.028- and .050-inch) for laser-sight adjustment, which are firmly fitted into the scales to prevent loss.
The first and larger of the two models is the
Picatinny Tool-CTC Multi-Tool
, which is designed specifically for AR-pattern rifles and features a full-sized pocketknife with a belt clip. It has a locking, 2.8-inch-long, blackened and partially serrated stainless steel blade, which CRKT bills as a "Plan B" weapon, although running at that point might be a better option. Other tools include a rounded takedown-pin punch that can also be used to help remove cartridges stuck in the chamber and a carbon scraper for the bolt, which could double as a large, flat screwdriver. An 8 mm wrench and a small hex-key driver with four attachment bits (flat-head, Phillips-head, Torx 20 and hex 3/32) fit into the handle.
The smaller of the two offerings is the CTC Range Bag Tool (RBT) designed by Glenn Klecker. My first thought was this would make a handy money clip with its short, fat, rounded profile and wide pocket clip. The RBT is not a copy of the Picatinny Tool, but a separate multitasker designed for many different uses compared to its larger cousin. The 1.8-inch-long, non-locking and partially serrated stainless steel blade is razor sharp and features a flat, 8-mm-wide cut-through for use as a field expedient wrench. Two foldout blades also serve as small flat-head and Phillips-head screwdrivers, and one includes a file on one side. A handy bottle opener is also included.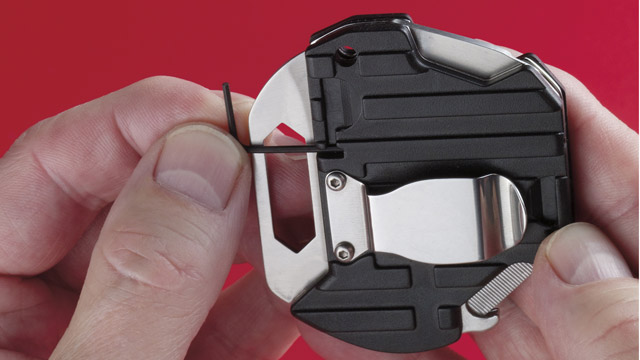 Crimson Trace sells a lot of laser units for rifles and pistols—a quarter million so far—to American shooters, military and law enforcement personnel. The company's products are also offered as a standard upgrade on firearms from multiple manufacturers, and they all use the same tiny hex keys for sight adjustments. CRKT has been making high-quality folding- and fixed-blade knives for 15 years. Their new partnership is a natural one that will only benefit gun owners.
Specifications
CTC RBT
| | |
| --- | --- |
| Tools: | Knife, flat- and Phillips-head screwdrivers, bottle opener, .028 and .050 hex keys, pocket clip |
| Blade: | Combination serrated |
| Blade Length: | 1.875 inches |
| Blade Thickness: | 0.072 inch |
| Steel: | 5Cr13, 51-53 HRC |
| Handle Length: | 2.625 inches |
| Overall length: | 4.5 inches |
| Weight: | 2.8 ounces |
| MSRP: | $19.99 |

CTC Picatinny Tool
| | |
| --- | --- |
| Tools: | Knife, ejection pin, 8 mm wrench, scraper, hex-key driver with small flat-head, Phillips-head, Torx 20 and hex 3/32 bits, .028 and .050 hex keys, pocket clip |
| Blade: | Combination serrated |
| Blade Length: | 2.75 inches |
| Blade Thickness: | 0.113 inch |
| Steel: | 8Cr14MoV, 58-59 HRC |
| Handle Length: | 4.00 inches |
| Overall Length: | 6.75 inches |
| Weight: | 4.7 ounces |
| MSRP: | $49.99 |