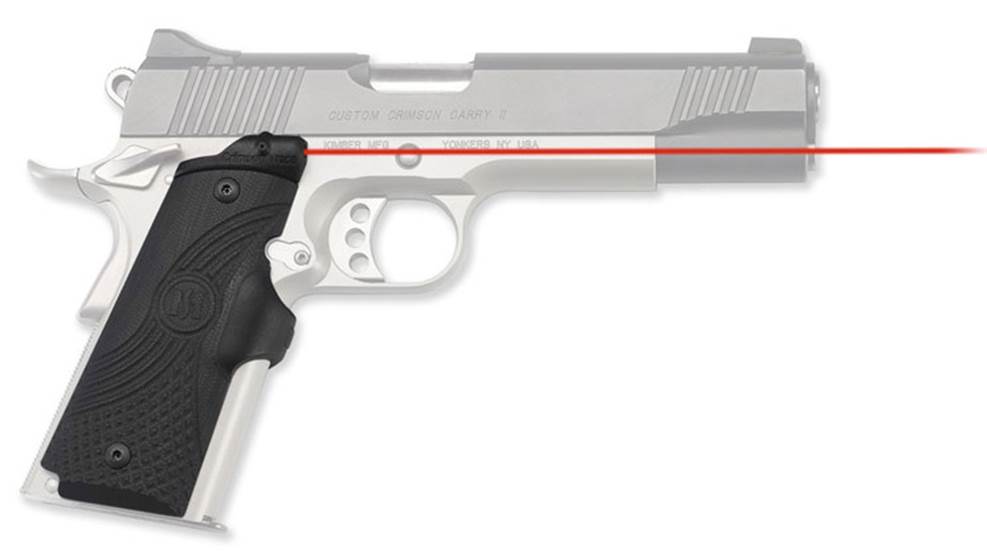 In fact, it's difficult to find a handgun in current production for which Crimson Trace does not make its near-ubiquitous Lasergrips. That includes, of course, 1911-style pistols, and Crimson Trace's latest efforts refine its flagship accessory specifically for the king of fighting handguns.
The new Master Series Lasergrips have notable features that make them stand out from the company's standard LG-401 model. Instead of being made of polymer, Master Series grip panels are offered in G10 or laminated, resin-impregnated hardwood. Think custom-quality grips with the added benefit of an integral laser.
In addition, Crimson Trace shortened the laser diode in the Master Series grips to provide clearance for an ambidextrous safety lever.
To ensure the grips will fit your 1911, they are CNC-machined from solid stock to tolerances of 0.002 inch. Once the shaping and texturing is complete, Crimson Trace technicians add the electronics. Just like previous Lasergrips, the Master Series are ready to install out of the box, and the process takes but a few minutes.
Another feature that hasn't changed is the instinctive activation. The rubber overmolded pressure switch wraps around a 1911's frontstrap just under the trigger guard and is activated by the middle finger when the pistol is held in a firing grip.
Engineers did, however, change the location of the master power switch. The recessed on/off button is positioned a bit higher on the Master Series grips. The new location allows the grips to be cut for bobtailed and Officer's-sized frames. Versions to fit these styles are in the works.
I tested a prototype of the G10 Master Series grips on the Ruger SR1911 and immediately was struck with the super-positive purchase afforded by the diagonal grooves machined into the material. The production version will have a more traditional checkering pattern, but given the slip-free characteristics of G10, I expect the grips will still be far superior to polymer. They will certainly look better, and isn't that part of the point?
(800) 442-2406; www.crimsontrace.com