by
Shooting Illustrated Staff
posted on January 28, 2016
Support NRA Shooting Illustrated
DONATE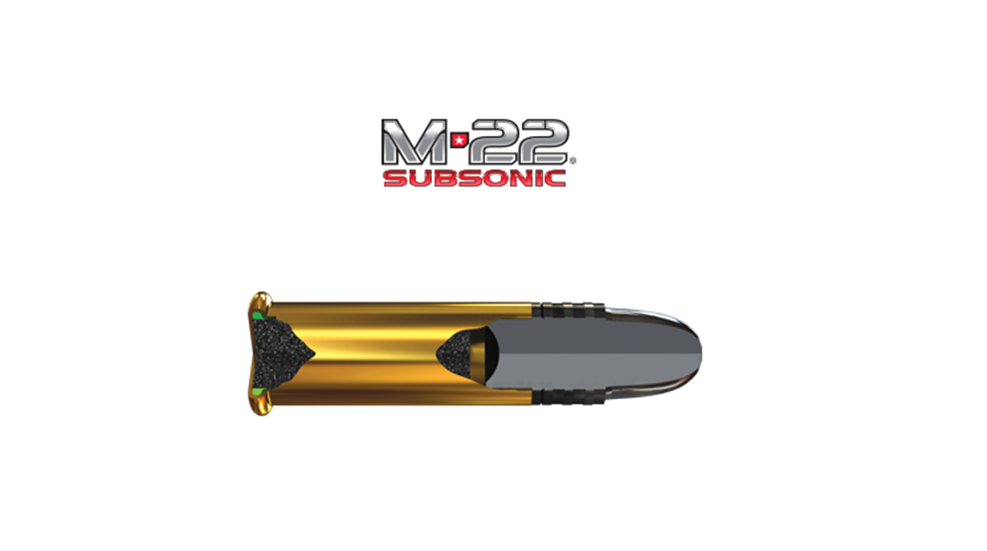 Winchester Ammunition delivered one of the most significant innovations to hit the rimfire world in 2013 with the introduction of the 17 Winchester Super Magnum, but where new rimfire loads are concerned, the company is far from over. In 2016, Winchester Ammunition continues to invest in its rimfire product line with the development of a new M-22 Subsonic .22 LR round. 
The M-22 is designed specifically to function in semi-automatic firearms, while remaining subsonic from both pistol and rifle length barrels. The new M-22 Subsonic features a 45-grain black-plated lead round nose bullet that has the equivalent energy of full velocity 36-grain rimfire products. In addition, the M-22 Subsonic utilizes non-corrosive priming and clean burning powder for reduced muzzle flash. 
The M-22 Subsonic was also created with suppressed firearms in mind, but performs just as well in unsuppressed rifles and handguns. During Winchester testing, M-22 Subsonic rounds measured 129 dB from an unsuppressed rifle. That is significantly quieter than a full velocity .22 LR fired from a suppressed rifle, which typically measures around 138 db. With the addition of a suppressor, M-22 Subsonic achieves a remarkably quiet 116 db.
 
M-22 Subsonic will be available in 100-round plastic packs and 800-round bulk packs.
 
"Suppressed firearms are growing in popularity. This is the perfect round for shooters looking to reduce the noise of each shot even more," said Brett Flaugher, Winchester Ammunition vice president of marketing, sales and strategy.