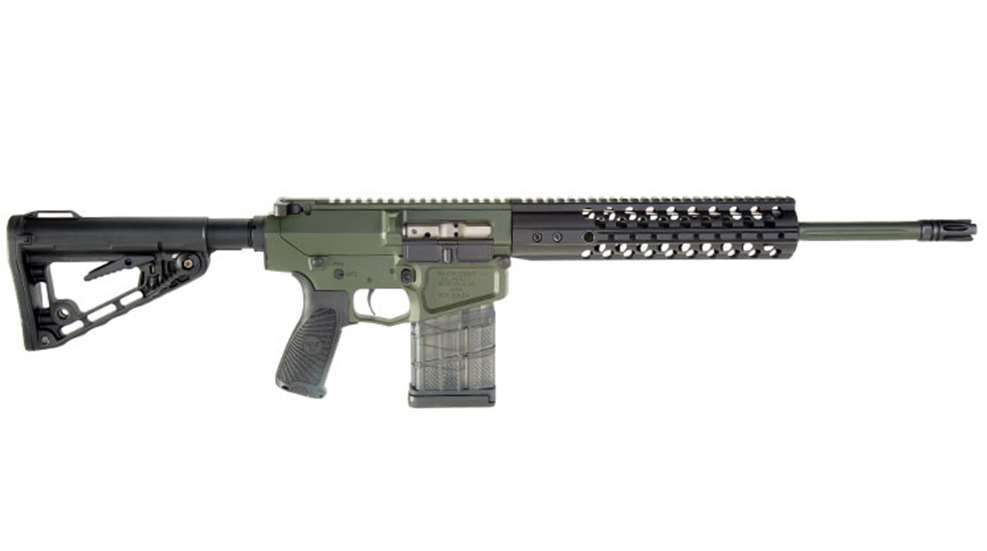 In 1977 Bill Wilson started his gunsmithing business in the back of his family's jewelry store in Berryville, AR. At that time there were less than 3,000 residents of this little hamlet located in the Arkansas hills. Wilson's jewelry store/gun shop, now Wilson Combat, has grown tremendously—a lot more than Berryville, which has only doubled its population. Wilson Combat has become one of the largest employers in the area and a premier manufacturer of custom 1911 handguns. Now the company also offers full custom shotguns and AR-15-pattern rifles. Its latest ARs are available chambered in .308 Win.

Young shooters who didn't grow up watching "The Rat Patrol" on TV may not know who Bill Wilson is. He built an impeccable reputation as a gunsmith and was the Pistolsmith of the year in 2002. Wilson was also a top-level IPSC competitor, former director of USPSA, built the largest and most-successful custom-handgun shop of all time and he was also one of the founding members of the International Defensive Pistol Association (IDPA). Wilson is now retired and his son Ryan runs the business. Not being one to sit around and watch reruns of "The Brady Bunch," Wilson continues to support his company by providing research-and-development services. Essentially, he comes up with cool stuff for Wilson Combat to build and then shoots it—a lot.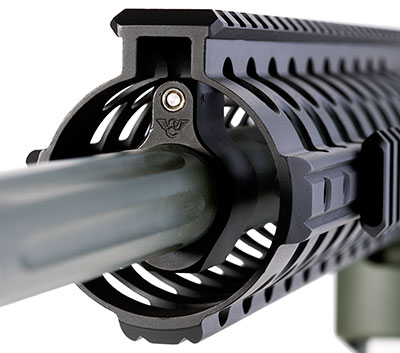 Due to its weight, square edges and (to some)profound ugliness, Wilson was never a big fan of the AR-10, but his customers began demanding an AR-pattern rifle chambered in .308 Win. Eventually, Wilson and Wilson Combat decided to appease its patrons and embarked on a plan to produce a premium-quality, lightweight AR in the aforementioned chambering, one as reliable as taxes—but not as heavy as that particular burden.
The company started with its own uppers and lowers, which are machined from billets of 7075-T6 aluminum. These receivers just don't come off the machine and get thrown together, however. A craftsman files, hones and labors over both until they fit together as seamlessly as your lips. You'll find no mill marks or imperfections; surfaces are flat and radiuses/radii are true.
Anyone can build an AR if you have the parts, but a premium AR is a collection of select components, each of which are meticulously assembled with the care and attention to detail of a watch repairman. Given Wilson's jeweler background, that's not too far off base. Both he and his son, Ryan, demand excellence. That's why when you retract the charging handle on the Wilson Combat .308, you hear no grinding and feel no grittiness; the retraction is as smooth as pulling a 1911 from a well-worn leather holster. Although the profile and shape of the Wilson Combat .308 AR upper is a bit different, it still incorporates all the usual controls and features. There's a spring-loaded ejection-port cover, a brass deflector and a full-length top rail.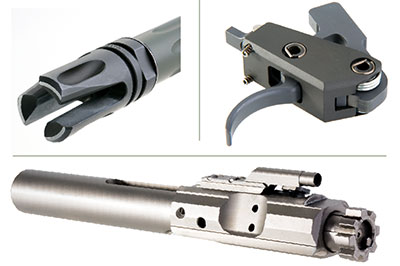 These .308 ARs are finished off with Wilson's proprietary T.R.I.M. handguard, which has a full-length top rail and is very comfortable. They incorporate a low-profile gas block, a ergonomic and comfortable Bravo Company grip, and a Wilson/Rogers six-position adjustable stock. As for weight, various configurations are available, but the 16-inch-barreled version tested weighed 7 pounds, 12 ounces without optics, sights or a magazine. That's not bad, considering some AR-15s weigh just as much.
For range testing, a Leupold VX-3 4-14X riflescope was mounted in Wilson Combat's excellent Accu-Riser Scope Mount. These mounts are available for 1-inch or 30 mm riflescope tubes and attach to the top rail via a single screw with a triangular head designed to be tightened by hand. This mount positions the scope at the proper height to line up with your eye. It has a spring-loaded clamp and utilizes eight oversize Torx screws. Even if you have no interest in a Wilson Combat AR, you should check out these mounts. They return to zero every time and are one of the best ways to attach a traditional riflescope to any AR.
Five loads were tested from the bench. Three were what you might consider high-end match loads, and two were bargain-basement burner loads, one utilizing steel cases. These cheap loads were included to see how well the rifle would run with inexpensive ammo. If you lay down the cash for a Wilson Combat .308 AR, you might need to run bargain ammo, for a while, to rebuild your budget.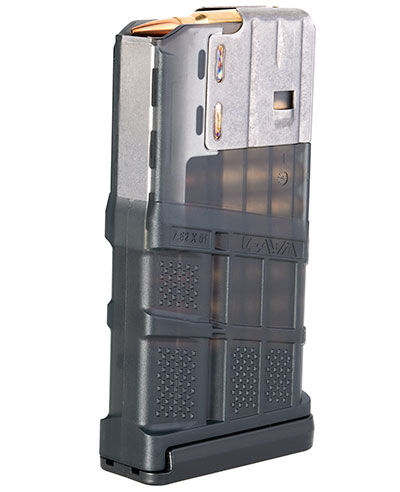 There were no malfunctions or stoppages while firing 250 rounds of mixed ammunition. As expected, the more expensive loads shot the best; the carbine averaged 1.31 inches for 15, five-shot groups with the good stuff. The rifle didn't shoot badly with the less expensive ammo. It averaged just a shade more than 1.5 MOA for 10 groups. Interestingly, Wilson Combat manufacturers or finishes all of their .308 caliber barrels in house, mostly from Criterion blanks. It looks like they know what they are doing.
The carbine handled well, too. It was relatively easy to keep three shots within a five-inch target, placed at 25 yards, within four seconds. Unquestionably, this was due in no small part to the Wilson Combat Tactical Trigger Unit (TTU). This single-stage, 3-pound "go switch" broke easily and crisply. Recoil was controllable and comfortable too. An all-day range session will not require all-night treatment with Motrin and a massage.
At three grand, the Wilson Combat AR is not cheap. But, like the custom 1911s Wilson Combat turns out, these .308 ARs are in a class all their own. Is it the best AR in .308 Win. you can buy? It just might be. Wilson Combat can custom create yours to spec, with barrel lengths from 14.7 to 20 inches. And, every rifle comes with a Wilson Combat's 100-percent customer-satisfaction guarantee. By any measure, this rifle is, just as it should be, a jewel. Bill's parents would be proud.