Wilson Combat is synonymous with custom  pistols. The company built its fantastic reputation by customizing Colt's 1911 handguns, and then solidified it by ultimately building its own. Now Wilson Combat offers exquisite MSRs, customized Berettas and upgraded Glock pistols, too. Still, it was somewhat of a surprise when the company announced it would be offering a custom SIG Sauer P320. I asked Wilson Combat founder Bill Wilson why, and he said, "Let's face it, like the M1911 and the M9 being adopted by the military, the P320 is here to stay for a while. Also, we immediately saw ways we could improve on the basic gun."
We cannot talk about the WCP320—which is the model designation of Wilson Combat's custom SIG Sauer P320 pistol—without first discussing the Wilson Combat grip modules which form the basis for the custom pistol. Yes, SIG Sauer offers various grip modules for the P320 to fit different hand sizes, but they lack the enhancements of the Wilson modules, of which there are currently 14 variants to fit full-size and compact P320s, with and without manual safeties.


This particular Wilson Combat module is just marginally larger than SIG's "small" module. However, it features a higher and deeper cut at the tang, deeply dished cuts for the thumb on the sides near the magazine release and a deeper undercut at the trigger guard. The sides of the grip feature the Wilson Combat starburst pattern and the frontstrap and backstrap have fine stippling with an almost sandpaper-like texture. The magazine well also has a generous bevel, a multi-slot accessory rail is standard, and steel rods can even be added to the module to increase weight.
I felt the Wilson Combat grip module was unquestionably more comfortable and sticks in the hand better. So does firearm trainer and Benghazi hero David "Boon" Benton. I worked with Benton for a week training patrol and SWAT officers, and he told me he's been using a Wilson Combat P320 grip module since it was introduced. He said, "That Wilson Combat frame makes it [the P320] feel more M1911-ish, it points better for me as well, so I get a better natural point-of-aim…and it helps me get higher underneath the trigger guard." And, get this, these modules retail for only $64.95. Not surprisingly, Bill Wilson told me they are, "… one of our highest-volume products."
For the WCP320 pistol, Wilson Combat takes its grip module and pairs it with SIG's P320 X-Full Size steel trigger. This is a fantastic trigger for a striker-fired pistol, and while my Timney Trigger gauge said it broke at 4.25 pounds, to me it felt closer to 3 pounds. The width of the trigger face along with its near-vertical position at sear release seemed to interface quite well with my finger, and the grip and trigger felt like they were custom designed for my hand. I guess that's just another way of saying it all really felt just right.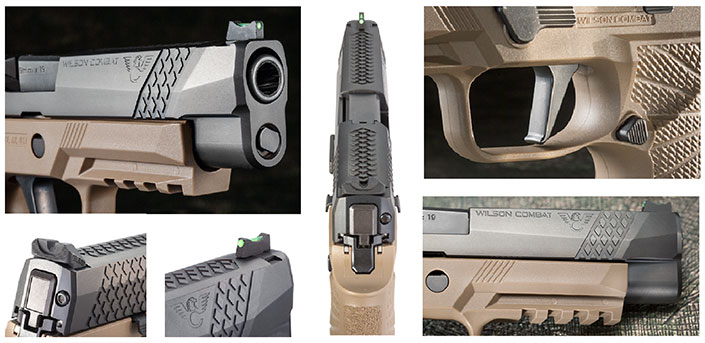 With regard to the pistol's slide, Wilson Combat applies its X-Tac checkering pattern to the front and rear of the sides of the slide. Not only do I think this looks better than common grasping grooves used, I'm also convinced they work better by providing better purchase for the hand. The front or nose of the slide is also aggressively beveled with what Wilson Combat calls "carry cuts." This makes the pistol easier to slip into a holster. The repeated X-Tac pattern on the topstrap may serve to prevent reflected glare. In any event, it adds to the overall aesthetics, which are pretty good to begin with. Pride of ownership always counts.
For sights, Wilson Combat chose its Battlesight rear sight and mated it with a fiber-optic front blade. The Wilson Combat Battlesight features a deeply cut U-notch that measured .152-inch wide, and it pairs very well with the .125-inch-wide fiber-optic front, leaving plenty of room on either side for swift alignment. This is the same sight system that's on my often-carried Wilson Combat EDC X9; I like it and trust it.
Early on I was not a fan of fiber-optic sights; I did not feel they would be easy enough to see in low light. After several years working with them, I must admit I was wrong. Though not as low-light visible as a front sight with a tritium vial, they are fine for low-light work and you never have to worry about the tritium dying out. Another reason for initially not liking fiber-optic sights was that I'd had several light filaments fall out. How- ever, I've never had one on a Wilson Combat pistol fall out, and I've fired thousands of rounds through my EDC X9 and my son has done the same with his 1911.


Aside from the Wilson Combat logo on the right side of the slide, which, like the barrel, sports a black DLC finish, that about sums this pistol up. For an extra $155 you can opt for a curved or straight trigger that has been tuned—like the one on the test pistol—using Grayguns custom trigger parts. You also have the option of selecting a tan or black grip module. Pick the color you like, but I'd strongly suggest the trigger upgrade because it is fantastic.
The standard gunwriter test protocol for defensive handguns is to shoot them over a chronograph with several different loads and then to test precision or accuracy from a benchrest. I did this with the Wilson Combat WCP320, but I don't consider either a viable indication of how well a defensive handgun might perform when it comes to saving your life. Years back, I developed my own test protocol for that purpose so I would have a simple but practical means for evaluating and comparing defensive handguns. It's called the Forty-Five Drill, and I've used it to evaluate defensive handguns for nearly a quarter-century.
The drill is simple, but it encompasses several important elements of employing a defensive handgun, such as establishing a shooting grip in the holster, presentation, sight acquisition, a fast first shot and a sustained engagement at a realistic distance. The goal of the drill is to draw from concealment and put five shots inside a 5-inch circle, at a distance of 5 yards, within 5 seconds. Conducting this drill multiple times provides an opportunity for handgun interface issues or problems to rear their ugly head. To date, my best-ever time on this drill, with no misses, is 2.86 seconds with the Browning Hi Power I sometimes carry.
I ran this drill 15 times with the WCP320. I started out slow and sped up as I got comfortable with the gun. Through my last five runs, my average time was an amazing—at least for me—2.66 seconds, with a best time on my final run of 2.44 seconds. Why was I able to turn in a better score with the Wilson than with a gun I frequently carry? I think this was partly because the more you work with any drill the better you get, and partly because of the already mentioned excellent trigger shape and stroke. Fast and accurate shooting with a defensive handgun is primarily delivered by the ability to manipulate the trigger.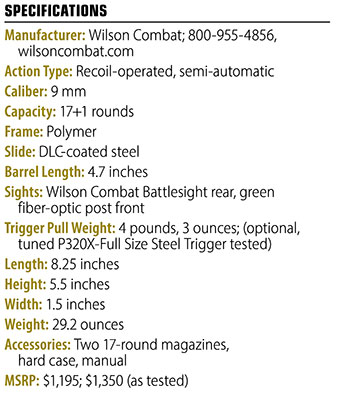 I'm not an aficionado of striker-fired pistols, pistols with polymer frames or pistols without a manual thumb safety. I'm not saying handguns with these characteristics are substandard, ineffective or less than ideal; I'm just stating personal preference. There are reasons the two guns I carry most often are a classic Browning Hi Power and a Wilson Combat EDC X9. I will, however, unequivocally say that if I was going to carry a striker-fired, polymer-frame pistol, it would be the Wilson Combat WCP320, though it would be the smaller, 3.9-inch barreled "Carry" version with a thumb safety. This gun worked, fit my hand well, had an excellent trigger, was controllable, easy to reload, reliable and, most importantly, I shot it well.
Is the WCP320 a better pistol than the standard SIG Sauer P320? I think that's an undeniable fact. The real question is: Is it $500 better? Keep in mind you can purchase the Wilson Combat P320 grip module for your P320 for only $64.95. As I'm fond of saying, when it comes to self-defense, financially, we're all somewhere between a box of ammo and a personal bodyguard. $1,195 is a lot of money. But, at least with the WCP320 you know you're getting a gun built by the best custom shop in the world, and you should be able to trust your life to it; I fired 400 rounds of various munitions through this pistol without a single hiccup. Apparently, the free market is better at answering this question than a gunwriter; Wilson Combat has been in a backorder situation since the guns were announced.
If all that weren't enough, bear in mind that you're getting a fairly exclusive pistol based on an enormously popular one. Holsters, spare mags and all manner of accessories created for the SIG pistol will be readily available to the WCP320 owner.
Wilson told me he thinks the WCP320 is the ideal pistol for, "anyone who wants a high-end, striker-fired pistol." I cannot present a qualified argument to the contrary.