Wilson Combat has stepped into the alternative AR-cartridge market with what it calls the 7.62x40 WT. Wilson Combat Rifles chambered for this cartridge are available in four different configurations. One is the company's Recon Tactical carbine.
The Recon Tactical, like all Wilson Combat ARs, is built on a forged 7075 aluminum-alloy upper and lower receiver. Both are machined on some of the best CNC equipment money can buy. However, Wilson Combat did not make its mark in the custom-gun industry by simply taking parts off a machine and putting them together. Every upper and lower receiver is prepped.
You won't find a single tool mark anywhere, and they are fitted together by one of two talented 'smiths with brain-surgeon-like precision.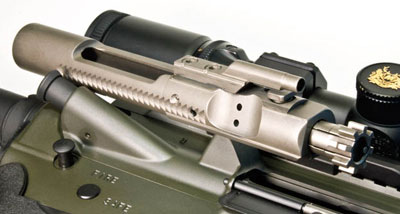 Lower and upper receivers are hard-coat anodized and then coated with Armor-Tuff, a rugged external coating that is extremely abrasion and element resistant. The upper and lower receivers on the test rifle were coated in green Armor-Tuff and contrasted nicely with the black Ergo pistol grip, stock, handguard and Accu-Tac flash hider. For the bolt, bolt carrier and bolt parts, Wilson Combat uses an NP3 coating, which is an electroless nickel-based finish that deposits submicron particles of Teflon with electroless nickel. The firing pin is chromed. In short, the finish on this rifle will stand up to orc snot and dragon slobber.
The straight profile, .75-inch diameter, stainless barrel is a match-grade Wilson Combat component and is also coated with green Armor-Tuff to match the receiver.
It has an M4 feed ramp and 5⁄8x24 threads to accept the Accu-Tac flash hider. Wilson Combat offers its lightweight, compact Whisper suppressor and muzzle brake as an option for this rifle. I used the Whisper suppressor on several of these rifles while hunting in Texas and was impressed with the performance. The rifle also ran just fine with my SureFire MB762SSAL/RE muzzle brake and FA762SS Suppressor.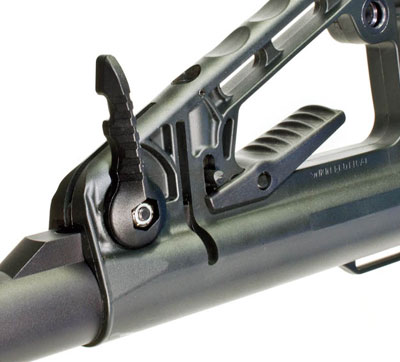 One area to which the company pays particular attention is the human interface with the rifle. Bill Wilson, the man behind Wilson Combat, has done enough shooting to know you'll shoot better when your gun is comfortable. With this in mind, Wilson Combat attaches an Ergo grip to the lower receiver. To further enhance the comfort of the shooting hand, the company uses its own Tactical Triggerguard.
But that's not all. Sure, your shooting hand needs to feel like it belongs on the gun, but so does your support hand. For a handguard, it uses what might be my favorite feature: the company's 9.3-inch T.R.I.M., which stands for Tactical Rail Interface, Modular. This handguard is slim, measuring only 1.88 inches wide, has a full-length Picatinny rail on top with 22 slots and will accept various lengths of rail on both sides and the bottom. There's also an integrated quick-detach swivel receptacle on both sides. This is the most comfortable handguard I've ever wrapped my hillbilly fingers around.
Another important human interface component of any rifle is the trigger. Wilson Combat designed its own trigger system for AR-15s, which it calls the Tactical Trigger Unit (TTU). The TTU on the test rifle was the single-stage version, which broke at a consistent 3.5 pounds, as crisp as a tortilla chip in a Mexican restaurant. This is as good a trigger as I've pulled on any AR-15. A two-stage trigger and one designed specifically for 3-gun shooters are available options and all Wilson Combat TTUs are available as aftermarket components for most any AR.
The final area where human interface is critical is the stock. Wilson Combat uses the Rogers Super-Stoc, which has a cam-lock system that completely removes any play in adjustment when locked in place. It adds 7.3 ounces to the rifle's weight and will pass a 3-foot, fully loaded drop test.
It's great to have a rifle so comfortable it feels like you are spooning with your lady. But, if it won't run or if you cannot hit stuff with it, it's about as useless and as fun to show off as a tattoo of your ex-wife. Wilson is an avid hog hunter and we spent several days hunting at his ranch in Cuthand, TX. There, I learned these rifles will shoot, and the 7.62x40 WT cartridge will drop the whammy on hogs. My 11-year-old son and I used several of these rifles to take out nearly a dozen.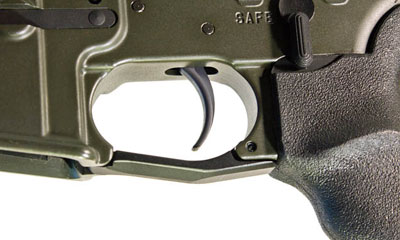 The 7.62x40 WT cartridge is essentially a .223 Rem. necked up to .308 caliber. Out of a 16-inch barrel, it will launch 110-grain bullets at about 2,400 fps and will run 125-grain bullets to nearly 2,350 fps. A 20-inch barrel, which is featured on the Wilson Combat Tactical Hunter, will give you another 75 fps or so. The cartridge feeds from standard AR-15 magazines, but they need to be downloaded by two or three rounds. Wilson Combat supplies a modified, Lancer 20-round magazine with each rifle and they work flawlessly. I know this because I ran through a full magazine in a running gun battle with a group of about 100 hogs.
Wilson Combat is currently offering five factory loads for the 7.62x40 WT. Hopefully, other manufacturers will take note of this cartridge's tactical and hunting potential and step up. I tested three Wilson Combat factory loads and one handload in the loaner rifle. Average accuracy hovered around the MOA-standard for five, five-shot groups at 100 yards.
What was there to complain about? Aside from this rifle not belonging to me, not much. A rear, single-point sling attachment would be nice, but that's an easy add-on. If I were still working patrol, I'd appreciate the terminal performance benefits of this cartridge—not to mention the reliability and accuracy. In all, the rifle and ammunition combination was everything you'd expect from a company with Wilson Combat's reputation. For those who prefer not to purchase an entire gun, 7.62x40 WT barrels and complete uppers are also available from Wilson Combat.
Granted, not everyone can afford a rifle from Wilson Combat, but they are worth saving for. They're safer and less expensive than a Harley or a mistress.
Manufacturer: Wilson Combat; (870) 545-3635, www.wilsoncombat.com
Action Type: Gas-operated, semi-automatic
Caliber: 7.62x40 WT
Capacity: 20 rounds
Receiver: 7075 anodized aluminum
Barrel: 16 inches, match-grade, stainless
Rifling: 6 grooves; 1:12-inch RH twist
Stock: Six-position, Rogers Super-Stoc
Sights: None; rail for mounting optics
Trigger Pull Weight: 3.5 pounds
Length: 33 inches (collapsed), 36 1⁄8 inches (extended)
Weight: 6.5 Pounds
Accessories: One 20-round Lancer magazine
MSRP: $2,600 (depending on options)