Jon LaCorte and Jon Allen worked for Nikon Sport Optics for years, so they know the optics business very well. Frustrated with the restraints that come with a huge, global corporation, they thought they'd found a better way. So, they put it all on the line, resigned and started Tract Optics. The company's optics can only be purchased from Tract via its website, cutting out several layers of middlemen and saving the consumer a significant amount versus products of similar quality.
Tract's products use the best glass and coatings available. The scopes are clear and bright—far better than the price point would have you expect. But, perhaps even more important than the optical quality in today's tactical shooting world, is how well the adjustments track and repeat, so I took one of Tract's scopes to the range to find out.


The company's Response line of riflescopes is specifically designed for AR-style rifles. They feature a 4X-zoom range and fully multicoated glass. Bullet Drop Compensation reticles are etched into the glass and have windage-correction marks in addition to the drop compensation. Response scopes have a one-piece main body tube and a quick-focus eyepiece with 3.5 inches of constant eye relief. Also, they are waterproof and filled with argon gas.
Reticle adjustments can reset to zero, and Tract offers a custom-turret system that can be tuned to your load. Response scopes are caliber-specific for .223 Rem./5.56 NATO and .308 Win./7.62 NATO. That means the reticles are designed to match bullet drop for a 55-grain .223 Rem. load or a 168-grain .308 Win. load. Of course, the reticles can work with any cartridge, and you can go to Tract's free Impact Ballistics program online and plug in the data for your load. The program will give you the points-of-impact for each of the reticle's aiming points. I did this with several guns, loads and cartridges, and found myself making head shots out to 500 yards, which was the limit of the available range. Not bad for a scope that retails for less than $400.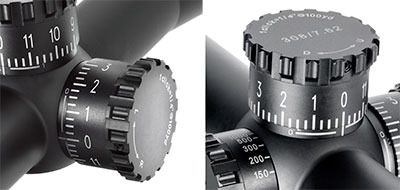 For .223 Rem./5.56 NATO, Tract offers Response models in 2.5-10x42 mm and 4-16x42 mm. The scope dedicated to .308 Win. is a 4-16x42 mm, and that's the scope I focused on in testing. With this scope mounted on a supremely accurate, custom precision rifle, I was able to run multiple tests. The first was to "shoot the box." That is, starting with a 100-yard zero, crank the scope's adjustments to move the point-of-impact up and right 4.5 inches, which matched the Champion Redfield Precision Sight Target's corner diamonds.
After shooting, I turned the adjustments to move the point-of-impact down 9 inches, then left 9 nine inches and up 9 inches, shooting a group at each stop. Performing this test means hitting all four corners of the target. With my first run, the point-of-impact at each stop was within half an inch or less of perfect. This is well within the margin of conditions, shooter ability and rifle accuracy. Then, I turned the adjustments back right and down 4.5 inches to rezero the scope, and the last shot was almost touching the very first shot I fired. I have done this test with dozens of scopes over the years and have never seen one do any better, even scopes that cost thousands of dollars more.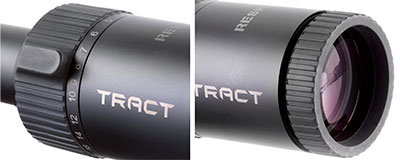 Next, I used the Impact Ballistics program to call my dial-ups for several distances. I started at 200 yards and shot at targets at various ranges out to 500 yards. The scope dialed in the exact amount of drop for each distance. Afterward, it returned to a 100-yard zero.
I performed this test repeatedly, using random target distances and returning to the 100-yard-zero stop with near-perfect results. This is very impressive tracking and repeatability for any scope, and a rarity at this price point.
With Black Hills 168-grain .308 Win. match, the reticle holdover points matched the expected 100-yard increments almost exactly. To be fair, I was using a rifle with a 24-inch barrel. I am sure some compensation would be needed with a 16-inch barrel.
Optically and mechanically this is a very good scope. To get this level of quality from a scope purchased via traditional channels, you would pay almost double the price. Tract might be on to something here, and it may launch a revolution in how we buy optics.

Manufacturer: Tract Optics; (844) 747-4928, tractoptics.com
Magnification: 4-16X
Objective Lens Diameter: 42 mm
Reticle: Impact BDC
Adjustability: 44 MOA (windage and elevation); .25-inch per click at 100 yards
Field of View: 22 feet (4X), 5.5 feet (16X) at 100 yards
Eye Relief: 3.5 inches
Length: 13.1 inches
Weight: 19.6 ounces
Accessories: Microfiber cleaning cloth
MSRP: $394