Not so many years ago, when I started participating in 3-gun competition, there were a handful of big, national matches. Most of them didn't fill up until just before the match, if at all. Now, there are dozens of big matches and they are selling out in seconds after online registration opens. I consider that proof enough this is the fastest- growing shooting sport in the country.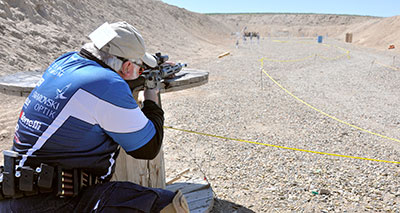 Not so many years ago, when I started participating in 3-gun competition, there were a handful of big, national matches. Most of them didn't fill up until just before the match, if at all. Now, there are dozens of big matches and they are selling out in seconds after online registration opens. I consider that proof enough this is the fastest-growing shooting sport in the country.
Three-gun competition is the shooting sport of the new generation, and it will only continue to grow. For an adrenalin junkie, all other shooting sports pale in comparison. After shooting 3-gun, sporting clays moves at a glacial pace, and at any action pistol match I have a nagging feeling something is missing from the experience.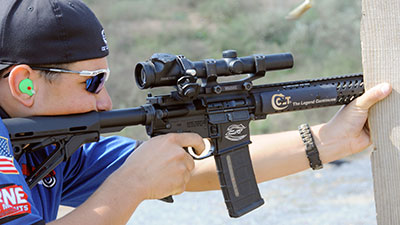 Further proof 3-gun is going mainstream is old-school companies are introducing products for the sport, especially optics manufacturers. Other than in the iron-sight or open classes, the 3-gun shooter is limited to one optic, and it is almost universally mounted on the rifle. This sport requires much from that optic, so we see designs always expanding and pushing the envelope. Today's 3-gun riflescope is a much different critter from those used just a few years ago.
What's more, three-gun is viewed by the military, law enforcement and serious civilians as one of the best readily available defensive-training options. It's clear any developments in optics for 3-gun carry over to the tactical side in addition to the competitive side of rifle shooting.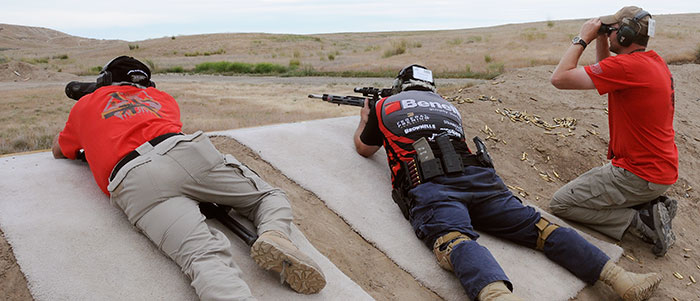 Magnification range
Three-gun has no set course of fire, and each stage at every match is different. You never know what the target will be—near or far, moving or stationary, big or small—until the walk-through prior to shooting the stage. Therefore, most shooters pick their scopes for the low-power feature. The thinking is a true 1X optic is important for speed on close-range targets. Even a little bit of magnification can be disorienting when trying to shoot fast on multiple targets while keeping both eyes open.
Usually, the multiple, mandatory close-range targets require a double tap on each. With a true 1X, there is no magnification, and the view through the scope should be exactly the same as with the unassisted eye. This enables the shooter to keep both eyes open, which, in turn, allows faster acquisition of the next target in transition.
Jerry Miculek may be the king of rapid target transition, and he talks often about the visual aspects of this technique. With both eyes open, you can pick up the next target fast and see it as the crosshair slides into place for the shot. Any magnification in the optic makes this technique difficult, because the eyes are seeing different perspectives on the target—one magnified and one not—so it can confuse the brain's ability to decipher the information gleaned by the eyes.
The 1X scope has been with us for a long time, but what changed is the high end of magnification. In years past, most 1X scopes maxed out at 4X. Now, the top end is usually 6X and, as a fellow Vermonter named Robert Frost once wrote, "...that has made all the difference."
Most of the big 3-gun matches try to stress all aspects of shooting, so they include some long-range rifle targets in the mix. This is particularly true with matches out West. Competitions like the
Rocky Mountain 3-Gun
and the
MGM Iron Man
will challenge your skills with long-range targets. I have shot targets out to 600 yards and bonus targets out to 800 with my JP competition rifle at such matches. At those distances, 4X is not quite enough.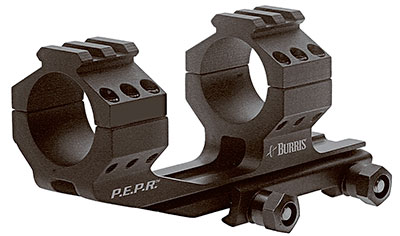 Swarovski
set the standard with its 1-6x24 mm Z6i scope. It's amazing how much difference the relatively small increase in magnification can make, particularly when it's matched with a good reticle. Many manufacturers followed suit, so now the 1-6X scope is the accepted standard and is suitable for just about any target you will encounter in 3-gun—at least until some demented stage designer decides to put a plate rack at 500 yards.
There are also a few 1-8X scopes, but most of those seem to have a first-focal-plane reticle and have not gained a huge following for 3-gun. However, I think a second-focal-plane reticle, 1-8X scope is the next horizon for 3-gun optics.
Reticle
The reticle must draw the shooter's eye to the center for the close-range aspect of 3-gun shooting, while at the same time being able to handle long-range targets requiring greater precision. For that task, most reticles will have multiple aiming points on the descending vertical stadia. The majority of 3-gun shooters use the hold-over method for long-range targets, since it's much faster than dialing-in corrections—in 3-gun, every second counts.
There are several ways to space these aiming points. Some, such as
Swarovski's BTR
reticle and the
Bushnell BTR-2
, use multiple aiming points with spacing in 1-milliradian (mil) increments, which translates to 3.6 inches at 100 yards or 3.438 MOA. Other reticles are often designed to be used with a specific cartridge like .223 Rem., .308 Win. and even the increasingly popular .300 AAC Blackout. With the scope zeroed for the specified distance—usually 100 or 200 yards—each of the aiming points should correspond with 300, 400 and 500 yards, etc. Of course, most of these aiming points are based on a specific bullet weight and a specific velocity. With the shorter barrels and the wide range of bullet weights used in 3-gun, it's important to verify the point of impact for each aiming point by shooting at the range and measuring the results.
As far as which zero to use, that varies, but most competitors will zero at 100 or 200 yards, depending on personal choice. It's far more important to know your holdovers for the zero you choose at any range, near or far. The less cluttered the reticle, the better. Some of the long-range reticles, like those from Horus, are very complex, which is fine for dedicated long-range shooting, but too confusing for the fast pace of 3-gun competition. The JM-1 BCD reticle Vortex uses in its 3-gun scope is a good example of a solid reticle, using a simple, short crosshair for each long-range aiming point, and growing smaller as the intended distance increases. It's simple, effective and uncluttered, which is to be expected, as it was designed by Miculek.
Focal plane
The trouble with a lot of optic companies is they don't bother to talk to actual shooters before designing the scopes they think we want. That's the only explanation I can think of for first-focal-plane reticles in scopes designed for 3-gun shooting. I don't know anyone who uses a first-focal-plane reticle by choice for 3-gun. Why? Because the reticle is too small at 1X to be effective for fast-and-furious shooting, and it becomes so big at full power, it covers too much of the target.
I remember trying to shoot a plate rack at 200 yards during a match with a 1-4X first-focal-plane scope I was testing. The reticle was so large, it completely covered the plates and then some. It's hard to make a precision shot under those conditions, and I tanked that stage.
First-focal-plane scopes are popular with long-range shooters, who tend to use high-magnification optics, so the reticle does not cover as much of the target. Three-gun shooters (other than open class) use low-power scopes, so the image is relatively small through the optic. A first-focal-plane reticle is magnified along with the image in the scope, and can grow so large it will completely cover some smaller long-range targets. A nonmagnifying, second-focal-plane reticle works better at either end of the power spectrum for 3-gun competition.
Illuminated center
An illuminated center, usually a dot, is a tremendous aid when shooting with both eyes open at close range. A strongly illuminated dot, one that is easy to see in any light, draws the eye to it. For example, the scope I compete with has an illuminated orange dot with two adjustable settings. The brighter setting is visible in bright light, so it is almost like a red-dot sight. Red-dot sights are pretty much the only optical sight you will ever see on an open class handgun for a good reason—they are the best option for aiming and shooting fast. These sights work on a simple principle: The shooter keeps both eyes open, with his vision focused on the target, and floats the dot over the aiming point. It is the fastest way of aiming at close targets.
The difference with a magnified scope is the dot is fixed in the center instead of floating like with a traditional red-dot. I find this helpful, because it keeps my focus in the center of the optic. A 1X scope with an illuminated dot in the center can be used the same way as a red-dot sight. Keep both eyes open, let the dot float on the target and fire. With a magnified optic, you still have the option to zoom in for the longer precision shots, whereas with a red-dot you do not. Nonmagnified red-dot and holographic sights are used in Limited Class, where they compete head-to-head with iron sights. I have friends—like Kurt Miller—who do very well with irons in this class. For we mortal shooters, however, the red-dot or holographic sights provide an advantage because they are easier to acquire and to aim.
Eye box
Without getting too technical, the "eye box" is the space you can move your head around—up and down or side-to-side—and still see through the scope. Some scopes require your eye to be in perfect alignment with the center of the ocular lens, while others provide more latitude. When you are doing something like lying upside down on your head, shooting weak-handed under a car at clay pigeon targets, this consideration can be important.
A large eye-box is also helpful when you are moving and shooting fast, because you have more leeway for how you mount and hold the gun. A three- position rifle shooter has all the time in the world to correct a poor gun mount, but 3-gun shooters do not. Plus, a bigger eye-box also helps you pick up the target in the scope faster.
Eye relief
Eye relief is the range of distance from the ocular lens to the shooter's eye where the shooter will get a full view through the scope. On hunting rifles, it's important to have a long eye relief to prevent being hit by the scope in recoil. Most 3-gun shooters (other than in the Heavy Metal divisions) will be using a .223 Rem. and will have a brake on their rifle, so recoil is not a serious concern. The wider the eye-relief range, the more latitude you have for a less-than-perfect gun mount or when shooting from awkward positions.
There is no question using one of these new optics will give you an advantage when competing in 3-gun matches or defending your home. But you still need to practice…assuming you can find ammo.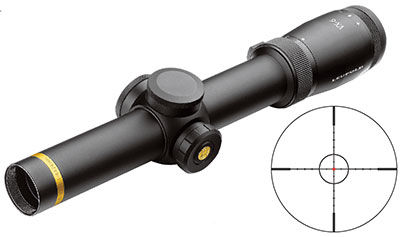 Leupold VX-6 Multigun 1-6x24 mm
Leupold has taken notice of the sport of 3-gun, and I have had the pleasure of squadding with several dedicated Leupold employees who are serious competitors. The VX-6 1-6x24 mm Multigun scope uses a 30 mm tube, and it features Leupold's Firedot SPR reticle with low-profile, push-button illumination, which allows users to select between 12 intensity settings. Motion-sensor technology automatically turns off the illumination after 5 minutes of inactivity, and reactivates it instantly with any movement. There is a circle around the crosshair, which helps draw the eye to the center. Aiming points on the descending and horizontal legs of the reticle are spaced in 2.5-mil intervals from 2.5 to 15 mils. The scope has pop-up, return-to-zero finger-click adjustments of .1 mil per click. The VX-6 Multigun is Custom Dial System-capable and includes one free Custom Ballistic Dial with purchase. The VX-6 Multigun is currently available exclusively through the Leupold Custom Shop.
MSRP: $1,499 (800) 538-7653
leupold.com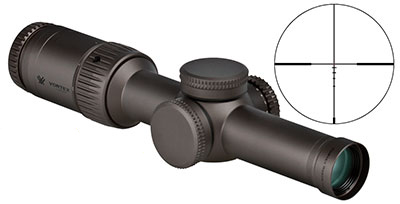 Vortex Razor HD Gen II 1-6x24 mm
The first thing you notice when you pick up this scope is its weight. At 25.2 ounces it's a hefty optic. By comparison, the Swarovski Z6i weighs 15.5 ounces and the Weaver tips the scales at 14.46 ounces, so there is a considerable difference. Weight means material, and material often means ruggedness—when Vortex claims this scope is "built like a tank" the company means it. The Razor is getting a lot of notice in 3-gun circles. Some people who I respect, like Travis Gibson and Jerry Miculek, are using it with very good results and high recommendations. The scope has a sizeable eye box with generous eye relief, which the company says "generates a heads-up-display-like sight picture for fast target acquisition. . ." It uses HD (high-density, extra-low-dispersion) glass that is fully multicoated on all air-to-glass surfaces. Exterior glass surfaces have Vortex's scratch/oil/salt-resistant ArmorTek coating. The Razor has a daylight-bright illuminated center dot matched with a Miculek-designed ballistic reticle coded to the trajectory of the .223 Rem. Adjustments are .5 MOA per click.
MSRP: $1,899 (800) 426-0048
vortexoptics.com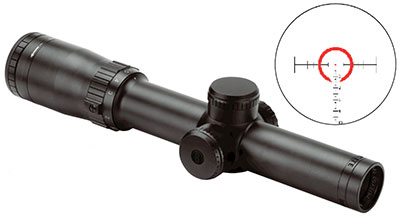 Bushnell Tactical SMRS 1-6.5x 24 mm, SFP
The Bushnell Elite Tactical SMRS 1-6.5x24 mm is available with two tactical reticle options and the option of first- or second-focal-plane reticle location. It features an illuminated reticle with 11 brightness settings for quick adjustments in any light condition. The BTR-1 reticle is calibrated for use with 5.56 NATO/.223 Rem. rounds. The BTR-2 is my choice because its reticle is in the second focal plane. It uses 1-mil spacing for the aiming points. There is an illuminated center dot, surrounded by an illuminated, interrupted circle. Adjustments are .1 mil per click. This scope has Bushnell's RainGuard HD lens coating, which keeps rain from beading up on the lenses. It's one of those things you don't realize you need, until you need it.
MSRP: $1,967.95. (800) 423-3537
bushnell.com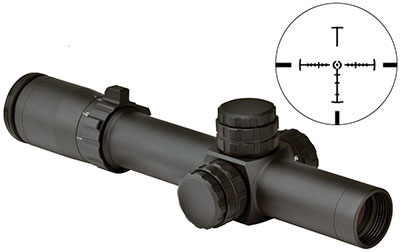 Weaver Tactical 1-5x24 mm
This rugged 30 mm scope features a first-focal-plane reticle called CIRT (Close- Intermediate Range Tactical). The reticle has three bars that extend to the edge of the scope. The separated center has a cross with multiple bars on each horizontal stadia, as well as the descending wire. This cross is illuminated in your choice of red or green, with a wide range of intensity settings. When the scope is at 1X, it forms a bright cross in the center of the scope, which draws your eye for fast shooting. Adjustments are .25 inch at 100 yards. The reticle is mil-based and spaced for a .223 Rem. trajectory. My shooting buddies get to test a lot of the scopes I have in for review, and several of them bought this Weaver for their competition rifles. That makes a statement about the impact this scope has on the range. It's a bit different than the other 3-gun scopes tested, as it is a 1-5X with a first-focal-plane reticle, but it has proven to be a good scope at a fair price.
MSRP: $1,069.95 (800) 379-1732
weaver-mounts.com