Gunsite's "Scrambler" is a practical course of fire that requires the shooter to run (scramble) between shooting positions in order to engage seven steel targets at various distances from "jackass" field positions. My first run through the course was with a stock AR carbine, I moved fast and shot pretty well, but it still took me more than a minute to complete. The all-time record is a touch longer than 30 seconds.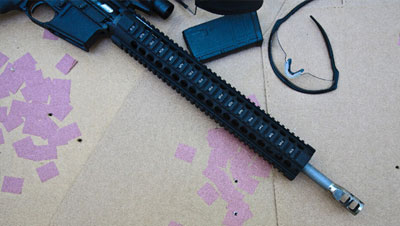 As I waited in line for my next turn, a grinning, kilt-clad Iain Harrison, winner of "Top Shot" season 1 and now Crimson Trace media and public relations manager, asked me if I'd like to run the course using the AR "racegun" that he built for himself. I'd been sneaking peeks at Harrison's gun all week like I was checking out another man's wife, so naturally I jumped at the chance. As soon as the 2-pound trigger broke on the first shot, I knew this rifle was different.  Instead of waiting for the instructor to yell "hit" so I could move on to the next target, I was able to watch my shot hit the steel due to the total lack of recoil or muzzle rise. I flew through the course without missing a shot and shaved more than 20 seconds off my original time. 
I've been shooting AR-15 style rifles for 20 years and, with the exception of a few specialized models, they all shoot about the same to me. Today's ARs built for "tactical" competition are a completely different breed. They are built for accuracy and tuned for an uncanny lack of recoil or muzzle rise, and they can be shot incredibly fast. 
Despite being one of the busiest guys in the industry, Harrison not only offered to build me a rifle like his, he followed through on his promise. Using Brownell's AR15builder.com, I was able to choose each part for my rifle build based on Harrison's recommendations and even see a virtual image of how the rifle would look when completed.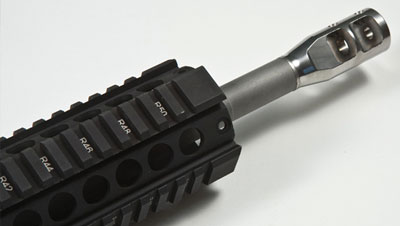 Four factors make a "race" rifle like this perform: a short, light trigger pull, a precision barrel capable of great accuracy, components designed and tuned to eliminate virtually all recoil and specialized optics.
For the first element, Harrison uses a Jard 2-pound single-stage trigger, which breaks cleanly at its advertised weight and has a short reset. To ensure the rifle's inherent accuracy, it features a precision stainless steel 18-inch SPR barrel from White Oak Armament with a rifle-length gas system. Harrison installed a PRI adjustable gas block tuned to only allow enough gas through the system to cycle the bolt without slamming the carrier and buffer rearward.     
Though Harrison's rifle features a muzzle brake of his own design, he used a JP Enterprises Bennie Cooley brake on my rifle. Clocked to the 1:30 position, this break is tremendously effective in controlling recoil and virtually eliminating the natural tendency for the muzzle to rise up and to the right. Though all rifles produce recoil from the physics of sending a bullet out of the muzzle at extreme speed, AR shooters experience the additional mechanical recoil of the reciprocating mass of the bolt carrier and buffer cycling rearward into the buffer tube. To minimize this phenomenon, Harrison uses a Super Light Chrome bolt carrier from Young Manufacturing that weighs 18 percent less than a standard commercial bolt carrier. The skeletonized carrier combined with a lightweight buffer really makes a difference.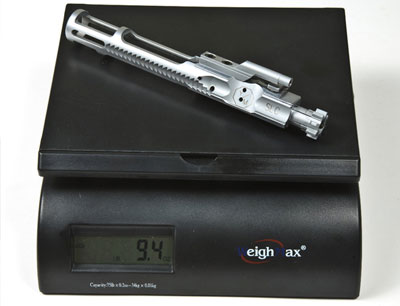 Competitive shooters need optics that cover the entire spectrum of target distances; Harrison's primary optic is Leupold Mark 4 MR/T 1.5-5x20 mm scope with an illuminated CM-R2 reticle. This variable optic is harnessed via a Warne RAMP tactical mount, which features a short offset rail for mounting an additional optic. Harrison mounts a Leupold DeltaPoint red-dot optic on the offset mount for lightning-fast hits on short-range targets—you simply cant the rifle 45 degrees and blast away.
I cannot adequately quantify the combined effect that these components have on the ability for a shooter to rapidly and accurately engage targets at a variety of ranges. Suffice it to say that Harrison's creation is the most shootable rifle in my arsenal. If you've ever wondered how competitive shooters can put lead on paper so fast, rest assured they have every equipment advantage possible, and that makes a big difference. Also, their guns are tuned to their specific needs and desires, which also makes for a better shooter-rifle interface. As for me, shooting this rifle feels like cheating.           
Specifications: 
| | |
| --- | --- |
| Action Type: | Gas-operated, semi-automatic |
| Caliber: | 5.56 NATO (.223 Wylde chamber) |
| Capacity: | 30 rounds |
| Receiver: | Spike's Tactical Lower, Mil-Spec Upper    |
| Barrel: | 18 inches; White Oak Armament Stainless Steel SPR |
| Rifling: | 4 grooves; 1:7-inch RH twist |
| Stock: | Ace Lightweight |
| Sights: | None; Picatinny rail for mounting optics |
| Optics: | Leupold Mark 4 MR/T 1.5-5x20 mm (Illuminated CM-R2 Reticle) |
| Trigger: | Single-stage; 2 pounds pull weight |
| Length: | 37.75 Inches |
| Weight: | 8 pounds, 13.8 ounces (with scope) |
Shooting Results
| | | | | |
| --- | --- | --- | --- | --- |
| Load | Velocity |   | Group Size |   |
|   |   | Smallest | Largest | Average |
| ASYM Precision 77-grain BTHP | 2,642 | .533 | .701 | .622 |
| ASYM Precision 70-grain TSX | 2,767 | .859 | 1.835 | 1.124 |
| Federal Premium 69-grain Sierra Matchking BTHP | 2,889 | 1.698 | 1.796 | 1.736 |
Velocity measured in fps for 10 rounds 10 feet from the muzzle using a Shooting Chrony chronograph. Temperature: 74 degrees Fahrenheit. Humidity: 61 percent. Accuracy measured in inches for five consecutive, five-shot groups at 100 yards from a bench rest.