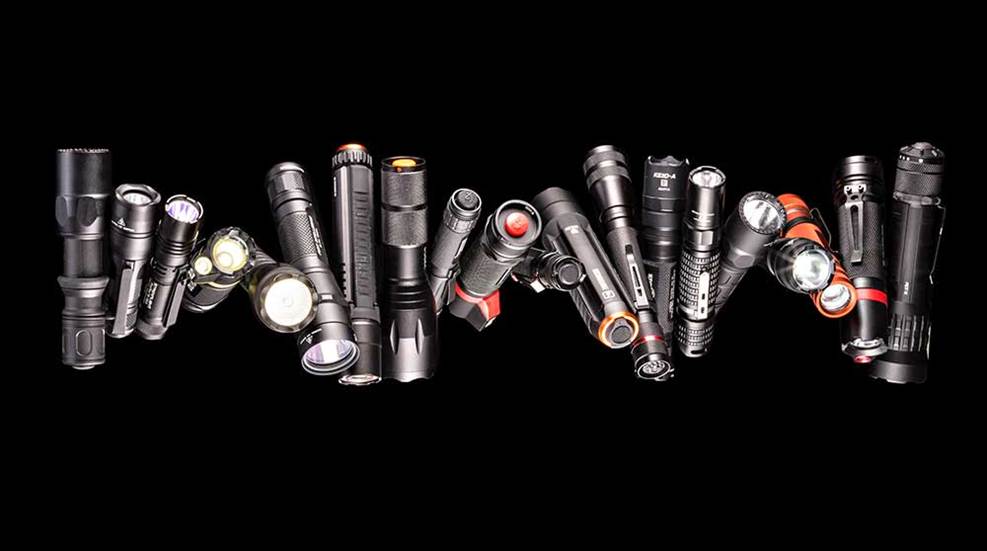 Darkness means concealment, and it often provides criminals with a deadly advantage. Tactical flashlights are one solution, but investing in quality isn't easy when there's no shortage of ads for cheap knockoffs and cut-rate counterfeits. Shooting Illustrated asked the experts about the features that set the good versions apart.
Light output is critical, and a lot of terms are used, but a lumen is not a lux, and a watt has little to do with candlepower. Sounds simple, but marketing departments that religiously go with the highest number to drive sales make it nearly impossible for an apple-to-apples comparison.
There are also ways to fudge things as seemingly simple as waterproof, run-time and drop-test ratings. In 2010, a handful of outdoor lighting's finest banded together to establish PLATO, an organization with voluntary industry standards readily understood by consumers. Today more than 40 headlamp, camp light, bike and tactical flashlight companies are part of the effort. Membership doesn't necessarily reflect the quality of a firm's products, just that they support the effort toward industry standardization.
Michael Hess, vice president of marketing for Armament Systems and Procedures (ASP), said consumers should be wary when considering products from no-name companies. "First, some claims are just completely false—it is easy to have 'fun with numbers,' and most buyers can/will never know whether they are accurate or not. And second, not all lumens are created equal; lumens convey the total light output of the device, but like any technical standard, there is a proper way to measure and represent it, and not doing so can produce misleading data." 
"While buyers often focus on lumens, this is a measurement of all the light inside the beam angle—not necessarily brightness," explained Tim Taylor, director of Law Enforcement & Sporting Goods Sales for Streamlight.  "The light's candela or peak beam intensity, on the other hand, measures its downrange 'throw,' and represents the brightest spot in the light's focused beam. So, you need to focus on both measurements."
Output and pattern quality aside, comments from Sightmark's Director of Product Development Jonathon Horton delivered an even more surprising caution. "All our flashlights use Cree LEDs purchased through Cree distributors. Cheap imports may use counterfeit Cree LEDs." Hess explained that style is preferred because it "….produces light that is extremely white with high chromaticity."
"Not all black metal is created equal," Hess said. "High-quality materials—and especially high-quality finishes like hard-coat anodizing—cost more, but they make a light that will take a beating, resist wear and tear and look better longer."
"Most Streamlight tactical products feature durable, abrasion-resistant construction, having been fabricated from machined aircraft aluminum with an anodized finish," Taylor said, adding the price gap between metal and polymer is narrowing.
He noted there are even some advantages to a synthetic body. "Polymer lights don't transfer heat and cold as quickly as aluminum and often can be used as both a handheld or rifle light. While aluminum probably will hold up better under harsh conditions long term, with the new polymers these days, it really is a matter of customer choice."
"Because we are primarily a law enforcement supplier, we can't take chances with circuitry—performance and reliability are paramount," Hess explained. "We use only U.S.- and Japanese-made drivers and components from Motorola, Microchip and Panasonic. We incorporate things like gold-plated connections and self-cleaning switches."
Consumers are advised to look for credible brands using ANSI/FL1 standards, according to Hess. "This is the best assurance that the flashlight they buy performs as advertised, and the most reliable way to objectively compare models."