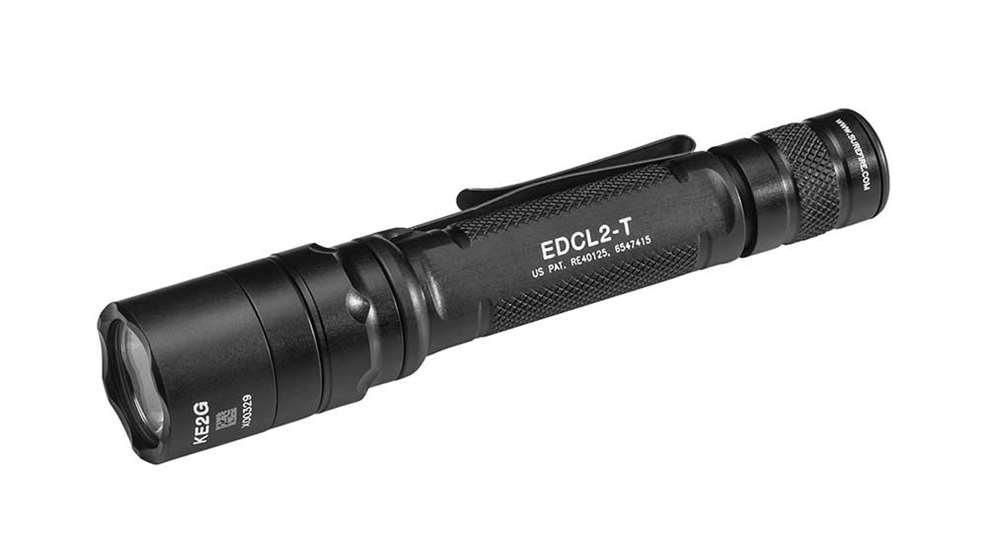 Yes, you read that right. Twelve-hundred lumens, in a flashlight small enough to carry everyday. We're not sure whether the folks at SureFire are using sorcery or wizardry, but they've managed to pack 1,200 lumens into a handheld light less than 6 inches long and a quarter of a pound in weight (with batteries). It fits into most "regular" pants pockets (I have a few pairs of cargo pants that'll fit one of those 6V monster spotlights, so I hesitate to just leave it at "pants pocket"…)

Here's the best part: The EDCL2-T has an elegantly simple method of operation. Press the tailcap lightly, and the low setting is activated (5 lumens, for low-level illumination and a run time of 60 hours). Press the tailcap fully to activate the high setting (all 1,200 lumens in their eye-searing glory, with a one-hour run time). To keep the pocket sun, err, EDCL2-T on constantly, the tailcap needs to be rotated using a knurled end. It prevents inadvertent activation that can quickly drain the batteries (not to mention setting one's pants ablaze… OK, not really, but it will get hot).

SureFire worked in conjunction with firearm trainer John Johnston of Citizens Defense Research for design parameters for an EDC light, and the result works pretty darn well. No more toggling through various settings to get to the one you want, just press lightly, press firmly or twist the cap itself. Reading a map? Press lightly. Signaling aircraft? Press firmly. Need to illuminate a trail without setting the forest floor ablaze? Twist the cap a little. Want to barbecue a burger? Twist the cap all the way tight.

We had a chance to work with the EDCL2-T a little, and the research SureFire put into this light is evident. The switch just plain works—a light touch activates the low setting, a firm push kicks it into high gear. Twisting the cap first engages low setting, then high. In both cases (pushing or turning), there's plenty of room between the light levels—you're not going to accidentally going to go past low into high in either case. When turning the light on, there's nearly 270 degrees of rotation between the point at which the low setting turns on and the high setting engages. It's hard to imagine any scenario where the wrong setting is activated.

The EDCL2-T has an MSRP of $179, and "street price" is somewhere around $150, which is a downright bargain for a light of this quality. It's even got a pocket clip with bezel-up or bezel-down carry available, meaning you can even clip it to the brim of a hat.