What makes CMMG's MkW Anvil in .458 SOCOM standout from other mid-sized AR rifles? It's in the name. The MkW has been uniquely engineered to handle calibers with large casing diameters, such as .458 SOCOM, and to utilize their full potential.
The MkW Anvil incorporates CMMG's one-of-a-kind Powerball design which allows the rifle to use a modified AR-10-sized bolt. Without the modified bolt, large-diameter calibers would require material to be milled out of a standard AR-15-sized bolt to function. The Powerbolt eliminates all of that, and gives users the full power behind each caliber.
"Our experiences with .458 SOCOM have been extremely positive in terms of accuracy and lethality on large sized game," said CEO of CMMG, Chris Reinkemeyer. "With the new MkW Anvil, we're offering our customers a rifle that's been engineered to maximize the performance of this exciting caliber. "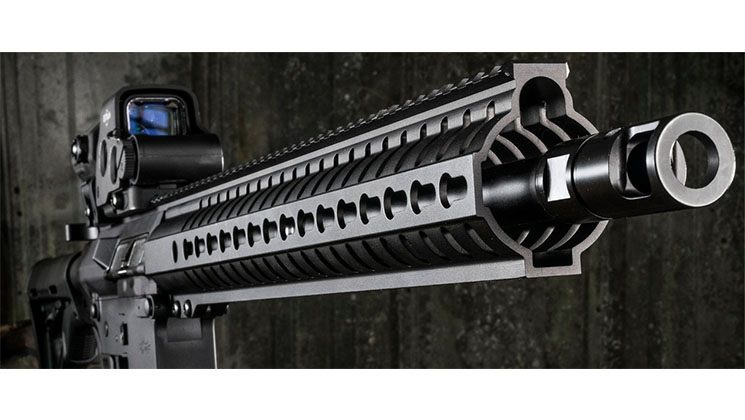 In addition to the AR-10-sized bolt, the MkW features an AR-10-sized frame with a shortened upper receiver for better ergonomics and decreased weight. Interestingly, the frame accepts standard AR-15 magazines, so approximately 10 big bore calibers fit single stack.
The Anvil is constructed with a carbine-length gas system and employs an SLR Rifleworks Sentry 7 adjustable gas block to offer user click-adjustments for a variety of loads. Other features include full-length Picatinny rails, CMMG's RKM15 KeyMod hand guard and each rifles comes with one modified Lancer L5 magazine that has been optimized for reliability with .458 SOCOM cartridges.
The CMMG MkW Anvil is available in three different configurations with an MSRP of $1,849.95 to 2,149.95, depending on model.
For a complete list of features and configuration breakdown, visit CMMGInc.com.