by
Shooting Illustrated Staff
posted on December 13, 2012
Support NRA Shooting Illustrated
DONATE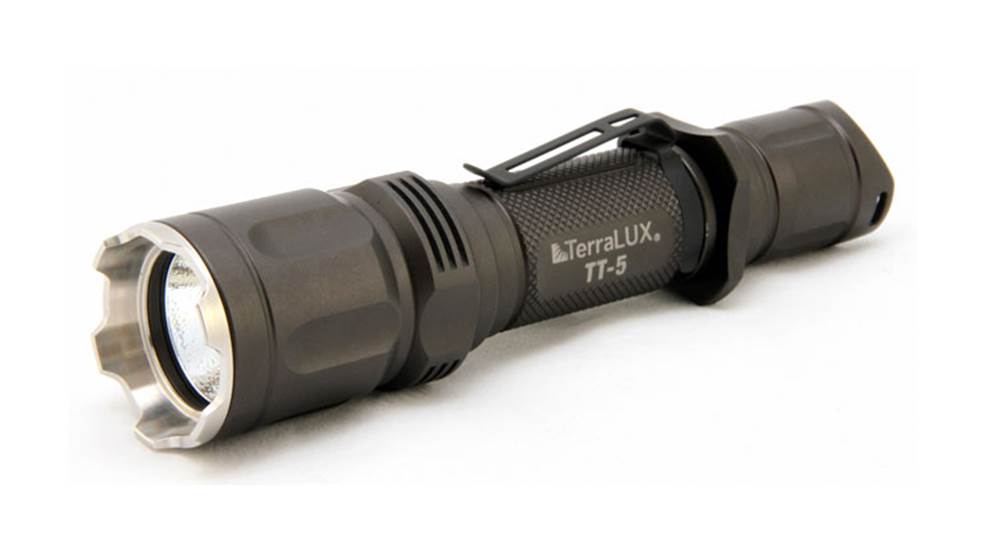 TerraLUX introduces its new line of hard-use tactical flashlights. Designed to meet the rigorous demands of law enforcement, military and personal defense needs, this line of rugged, reliable lights are built to exacting standards.
Leading the way for this new line of tactical lights is the TT-5, a 650 ANSI lumen powerhouse with three output settings, a dedicated strobe switch and 2.5 hours of full-power run time. TerraLUX's Optimized Digital Control (ODC) technology delivers up to 43 percent longer run times and 30 percent more lumen output.
The TT-line of lights features a unique design that allows the user to access a separate, dedicated strobe switch. This ergonomically designed button allows the strobe to be quickly deployed in a dynamic critical incident, when time and fine motor skills are at a minimum. The disorientation from the variable- frequency strobe can buy users the critical seconds necessary to get away from an attacker.
CNC-machined from aircraft-grade 6061 aluminum, the TT-5 sports a Type III hard-coat anodize for long-lasting protection. Built to the demanding needs of military and law enforcement users, the TT-5 is designed for hard-use and always-ready durability.
"We've put everything we know about LED durability and power output into the TT line," said Wade Stevens, TerraLUX vice president of sales. "This is the most complete tactical flashlight on the market."
Unlike other manufacturers who anodize their light bodies before cutting threads, TerraLUX anodizes their light bodies after threads are cut. This additional step reduces thread fouling, environmental damage and battery discharge.
TerraLUX also features a double spring battery system. Where most companies use a single spring in the tail cap, TerraLUX installs a second spring in the light head, ensuring maximum contact with the battery and reduced chances of failure.
"We've built these lights to withstand almost anything you can throw at them," Stevens said. "When personal safety is at stake, be it a police officer on the street or a mother in her driveway, these lights have to work."
In addition to durable bodies, TerraLUX uses lenses made from tempered glass, not a composite that is more prone to scratching or damage.
Some of the other features of the TT-5 are:
650 ANSI lumen Cree XM-L LED
High power – 650 lumens for 2.7 hours of runtime
Medium – 150 lumens for 7.3 hours
Low – 10 lumens 295 hours
Strobe – 650 lumens 4.4 hours
IPx8 water-proof for 4 hours at 2 meters depth
Tempered glass lens with precision micro-textured reflector
Removable crenelated strike bezel and grip ring
Multi-function dual switch tail-cap with direct strobe access for single-hand operation
Impact tested to 1.5 meters
MSRP $139.99