by
Evan Brune, Associate Editor, Shooting Illustrated
posted on December 21, 2016
Support NRA Shooting Illustrated
DONATE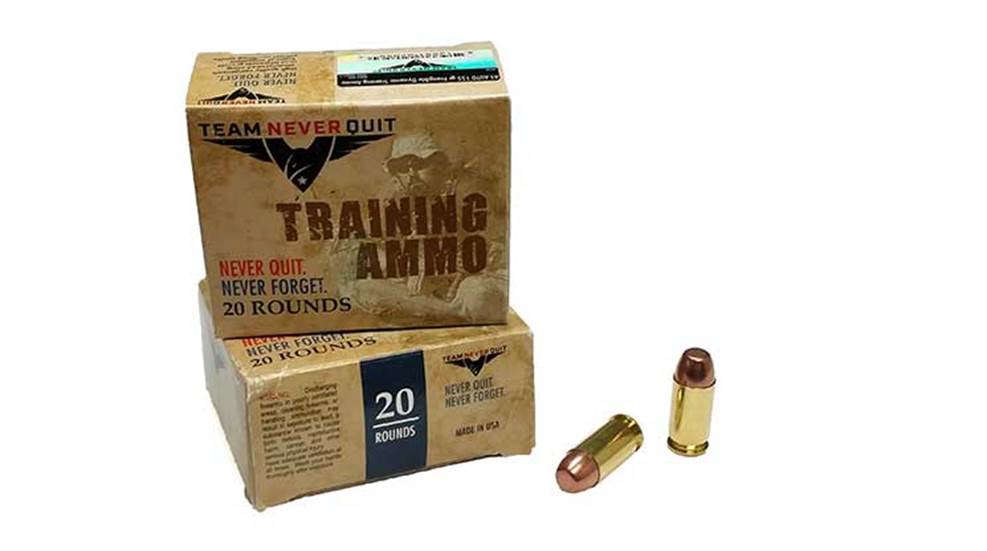 Frangible ammunition offers many benefits to those training in both rifle and pistol calibers, such as the ability to use steel targets at close ranges without the risk of splashback.
Team Never Quit,
associated with noted SEAL Team veteran Marcus Luttrell, teamed up with
Snake River Shooting Products
and
Sinterfire
to offer a
new line of frangible training ammo.
The ammunition features a Sinterfire bullet, which is comprised of copper and tin powder that is then compressed in a heating process called "sintering" that bonds the two powders together. This produces a bullet that, from the outside, looks much like a typical FMJ bullet. However, once the bullet strikes a surface harder than itself, the round will fragment into its original components, which fall harmlessly to the ground.
This completely eliminates the splashback associated with traditional bullets, and it allows users to train for close-combat scenarios that they might encounter in the field. Without the use of training rounds, shooters using steel plates must abide by manufacturer-recommended safe distances in order to avoid bullet splash and richochets.
For handguns, this is typically 10 yards, but for rifles, that distance can be 100 yards or greater. Frangible ammunition allows shooters to gain the training benefits of using steel plates while reducing the safe-use distance dramatically.
Suggested retail prices for TNQ frangible ammo vary. A 20-round box of the company's 9 mm retails for $13.99, while the same amount of .45 ACP retails for $16.99.