The advent of the polymer pistol frame has been almost without disadvantage. Lightweight, sturdy, affordable, it is almost perfect—except for the grip area. Oh, even that is fine for most shooters, but for those who prefer additional purchase, the gripping area of a lot of polymer guns has always been problematic.
Oh, manufacturers have tried molding in different surface textures—serrations, crosshatching, checkering, etc.—and have even molded in finger grooves, yet more than a few shooters have never been quite satisfied with the results. Some shooters have small hands, others have limited grip strength. Some perspire heavily or live and work in damp environs. In any event, they find polymer grip frames slippery or, more typically, inadequately secure.
The usual solution has been rubber grip sleeves. They work fairly well and are comfortable, mitigating recoil and offering enhanced ergonomics via a bit a palm swell. However, limited models are available and they can be bulky. Another alternative is now offered by Talon Grips. The company produces die-cut, self-adhesive grip appliqués made to fit specific pistols, greatly enhancing purchase.
The idea emerged from do-it-yourselfers who experimented with skateboard tape on their handguns. Talon took the idea and greatly refined it, offering neat, well-made, convenient appliqués that can easily by user-applied without any "experimentation" or hassles. The American-made appliqués are available in two distinct versions: a thin, rough, sandpaper-like material (called granulate) and a softer, rubberized material with some give.
We received a granulate appliqué for a Kahr PM9, and rubber-surface appliqués for a Kel-Tec P3AT and the pistol grip for an AR-15 carbine.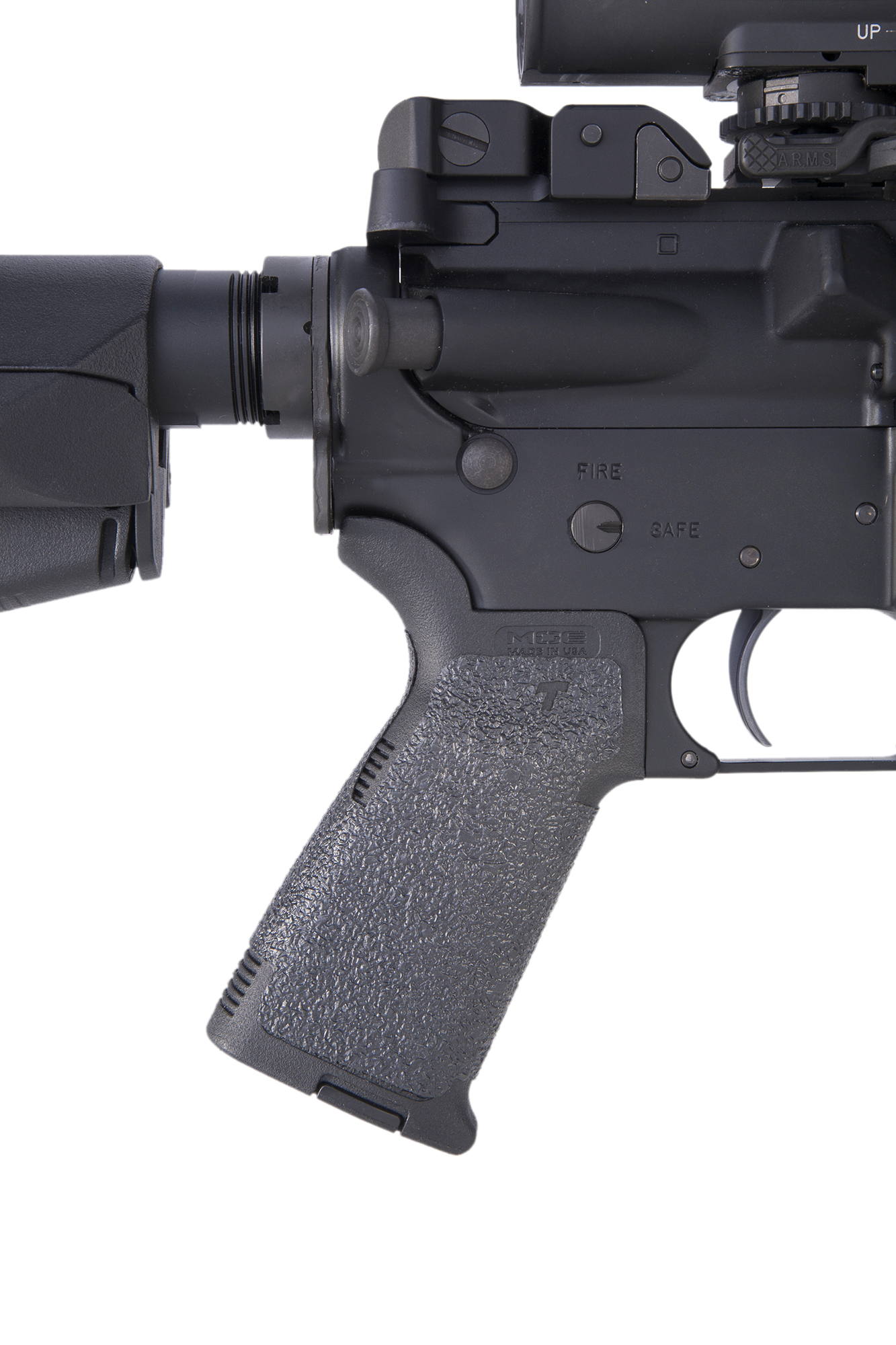 We followed the clear and specific directions exactly and had no problems with installation. Make sure the firearm is clean and dry, and apply the Talon products slowly and carefully to avoid bubbles and misalignments. (A blow-dryer is briefly required.) The finished product was visually appealing. The black color and precise contours made the appliqués appear integral to the black guns. They did not at all detract from the appearance of the firearms and, in fact, enhanced the looks of the gray Kel-Tec by offering some contrast.
The granular surface provides extremely good purchase, even in wet conditions. Your hand simply doesn't slip. The problem is that after a long day at the range with a hard-kicking gun, you'll have sanded your hand. Also, if you carry concealed, it is not always easy to sweep material across the grip on the draw, and concealing garments periodically "catch" on the grips as you make ordinary movements over the course of the day.
The rubberized material is more comfortable for extended shooting sessions. Also, it carries and draws easier from concealment. There even seems to be a smidgen of reduction in felt recoil. The grip provides good purchase; better than what is offered on a stock gun, but not as good as the granular material.

For a small, concealable firearm like the Kahr PM9, a sticky grip significantly improves control when firing.

My recommendation would be for the granular material for uniformed law enforcement officers and security personnel. They may have to draw under a wide variety of situations/weather conditions/environments and, also, don't have to worry about snagging when drawing the gun since it won't be beneath a concealing garment. I'd go with the rubbery material for plainclothes use by detectives and armed citizens with concealed carry permits.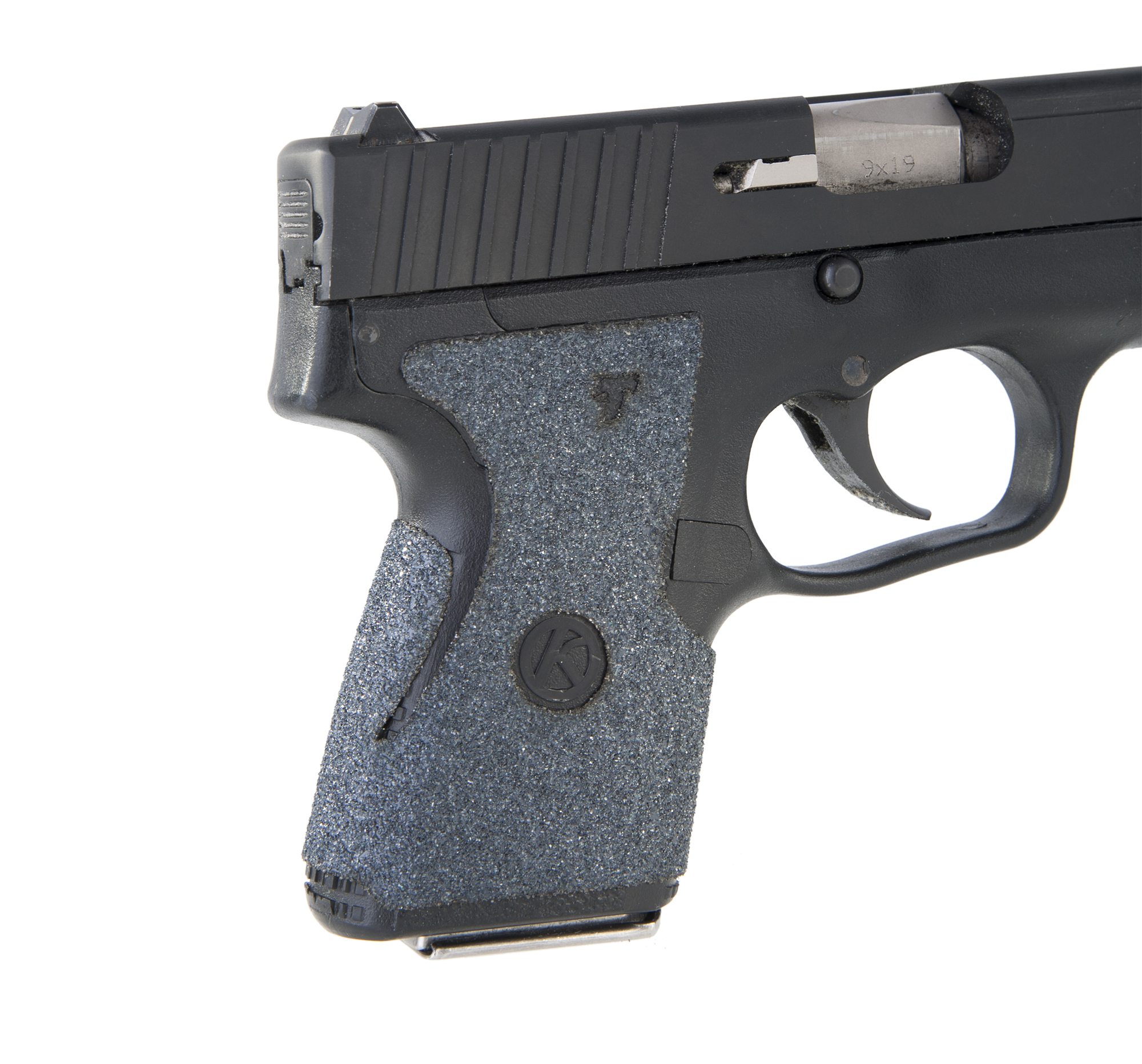 We noted no "wear" of the grips during testing and none of them peeled off. We imagine that in time they'll do both, but so far, so good. When that time comes, new ones will be easily afforded – and happily applied.
MSRP: $17.99