Examples of this concept came from companies like Winchester, Marlin, Savage, Remington and Stevens as early as the 19th century. Specialty manufacturers and custom builders also added their own special takedown conversions to the mix. The allure of these rifles is obvious: they can be transported in very compact packages and sometimes allow changes in barrel length and caliber.
Mixed in with the one-page gun catalogs and small-game furs tacked to the bedroom walls of my youth was an old Armalite ad for the company's AR-7. This Eugene Stoner-designed .22 LR semi-automatic was originally conceived as a survival rifle for military aircrews and other manufacturers have offered similar variations for more than 50 years. I was intrigued by the removable barrel concept, but I could not afford an AR-7 as a teen. However, I did manage to buy a secondhand Savage Model 24C (.22 LR/20-gauge shotgun) that allowed fast and tool-less fore-end and barrel removal for backpack carry. The sights on my Savage remained on the barrel after removal, so I had no zero-retention issues, but I often wondered how much shift one of the fancier long guns would have if the rear sight stayed put on the receiver. Time and responsibility eventually compelled me to grow up and forget about switch-barrel rifles…for a few years anyway.
During my Army years, I was fortunate enough to test quite a few unique firearms while attempting to fill various operational niches. One example was a removable barrel, bolt-action sniper rifle designed for very covert environments. It incorporated a knurled locking sleeve over a threaded barrel to provide rapid attachment to the action. Unfortunately, that nifty-looking bolt gun lacked the zero repeatability required for precision shooting. I eventually decided switch-barrel guns could not be relied upon to provide any manner of zero retention and stayed under that false impression until recent years.
Today, modern switch-barrel systems cross my path regularly, and I find myself increasingly interested in satisfying my lazy desire to carry the most compact gear possible. So far, it seems spotty accuracy with rapid switch-barrel guns has been effectively mitigated through modern technology and manufacturing methods.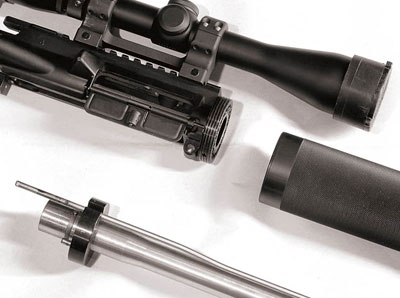 Setting aside break-action guns like my old Savage 24, quickly removable rifle barrels are usually either threaded into the action (sometimes with an interrupted thread) and secured with a latch, or they rely on a barrel extension with cams, clamps and/or screws to perform traditional barrel-nut duties. The guns in this latter category are more practical in environments where it may be necessary to quickly attach or detach a barrel for any reason, and they are the models upon which I have lately been focusing. I don't remember a time in uniform when I would have carried multiple barrels, magazines, bolt heads and ammunition sizes in the field. That said, I remember plenty of times where I would have appreciated the ability to reconfigure chamberings in my primary rifle for a particular mission when preparing to head outside the wire at some forward operating base.
The newest barrel-removal systems seem to be aimed at two markets: modular sniper rifles and tactical semi-automatics. SOCOM's Precision Sniper Rifle effort is a good example of the former, as it seeks to provide our Special Operations snipers with a multi-caliber capability. The sporting and tactical semi-automatic markets are similarly trying to provide shooters of any discipline with the flexibility to have more caliber or barrel options with the same rifle. Regardless of the motivation, efforts to provide a multi-barrel or multi-caliber capability decrease logistic difficulties and have the potential to reduce overall costs when compared to buying and maintaining multiple complete firearms, so long as the rifles used actually perform well in the field.
Most of the switch-barrel rifles I have laid hands on over the past two years managed to hold fairly close to zero from one barrel installation to another. Two of the guns I tested met the stringent requirements of a precision shooter, but most of us can get by with less-than-sniper-quality zero retention—particularly if we are trading for portability and a modular system.
Each of the tested guns uses a different barrel-attachment system, and working with all of them is relatively easy. The key is they allow a new level of modularity in both exotic and everyday rifles.
I welcome the surge in switch-barrel options. I no longer have to drool over an ancient catalog while wondering what it would be like to quickly assemble a rifle or change a barrel in the field without tools. Now if I could just talk my wife into letting me hang those old rabbit and squirrel furs on the walls…