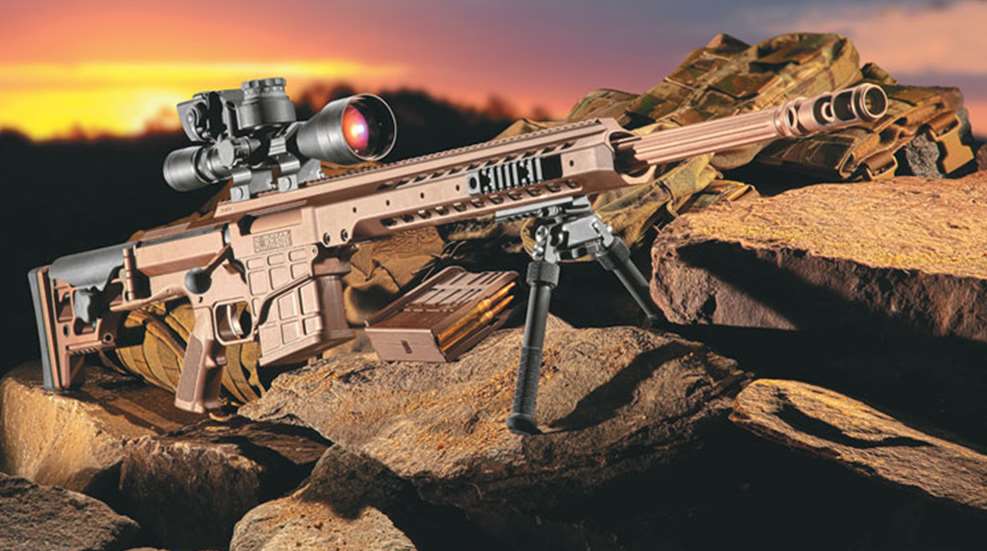 Have you ever picked up a rifle for the first time and somehow just knew it would be a real shooter? It has happened to me a number of times over the years with test guns and new barrels used in my custom work.
Call it intuition, good guesswork or blind luck, but whatever it is, that notion hit me the first time I removed Barrett's new Multi-Role Adaptive Design (MRAD) .338 Lapua Mag. sniper rifle from its Pelican hard case. To put it plainly, the sample I tested far outclassed every other .338 Lapua Mag. rifle I've fired to date. By rough count, that list equates to thousands of rounds through several samples of nine different rifle models. The fact the MRAD did this in a very handy package made shooting it a sweet experience.
For detailed photos of the MRAD, click here.
Barrett Firearms Manufacturing is well-known for its large-caliber rifles. The company's timeline states that Ronnie Barrett developed the first shoulder-fired .50 BMG rifle. The company's M82A1 semi-auto .50 BMG rifles were used extensively by the Army during Operation Desert Storm to deliver heavy payloads at long range. Later adopted as the M107, the updated version of this platform continues to see heavy service in the Middle East as an anti-materiel sniper system.
While the company's bolt-action rifles may be less well-known in tactical circles, they are commonplace in the civilian .50-caliber shooting world. Barrett has not limited its firearms offerings to launching half-inch diameter projectiles at incredible ranges, either. In recent years it has expanded the lineup to include its own .416 Barrett cartridge and with the introduction of the bolt-action 98Bravo in 2009, a .338 Lapua Mag. offering. The latter platform was a complete redesign that signaled a move in the direction of more accurate, easily portable and mission-adaptable rifles for modern combat environments.
Not coincidentally, USSOCOM's slow-as-molasses Precision Sniper Rifle (PSR) program seeks to provide our Special Operations snipers with a long-range, man-portable sniper rifle capable of extreme precision. The MRAD is based on the 98B, but was built specifically with SOCOM's PSR in mind. At the time of this writing, the MRAD is a PSR contender. I am not "in the loop" on the PSR effort, but if the MRAD performs in military testing the way it did for me, this rifle may well be a game-changer.
My own experience with Barrett firearms began in the mid-'90s with a variety of M82s, including the M107 variant. I also had the "pleasure" of testing some early XM109 prototypes. Shorter than the M107, these mini-cannons were built around a 25x59 mm cartridge left over from the Army's scrapped Objective Individual Combat Weapon program. Like all semi-automatic firearms, the XM109 needs the support of a solid object to provide adequate resistance for the action to cycle fully. I quickly learned even my prone mass was not enough of a sandbag to support the weapon. As each fired round pushed me backward several inches, my shoulder convinced me 25 mm rifles should be mounted on vehicles, not people.
Overall, my experience with Barrett prior to testing the MRAD was they're reliable rifles made to shoot big targets way out yonder. The difference with the MRAD is now little targets are on the table.
Fit & Finish
The MRAD is built with a simple, but very utilitarian profile that feels good in hand. The one-piece, series-7000 aluminum receiver and fore-end unit is functional without being burdened by excessive ornamentation. A 30-MOA canted top rail extends for 21.75 inches, providing ample room for day and night optics. The anodized Multi-Role Brown finish is both attractive and useful as a neutral base color if additional camouflage is needed.
Its stock provides five different length-of-pull adjustments, accessible via a spring-loaded button. A polymer cheek pad is likewise adjustable to further the custom fit and can be flipped 180 degrees to keep the knob off left or right-handed shooters' faces. Fans of buttstock monopods will appreciate the rail section machined into the aluminum stock toe. The MRAD's buttstock folds along the receiver's right side, encasing and protecting the bolt handle. Barrett provides the modularity and comfort of AR pistol grips by providing a standard A2 grip that is interchangeable with any other of similar design. An AR-style safety selector is also present and can be easily swapped from left to right side in a few seconds. The trigger group can likewise be removed without tools to allow easy cleaning and maintenance.
The MRAD's beefy bolt body contains a removable bolt head with three sets of three locking lugs, a Sako-style extractor and plunger ejector. Forward and rearward movement of the bolt is aided by a self-lubricating polymer sleeve that also shields the action from debris when the bolt handle is down.
Its receiver appears to leverage lessons learned from the benchrest-shooting world. Metal is removed only where absolutely necessary, leaving more meat to add critical stiffness to the action. The AR theme continues to the receiver configuration, where a front take-down pin acts as a hinge when the spring-loaded rear take-down button is depressed. Cleaning can be accomplished by simply "shotgunning" the upper receiver, but the top 2⁄3 of the rifle can be completely removed if desired. The bolt handle must be up (open) to detach or reattach the rear take-down detent, which seems like a smart safety feature.
Quick-detach sling receptacles are provided along the rifle, two on each side of the buttstock and one on each of the removable Picatinny rails along the fore-end's side. The free-floated barrel is lightened with eight longitudinal flutes and fronted by a baffle-style brake. Threads are 3⁄4-20 and allow for mounting of various suppressor adapters.
Surpassing Expectations
The first two ammunition loads I fed the MRAD turned in accuracy that was on par with other .338s I've tested at 100 yards. Then, I discovered Lapua's 300-grain Scenar load is as comfortable in the MRAD as a movie star is in rehab. The Barrett shot this ammunition with phenomenal accuracy and consistency, producing multiple sub-.5 MOA groups all the way out to 800 yards. Averages of .56 MOA at 100 yards and .69 MOA at 800 yards speak well for the combo, but would have been much smaller if not for shooter error at each distance.
The first thing I noticed when firing was the surprisingly pleasant felt recoil. The ultimate user interface of heavier-recoiling guns is the recoil pad. Barrett uses a Sorbothane pad that combines with the rifle's very ergonomic lines and an effective muzzle brake to reduce felt recoil to .308 Win. levels. I had no trouble seeing impact splash on a catch berm at 800 yards after following through each shot.
Cycling the MRAD's action was a mixed affair for me. While prone, I found bolt lift to be a little tight. However, cycling the bolt handle was silky smooth once it was lifted. The polymer sleeve housing the bolt body undoubtedly helps the process. No signs of high pressure were evident elsewhere, so I suspect the tight lift may be related to the locking design. It's important to note no bolt stop is built into the magazines' followers, so it is possible to close the bolt on an empty chamber.
Magazine changes are a cinch thanks to the easily accessed ambidextrous paddle release and the partially cut-away mag well. The latter feature allows the shooter to reload without coming out of position or even needing to tilt the rifle sideways.
Modularity 101
One goal of SOCOM's PSR effort is to provide military snipers with the capability to change rifle calibers without armorer support. While it would seem a sniper would always use the best long-range precision cartridge, the truth is many training venues and budgets don't allow full-time use of expensive .338 Lapua Mag. ammunition. Allowing snipers to swap to .300 Win. Mag. or .308 Win. saves precious resources.
If ammunition resupply becomes a problem in a combat theater, snipers can always count on the availability of various 7.62 NATO munitions. A removable barrel also provides the advantage of allowing snipers to carry the system in components, reducing the package size during transport.
A common problem I have seen with switch-barrel rifle systems has been that when a barrel is removed and reinstalled, point of impact (POI) shift is too random or great for precision applications. An unpredictable change in zero of 1 to 2 MOA is unacceptable when lives are on the line.
I performed a simple test with the MRAD to determine shift and found it to be well within acceptable limits. Two T30 Torx bolts pass from right to left through the receiver and dovetail in the barrel, firmly mating the two. The torque specification calls for 100 inch pounds, but since the only T30 I had was in the form of a T-handle driver, I was limited to snugging the screws up tightly by hand. I fired a 100-yard reference group, cleared the rifle, left the bolt open and then counted T-handle wrench revolutions until the bolts were free. After removing the barrel by simply pulling it forward out of the receiver, I reinstalled it and tightened the Torx bolts the same number of turns. The whole process took less than 1 minute. POI shift was .5 inch left of the reference group.
Next, I ignored the number of turns when removing and reinstalling the bolts, simply relying on feel to tighten them equally. POI shift was .5 inch right, back on top of the reference group. I repeated the process for a third time and POI was again on top of the reference group.
I enjoy shooting any rifle that challenges my abilities and exposes the smallest shooting errors on target because it keeps me on my toes and rewards me with excellent performance when I'm in the groove. The MRAD did all of the above and was a real pleasure to test. While this rifle is currently available only in .338 Lapua Mag., many other chamberings are planned. Both .300 Win. Mag. and .308 Win. are currently in the works. Barrett is also considering .260 Rem., 6.5 Creedmoor and 6x47 mm Lapua. Newer sniper chamberings like .300 Norma and .338 Norma are also under scrutiny. Barrett appears intent on offering customers as many options as possible. If it can deliver consistent performance on par with what I experienced in this test rifle, I believe Barrett's MRAD will merit a close look from anyone interested in placing accurate and hard-hitting rounds on distant targets.
Manufacturer: Barrett Firearms Manufacturing; (615) 896-2938, www.barrett.net
Action Type: Bolt-action
Caliber: .338 Lapua Mag. (other chamberings planned)
Capacity: 10 rounds
Barrel: 24.5 inches; fluted, stainless steel matchRifling: 6 grooves, 1:10-inch RH twist
Trigger Pull Weight: Single-stage, 1.75 pounds
Sights: None; continuous Picatinny rail with 30-MOA slope
Stock: Skeletonized, adjustable, side-folding buttstock; AR-compatible pistol grip
Length: 46.9 inches (39.9 inches with stock folded)
Weight: 14.8 pounds
Accessories: Two magazines, Pelican hard case, disassembly and maintenance tools, Atlas bipod
MSRP: $6,000