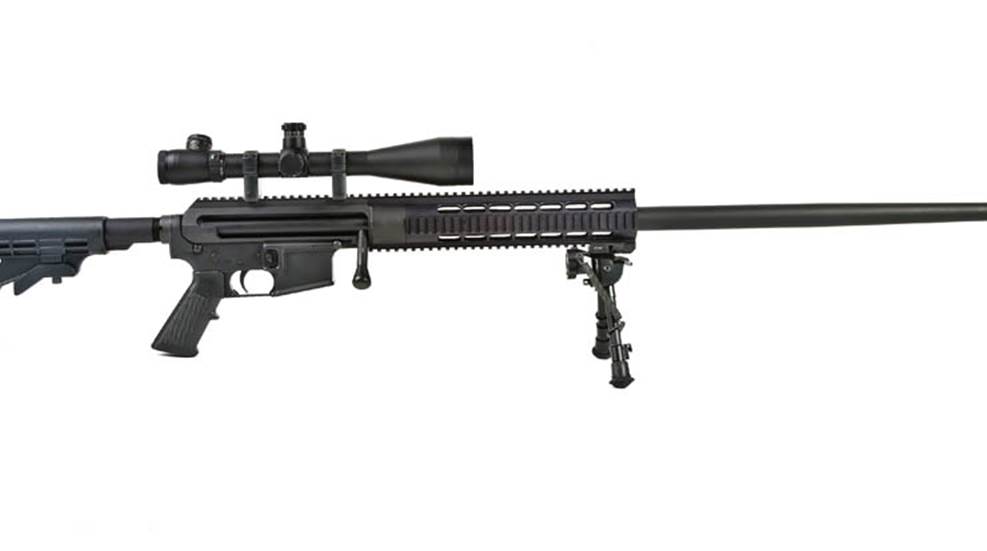 Personally, I especially enjoy taking full advantage of the AR platform's plug-and-play nature. It's more efficient for me to build a mountain of rifles and carbines off of one basic chassis than to buy the same capabilities separately.
When I first saw Zel Custom's .338 Lapua Mag. AR upper-receiver kit, I figured it was the zenith of this gun's Lego-like nature. Then I noticed Zel also makes .416 Barrett, .408 CheyTac (a limited run only) and .50 BMG uppers. (More photos here.)
Zel Custom Manufacturing currently offers two versions of its mega-sized uppers, a T1 single-shot and a T2 magazine-fed semi-automatic.
The T2's Accuracy International magazines are left-side mounted, allowing the upper to interface with a standard 5.56 NATO-sized AR lower without any permanent modification. Despite my preference for rifles with detachable magazines, the T2 was only available in .50 BMG at evaluation time. I wanted to test the .338 Lapua Mag. because of that cartridge's inherently superior downrange performance in accurized rifles, so I opted for a T1 in that chambering.
As interesting as attaching a large upper to a small lower is, it is not as simple as attaching it to an existing lower-receiver group and then heading to the range. From the standpoint of fit, the upper does attach to the lower using the existing front and rear takedown pins. Unfortunately for modularity purists, some parts removal and swapping within the lower receiver is required. A potential T1 or T2 owner will have to decide between dedicating a lower to this upper or swapping parts each time they want to use it. Specifically, the following items require changing:
• Replacement of the existing hammer and spring with the supplied Tactilite versions of both;
• The existing trigger assembly disconnector and disconnector spring must be removed;
• Zel's anti-walk hammer and trigger pins replace standard pins;
• The buffer retainer, buffer-retainer spring, buffer and buffer spring must all be removed to allow the bolt to move rearward into the receiver extension during cycling; and
• The bolt-stop assembly must also be removed.
These modifications are easy for a do-it-yourselfer possessing the needed skills and tools, but should be performed by a gunsmith if you are in any way unsure of your abilities.
I asked company owner Michael Brendzel which stock type he preferred for the system and not surprisingly, he strongly recommended fixed stocks for these heavy-hitting calibers. I've only taken a riflescope to the eye one time due to a collapsible stock shortening during recoil. It was on a .308 Win. I don't even want to think about "scope eye" from stock failure on a.50 BMG.
I attached the T1 to one of my test lowers outfitted with Magpul's excellent Precision Rifle/Sniper Stock. Unfortunately, the only trigger components I had compatible with the Zel hammer were of the stock AR variety. To help out with accuracy testing, I installed a  match spring kit that reduced pull weight to 5.5 pounds and eliminated some of the stock trigger's creep. While not perfect, it was far better than the horrors of a standard AR trigger.
I've fired thousands of .338 Lapua Mag. rounds since my first dive into long-range R&D waters in 2004. Some of the lighter-weight .338 rifles have been unpleasant to shoot more than a few groups through, while others have allowed me to fire several hundred rounds in a single day. I was honestly expecting a solid thrashing from the T1 due to the light weight. I was pleasantly surprised by felt recoil in the .300 Win. Mag. range. The 29-inch, medium-contour barrel, threaded-on muzzle brake and good AR ergonomics saved my shoulder.
Ammunition limitations prevented me from heavy accuracy testing of the T1, but I got a good snapshot of the standard version's capabilities through its Mossberg barrel. I sent 60 rounds of two companies' finest fodder down the bore. The results show this upper is not exactly a tack driver, but neither were any other .338s I've tested this year. Average MOA for groups tightened slightly as the big bullets settled down in flight, which is common with large-bore, high-velocity projectiles.
Group averages placed this T1 in the same performance category as rifles that cost four to five times as much. When a .338 version of the T2 repeater is available, the bargain will be tough to beat. Aside from having to single load cartridges for each shot in my T1 test sample, the biggest hassle was the lack of a feed ramp required me to start cartridges into the chamber by hand before attempting to close the bolt. After a few rounds I was able to do it without looking, and I suspect another range session or two would have helped smooth the process.
I don't yet need a .338 Lapua Mag. capability, but when I do, I plan to take a hard look at Zel Custom's product line. Its website depicts a wide range of barrel options, accessories and left- or right-hand actions. Having the ability to use long-range cartridges in a somewhat modular, shooter-friendly platform at a fraction of the cost of competing rifles is very tempting. The fact that Zel's upper performed on par with several top-flight .338s makes it hard to pass up.
Manufacturer: Zel Custom Manufacturing; (303) 880-8701, www.tactilite.com
Action Type: Bolt action, single shot
Caliber: .338 Lapua Mag. (tested), .416 Barrett, .50 BMG
Capacity: 1
Barrel: 24, 26 and 29 inches (tested)
Rifling: 6 grooves; 1:10-inch RH twist
Sights: None; Picatinny rail on receiver for mounting optics
Overall Length: 41 inches
Weight: 13 pounds, 8 ounces
Accessories: Hammer, hammer spring, anti-walk hammer and trigger pins
MSRP: $1,348; as tested $1,448