A suppressor-ready muzzle brake allows you to have the best of both worlds, giving you a recoil-reducing muzzle device that also allows the easy attachment of a suppressor. Shown is a Wilson Combat Rapid-Thread Muzzle Brake along with a Wilson Whisper Suppressor.
For every action, there is an equal and opposite reaction. This is the bottom line and an unavoidable reality, as Newton's Third Law does not leave a lot of room for latitude. Or, does it? We all understand that to launch a projectile from a firearm, propelled by column of gunpowder igniting down the bore, there is an unavoidable counter-reaction of recoil that is transmitted to the shooter. That is, unless you use the magical, unexplainable forces imparted by a muzzle brake.
One of the core elements of "magic" is the art of redirection, namely shifting focus away from one thing and toward another. Redirection also plays a role in the power of the muzzle brake, as well. While the effects of a muzzle brake at first blush may seem to defy the laws of physics, the general principles underlying their designs are relatively straightforward. By redirecting gas, a brake can use the very force that creates recoil to mitigate the perceived amount of impact you experience.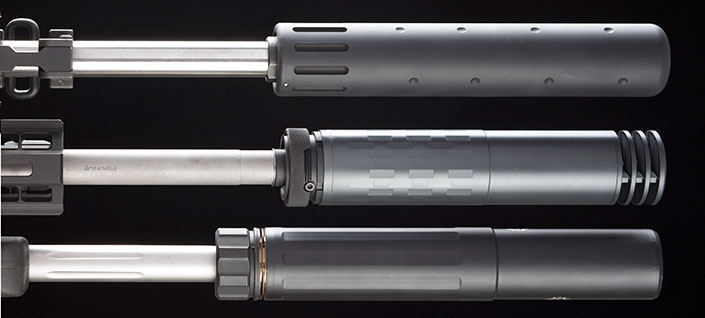 Now, do not take my oversimplification of the processes of the functioning of a muzzle brake to mean there are not amazing amounts of sophisticated engineering behind every capable muzzle brake. There are side effects from their benefits, most often manifested in increased noise and muzzle blast from your firearm.
But what if you wanted the best of both worlds? How about the ability to use a muzzle brake on your tactical rifle of choice, but also to quickly and easily reduce and minimize its noise and blast through the use of a suppressor? If so, the wide range of suppressor-ready muzzle brakes on the market today is just the ticket for you.
Designed in most cases to interface with specific, proprietary quick-release systems, these brakes from today's top manufacturers provide the ability to have everything you want in one package. Some even combine flash suppression with the braking effect. Here is a round-up of some of the top suppressor-ready muzzle brakes available today. While this list is by no means exhaustive due to space constraints, it is intended to be a good starting point to find just the right muzzle device for your specific needs. So read on, research, compare and select your perfect brake.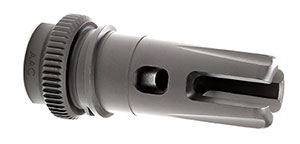 AAC BrakeOut 2 51T Compensator
Employing the popular 51T Ratchet Mount fast-attach system (which allows a user to install or remove their suppressor in seconds), the BrakeOut 2 from Advanced Armament Corp (AAC) is a hybrid design that combines the benefits of a flash suppressor and muzzle brake into one unit. A sibling to the AAC BlackOut flash suppressor, the BrakeOut 2 is a redesign of the original BrakeOut and offers users a triumvirate of advantages—flash suppression, perceived recoil reduction and the ability to quickly attach a compatible suppressor.
The BrakeOut 2 is available in 1⁄2x28 TPI and 5⁄8x24 TPI variants and features an open-prong design with three tines for flash suppression, with body-mounted porting for the muzzle brake element of the design. It weighs in at 4.2 ounces, is 2.375 inches long and is manufactured from blackened 416 stainless steel. MSRP: $124.99; (770) 925-9988, advanced-armament.com
---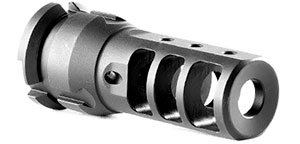 Dead Air Armament KeyMount Muzzle Brake
Dead Air Armament has developed a devoted following in the suppressor community for its Sandman series of suppressors. And, its Quick Detach (QD) system of attachment means you can easily remove the unit one-handed. Dead Air's KeyMount Muzzle Brake is designed to be the ideal interface between your rifle and your Sandman-S or Sandman-L suppressor.
Available in 1⁄2x28 TPI and 5⁄8x24 TPI versions, the 4140 steel unit has a weight range from 3.7 to 4.2 ounces and a length of 2.6 inches. Featuring a sophisticated combination of baffles and ports, the brake gives you the flexibility of either quickly attaching your suppressor for use or simply employing your rifle with no suppressor, while still enjoying the advantages of a muzzle brake. No fuss, no muss. MSRP: $89; (877) 892-7544, deadairsilencers.com
---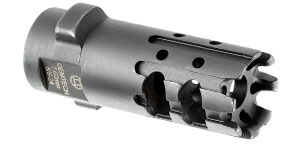 Gemtech 7.62 Muzzle Brake
Employing Quickmount lugs for use with all appropriate Gemtech 7.62 mm suppressors, the Gemtech 5⁄8x24 TPI 7.62 Muzzle Brake (the company also offers a 1⁄2x28 TPI 5.56 mm variant) features an overall length of 2.4 inches with an extended portion behind the mounting lugs for use on shorter barrels. The brake comes standard with a mounting shim kit and weighs in at 3 ounces.
The steel brake has a black-oxide finish and built-in carbon-cutting grooves for helping to keep mounting surfaces on your suppressor clean. MSRP: $150; (208) 939-7222, gem-tech.com
---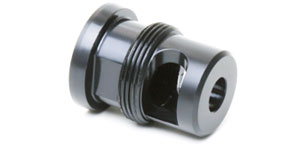 Griffin Armament Minimalist Brake
The Taper Mount Minimalist Brake from Griffin Armament is designed to offer maximum performance in the smallest package possible. Employing Griffin Armament's Taper Mount system, the unit measures a scant 1.34 inches in overall length, weighs in at just 1.8 ounces and is constructed of 17-4 PH stainless steel.
In addition to acting as an easy-to-use mount for your suppressor, the Taper Mount Minimalist Brake is a fully functioning brake that helps reduce both muzzle climb and perceived recoil. The brake comes standard with a thread protector to help protect the threads during use without a suppressor and a shim set for proper timing. It is available in 1⁄2x28 TPI and 5⁄8x24 TPI versions. MSRP: $84.95; griffinarmament.com
---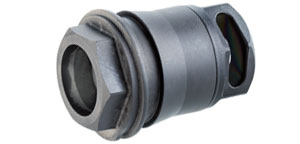 SIG Sauer Micro-Brake
The Micro-Brake from SIG Sauer is designed to support the company's line of silencers and features the "Taper-Lok" fast-attach system. Not requiring the use of shims, the system employs a provided crush washer that allows you to time it to the desired orientation.
The Micro-Brake unit itself lives up to its name. It measures 1.5 inches in length and weighs just 3 ounces, adding minimal bulk and weight to your firearm. Also part of its minimalist design is its single-port design, packed into the very short overall length of the brake. Manufactured from 17-4 stainless steel with a low-profile DLC finish, it is available in 1⁄2x28, 5⁄8x24, M18x1 and M18x15 TPI configurations for projectiles ranging from 5.56 and 7.62 mm up to .338. MSRP: $69; (603) 418-8102, sigsilencers.com
---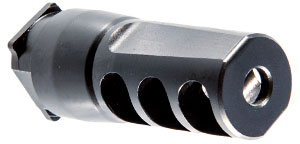 SilencerCo Saker Trifecta Muzzle Brake
The Saker Trifecta Muzzle Brake from SilencerCo is compatible with the company's Multiple Accessory Attachment Device (MAAD) system. It is designed to offer the shooter the ability to remove or attach their suppressor with one hand and is available for use with 5.56 mm (1⁄2x28 TPI) or 7.62 mm (5⁄8x24, 1⁄2x28 or 9⁄16x24 RH TPI).
The brake itself has an overall length of just 1.6 inches and is reasonably compact, yet still packs in three full ports for recoil reduction. It is manufactured from stainless steel for corrosion resistance, and has a black-nitride finish to keep it low profile. MSRP: $92; (801) 417-5384, silencerco.com
---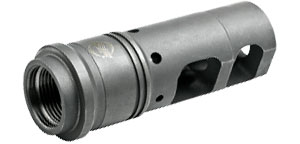 SureFire SFMB-556
The SFMB-556 in 1⁄2x28 TPI is a muzzle brake designed for use on M4/M16-pattern firearms, and it offers both suppressor-mounting capabilities and recoil-reduction characteristics. Also available in 6.8 mm, 7.62 mm and .338 variants, the SFMB-556 is manufactured from stainless steel with a black Ionbond DLC coating. It measures 2.7 inches in overall length and weighs 3.9 ounces.
The brake is designed as a mounting adapter for SureFire's SOCOM Series 5.56 mm Fast-Attach suppressors and features multiple bearing surfaces for proper suppressor alignment. The suppressor can be quickly removed and reattached by hand in the field. The brake itself has several blind pilot holes for tuning the brake to specific loads as well as for indexing the adapter (or if you want to pin-and-weld the brake to a barrel). MSRP: $149; (800) 828-8809, surefire.com
---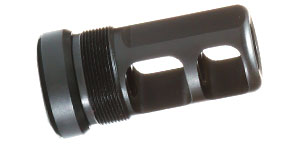 Templar Tactical Brake Suppressor Mount
The Brake Suppressor Mount from Templar Tactical is designed to offer shooters a quick-detach muzzle device for use with the company's line of Crux suppressors. Available for a broad spectrum of calibers (5.56 NATO, 7.62 NATO, 9 mm, .40 S&W and .45 ACP) and for a wide range of thread patterns, the brake measures 2.25 inches.
The brake is part of what the company calls its Precision Mounting System, which is not designed as a quick-release system but rather as a precision mount for the suppressor. The company claims its thread design and conical-mounting system results in lower weight and improved accuracy and performance.
It is manufactured from 4340 alloy steel with an epsilon-iron nitride finish. Weight ranges anywhere from 3.4 to 4.5 ounces depending upon caliber and thread specification, and the brake features a twin-port system. MSRP: $129; (936) 271-4867, cruxsuppressors.com
---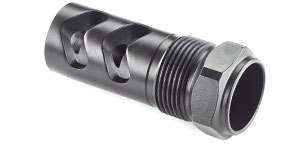 Wilson Combat Rapid-Thread Muzzle Brake
The Rapid-Thread Muzzle Brake from Wilson Combat is designed for use with the company's Whisper Suppressor. The brake is manufactured from hardened steel with a black Melonite finish. The brake comes with a complete shim set for proper timing on your rifle's barrel threads as well as a rubber O-ring for the Whisper Suppressor.
The brake is available for a wide range of chamberings, including the 5.56 mm (1⁄2x28 TPI), 6.8 mm and 7.62 mm (5⁄8x24 TPI), 9 mm/.338/.358 (1⁄2x36 TPI), and .458 SOCOM (11⁄16-24 TPI). The Rapid-Thread Muzzle Brake features twin V-shaped ports for redirecting and dispersing gas pressure to keep down muzzle rise and reduce felt recoil, and when used with the suppressor it acts as the initial blast baffle to help reduce internal suppressor wear. MSRP: $95; (800) 955-4856, wilsoncombat.com
---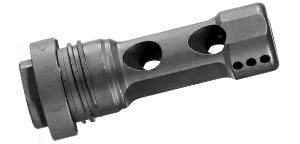 YHM Phantom Muzzle Brake
Designed to work with the Yankee Hill Machine (YHM) Co. full-size .30-caliber Quick-Detach YHM-3300 and YHM-3300-Ti suppressors, the YHM-3302-MB-24A Phantom Muzzle Brake works as a stand-alone muzzle brake as well as a mount for your suppressor. It comes with a shim kit for proper installation.
Rather than employing a somewhat traditional V-shaped brake as seen on many large-caliber rifles, the Phantom features side-located ports that intersect inside the body of the brake to form internal V shapes that vent gas back and to the sides. Complementing these large ports are smaller ports on the top, front end of the brake that vent gasses directly upward. Manufactured from heat-treated steel with a plated matte-black finish, the 5⁄8x24 TPI brake weighs 5.28 ounces and measures 3.06 inches overall length. MSRP: $93.50; (877) 892-6533, yhm.net