I'll admit it right up front; I am a sucker for AKs. During my childhood, growing up in the 1980s, I would read up on them in gun magazines and peruse catalogs (remember, this was back in the Dark Ages of the pre-internet era). I wanted to own one—bad. So, for my 16th birthday, I asked my parents for a Chinese AK (having just missed the "good ones" prior to the 1989 ban on their importation in so-called "non-sporting" configurations, I had to settle for a thumbhole-stocked MAK90).
I put a lot of cheap Norinco ammunition through it (back then, you could buy a case of 1,000 rounds for about $80 or $90), and managed to pick up a decent supply of 30-round magazines as well as a Chinese-pattern 75-round drum. Along with my Chinese Norinco SKS, these were my two favorite guns for many years. I could actually go out and shoot them for not a lot of money, and they were just plain fun to use.


With the collapse of the Soviet Union in 1991, a flood of Eastern European-pattern AK rifles became available. Unlike the Cold War-era days where all you could get in the realm of true AKs was pretty much Chinese, Egyptian and Yugoslav variants (but boy would I like to have a collection of those '80s-era guns now!), there was now a whole new world of AK-style guns on the market—even including Russian-made ones. And in this growing market, Romanian guns were some of the most common and affordable.
For a relatively small Eastern European nation, Romania certainly punches well above its weight class when it comes to small-arms production. Having learned the ins and outs of Kalashnikov-pattern firearms production from the Soviets during the Cold War, Romania developed a flourishing smalls-arms production community that burst upon the worldwide scene in the post-Cold War era.
I remember my excitement at being able to purchase a Romanian AK in the then exotic 5.45x39 mm round. Remember, in the days before the collapse of the Soviet Union, the AK-74 and its 5.45 mm round were locked behind the Iron Curtain; that is, unless you were willing to venture over into war-torn Afghanistan. As a college student with not a lot of money, the $350 a Romanian SAR-2 in 5.45x39 would cost me was still a lot, but I saved up and got one. I loved it (and still have it) and have been buying AKs ever since.
Reaching the Apex
At this stage, I have a decent collection of the basics (Russian, Bulgarian, Polish, Romanian, etc.), but my choices in the past have been relegated to what manufacturers would choose to produce. That is, until I began delving into the exciting world of demilled parts kits. For those unfamiliar with this subject, these are parts kits made from demilling military guns (cutting receivers and barrels so they are not usable, etc.) and then offering the remaining parts for sale.
Whereas major manufacturers would base their AK offerings on the broad availability of large numbers of parts kits for a production run (if they had not committed to producing most or all of the rifle themselves here in the United States), by buying my own kits I could select rare and interesting variants that are not seen very often this side of the Atlantic. And my go-to source for these parts kits has long been Apex Gun Parts. Over the years, I have picked up some really interesting East German, Hungarian, Polish, Romanian and Yugoslav AK kits from the company, and I make sure to keep an eye on its website for when some new treasure may pop up.


It was during one of these forays last year when I discovered a kit that I had wanted to pick up for quite a while—a Romanian-made md. 90, 7.62x39 mm kit that was described as being in "good to very good" condition. As I knew these were rare and that I should get one before they were gone (I learned that lesson the hard way on past parts kits that were sold out in a matter of days), I immediately put in an order.
For those unfamiliar with Apex Gun Parts, "Apex" stands for "Armory Parts Exchange" and was founded in 2004 by Jeff Selvig. His background prior to founding Apex included work as both an overseer of a bonded warehouse and as a salesman in the distributor section of a major East Coast firearms importer. It was during this time that he saw the potential for a new approach to the business of selling gun parts.
During an interview I conducted with Selvig, he explained to me that "I noticed that there were many firearm manufacturers, firearms importers and firearms dealers, but not really many specializing in just selling parts. The ones that were tended to be older, established companies that were not making a rapid or successful transition to the digital marketplace." It was here that he saw an opportunity that would be filled by his new company.
So, Selvig struck out and founded Apex Gun Parts in the small town of Palmer Lake, CO. And in the years since its humble beginnings back in 2004, Selvig as president has shepherded the company's development into the successful venture it is today. "We adopted a saying years ago that 'We sell customer service in the form of gun parts,'" he said. And this customer-oriented approach has proven to be quite successful, with the company having expanded to the point that, in 2012, it moved to a large warehouse located in Colorado Springs, CO.
An Unexpected Ally
So now that I had a parts kit, next was the tough part—finding a skilled builder to reconstruct it into a civilian-legal, semi-automatic rifle. From prior experience with similar projects, I knew that the build would require a certain amount of U.S.-made parts for the rifle to be Section 922r compliant under current firearm regulations for non-U.S.-,made firearms. With a stamped-receiver example like this, it would take replacing a minimum of six parts with U.S.-made equivalents to achieve this. And, while AKs are basic and straightforward designs, building one is not as simple as piecing together an AR on your kitchen table. This project would take someone with the correct know-how as well as the proper tools to build this rifle correctly. It was while I was at the 2016 SHOT Show in Las Vegas that I found the answer, and a somewhat surprising one at that.
"For a relatively small Eastern European nation, Romania certainly punches well above its weight class when it comes to small-arms production."
For many, the name James River Armory likely brings to mind beautifully restored U.S. military classics like M1 Garands and M1903-series rifles as well as newly produced classics like the company's M1 Carbines and M14 rifles. In fact, it was those types of firearms that drew me to the company's booth on the SHOT Show floor. But, as I perused the company's sample firearms on display, I spotted a few AKs off to the side. Needless to say, my interest was piqued. I struck up a conversation with gunsmith Andy Tyson about the AKs on display and its AK Line.
Tyson explained that the AK Line is made up of a rotating series of rifle offerings based upon the availability of parts kits. In addition, the company offers custom AK build services for those like me who purchase their own kits. It looked like I had found the solution to my question of whom I would have build the md. 90. As my parts kit had matching numbers on the major parts, Tyson suggested that I have them manufacture one of the company's own stamped-steel receivers for the project that could be serialized to the kit. He explained to me that customers can provide their own receivers if they like, and this affects production time (two to three weeks is an average turnaround time for a build with a customer-provided receiver; if James River Armory provides the receiver, you are looking at six to eight weeks).
That receiver would take care of one of the six required 922r compliance parts for the project. Tyson went on to state that James River Armory could provide a TAPCO gas piston and three-piece fire-control group as well as a DC Machine-manufactured barrel. That would bring the project up to the total six required U.S.-made parts. So, we set up the project and I agreed to get the md. 90 kit out to James River Armory as soon as I arrived home.
Primary Source Material
As I waited to receive the completed md. 90 back, I whiled away the time by researching the background of the Romanian rifle. While Romania did employ milled-receiver AKs in the 1950s, they were acquired from Moscow and not produced domestically. In the early 1960s, Romania began domestic production of its own version of the Russian 7.62x39 mm Avtomat Kalashnikova Modernizirovanniy (AKM), a modernized version of the AK-47 that employed a stamped-steel receiver and numerous other enhancements. This resulted in the AKM-style md. 63 series of fixed-stock 7.62x39 mm rifles. Robust, affordable and reliable, the md. 63 rifle ably captured the essence and capabilities of the Russian AKM and proved to be extremely successful.
A unique and distinctive feature seen on many md. 63 rifles is a forward-canted wooden vertical foregrip. While this has many advantages (such as increased control over the gun as well as keeping your hand farther away from a hot barrel), it also has the negative side effect of making the insertion and removal of magazines a bit more difficult (remember that AK mags "rock" in).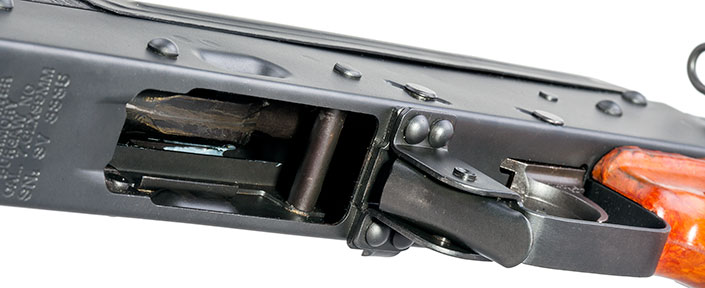 The Romanian AK line soon expanded to include a 7.62x39 mm underfolding-stocked variant dubbed the md. 65, featuring an underfolding stock that sported milled steel arms like that of the milled receiver Avtomat Kalashnikova Sklodnoy (AKS) rather than stamped steel arms like most stamped steel-receiver underfolder AKMS variants. Many md. 65 variants also feature a vertical foregrip, which was shortened and straightened as the buttplate of the stock must be able to fold over it.
However, this was not the last of the folding-stocked Romanian AKs. Next to be developed was the 7.62x39 mm md. 90, which featured a side-folding single-strut stock that could be fitted onto a standard AKM-style receiver (whereas the underfolding stock required its own specific receiver design). Apart from the stock, the md. 90 is a relatively straightforward Romanian AKM-style rifle, even down to many of them being fitted with a forward-canted, vertical, laminated-wood foregrip (as was my kit). The steel stock folds along the right side of the receiver and has a downward angle that allows a shooter access to the large safety lever when the stock is folded. The release for the stock is a sturdy push button located on the rear lower portion under the stock strut. Simply push in to release the stock for it to be folded or unfolded.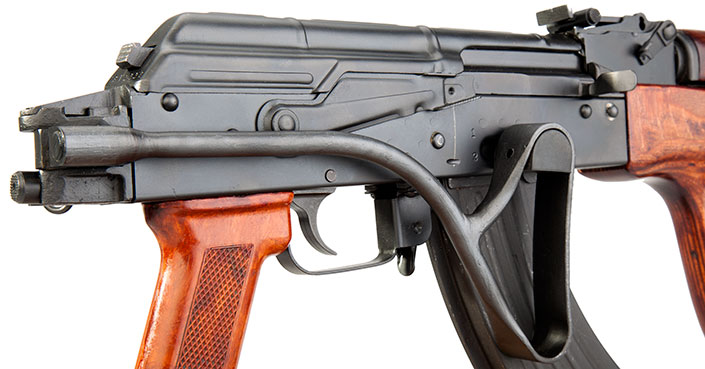 Hands On
After my dutiful wait of about seven weeks, I received an e-mail from the gun shop that an AK had arrived from James River Armory. I was immediately impressed by the rifle as soon as it was pulled from the box. It featured an evenly applied matte blue finish, and Andy had even refinished the fore-end parts. It looked very sharp. I also noted that the receiver was marked as an "AK-MD90" and had a custom serial number that matched up with those of the parts kit. I appreciated the fact that Andy swapped out as many internals as possible for the 922r parts so the build could still use the original orange Bakelite pistol grip.


I took the rifle home and gave it a closer inspection, teardown and oiling and then took it out to the range with a selection of Federal, Hornady and Winchester 7.62x39 mm ammunition I had on hand. As the rifle does not feature an optic rail mount on the left side of the receiver, I fired it for accuracy with iron sights at 100 yards. As a southpaw, I was not that enamored with the single-strut stock as it is offset to the left side, which made obtaining a proper cheek weld awkward for me. I set it up in my Caldwell Lead Sled and put it through its paces.
If you are interested in collecting rare and uncommon AK variants, I suggest taking a close look at the parts kit approach. With the help of groups like Apex Gun Parts and James River Armory, you can add a shootable classic to your collection without breaking the bank. I certainly am happy that I did.