Steyr Arms has announced that the AUG A3 will be available later this month. Assembled by Steyr-Mannlicher-trained gunsmiths in its Trussville, AL, manufacturing facility, the new flat-top AUG A3 will feature European-style cold-hammer-forged barrels and the legendary tulip-style muzzle brake.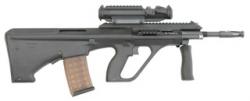 With an overall length of 28.15 inches including a 16-inch barrel attached, the AUG A3 is not only 8 inches shorter than an AR-15 carbine with a comparable-length barrel, it runs exceptionally cleaner due to its short-stroke-gas-piston operation. Its stainless steel operation and guide rods offer unparalleled smoothness in operation as well as exceptional reliability. Dual gas-adjustment settings ensure its operation even with the dirtiest of ammunition.
The Steyr AUG A3's 25-position Picatinny rail makes sighting options nearly limitless, to include numerous optics and back-up iron sights. The AUG A3 has all the classic features and benefits that established it as the pinnacle of modern rifle design, including expedient disassembly as well as simple conversion to left-hand operation, which requires replacement of the standard bolt with the optional left-eject bolt. It also features a quick-change barrel with a collapsible forward grip. The AUG A3, which comes with a transparent polymer 30-round magazine, has a suggested retail price of $2,099.
Specifications
Manufacturer: Steyr Arms, Inc.; (205) 655-8299, steyrarms.com
Action Type: Adjustable short-stroke gas-piston semi-automatic
Caliber: 5.56x45mm (.223 Rem.)
Magazine type/capacity: Polymer, double-stack detachable box; 30 rounds
Receiver material: Hard Eloxal-coated aircraft aluminum
Barrel: 16-inches; cold-hammer-forged heavy barrel (18.375 inches w/muzzle brake)
Rifling: 6 grooves, 1:9-inch RH twist
Sights: None; integral 25-slot Picatinny rail
Finish: Mannox
Safety: Two-position trigger-blocking
Trigger pull weight: 9 pounds, 8 ounces
Length: 28.15 inches
Weight: 8 pounds
Accessories: Owner's manual, one 30-round magazine
MSRP: $1,995