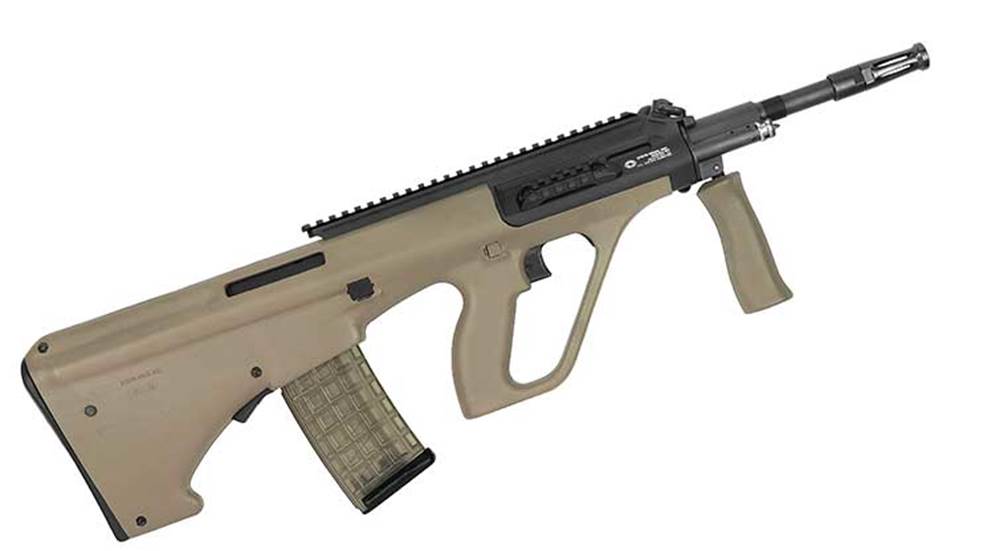 Steyr Arms
added a new model of its iconic AUG A3 semi-auto rifle to the product lineup, providing shooters with a Long Rail option. The new rifle model provides 25 numbered rail slots for mounting optics and iron sights.
The new Long Rail AUG A3 is designed with two more Picatinny-rail slots than the original rifle. The top rail segment reaches back in line with the front edge of the AUG's ejection port, allowing for an improved sight radius and more mounting options. However, the rifle still features the same rail height as the original rifle, ensuring that shooters can maintain a solid cheekweld on the gun.
Another novel feature of the Long Rail AUG A3 is the addition of milled cuts on the sides and bottom of the rifle, designed to relieve some weight from the original rifle design. With the new cuts, the gun weighs in at 7.8 pounds. The Long Rail model is available in black, mud, OD green and white stocks in both standard AUG and NATO configurations.
The new Steyr Arms Long Rail AUG A3 ships with a single translucent 30-round magazine and retails at a suggested price of $2,099. AUG A3 owners hoping to add an extended top rail to their rifle can purchase one from the company for $145.