Its lines are so unlike any other firearm, if you show it to non-gunnies, they will ask about the Romulan who lent it to you. Until recently, AUGs were hard to come by. There are excellent clones and a few NFA-regulated Steyr selective-fire models if you have a money pit like Scrooge McDuck, but an authentic, semi-automatic Steyr AUG has been as elusive as a jackalope. Thanks to the Austrian manufacturer's recent alliance with Nashville, TN-based Sabre Defence, however, the coveted bullpup is available to any gun nut with a passion for cutting-edge design.
The AUG/A3 SA USA is made in America, as its name suggests, using a variety of domestic and Austrian parts, with production supervised by engineers from Steyr. Its basic design is familiar in its unfamiliarity, with its bullpup configuration, translucent magazine, distinctive pistol grip and quick-change barrel. Some modifications to make it more appealing to modern shooters are included, like a rail section atop the receiver for mounting optics superior to the original AUG's integral, miniscule, fixed-power scope. There's also a small section of rail opposite the charging handle for attaching an accessory like a flashlight or laser-aiming device.
Chances are, however, you are not interested in an AUG merely as a platform to test your ACOG. The appeal of this firearm lies in its bullpup configuration and ridiculously well-engineered design. We'll start with the layout, since that is what immediately catches most eyes.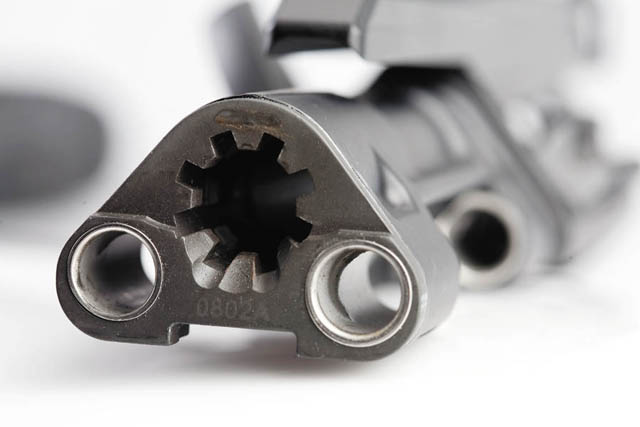 Bullpup rifles are a source of great contention within military circles. The advantage of a full-length barrel in a firearm with an overall length closer to a carbine than a rifle is indeed attractive, but problems encountered by the British Army when it switched to the SA80 in 1985 have caused many professionals to spurn the radical configuration. It does take some getting used to. Magazine changes are more complicated, since the mag is behind the trigger and the release lever is almost in your shoulder when shooting. The stock is a good deal fatter to accommodate the bolt-carrier assembly, while the ejection port is opposite your eye when you have a good cheek weld. But what is most apparent is the proximity of the muzzle to your face when shooting, because although the AUG has a 16-, 20- or 21.6-inch barrel, from tip to toe it's less than 34 inches long in all configurations. After an initial "wha…?" period, I found myself enjoying this little rifle.
Don't let the AUG's looks fool you. Steyr cut no corners with its design, and it is way more robust than Capt. Picard's Phaser. Capped with a 10-port muzzle brake, it's easy to control despite the unusual position of the moving parts. The chrome-lined, phosphated barrel passes through an ingenious, triangular sleeve before entering the receiver. This sleeve has three holes: one for the barrel and two smaller openings for the operating rod and charging rod. A similarly shaped trunnion acts as a mount for the integral, folding vertical foregrip and adjustable gas regulator, which can be set for normal or high flow for overcoming any issues if the rifle becomes heavily fouled.
Pushing down on a button located on the trunnion allows the user to remove the barrel by turning the trunnion via the foregrip about a quarter-turn, then pushing forward. Other barrel assemblies can then be swapped into the gun, though most shooters will only find this feature useful for its role in the AUG's lightning-fast field strip.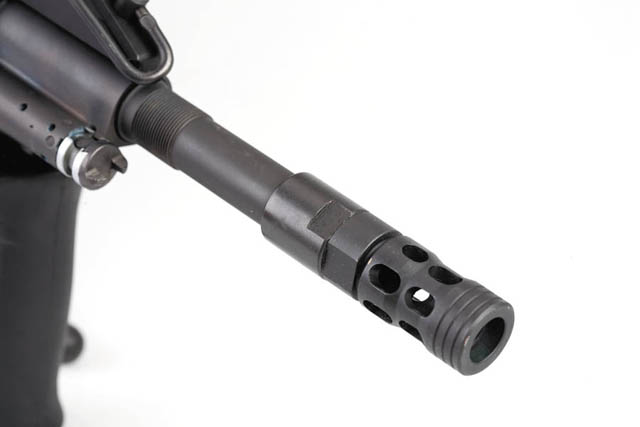 A non-reciprocating charging handle on the AUG's left side also functions as a forward assist, and a bolt stop/release button on the stock allows the bolt to be locked back. The trigger is one area where bullpups suffer, and the AUG is no exception. Because the firing pin is located well behind the trigger, a relatively long trigger bar is required, which takes significantly more effort to set in motion than those in standard-configuration firearms. There has yet to be a means of avoiding an awful trigger on a bullpup-style rifle, but the tinkerer who solves this problem could find himself in a higher tax bracket.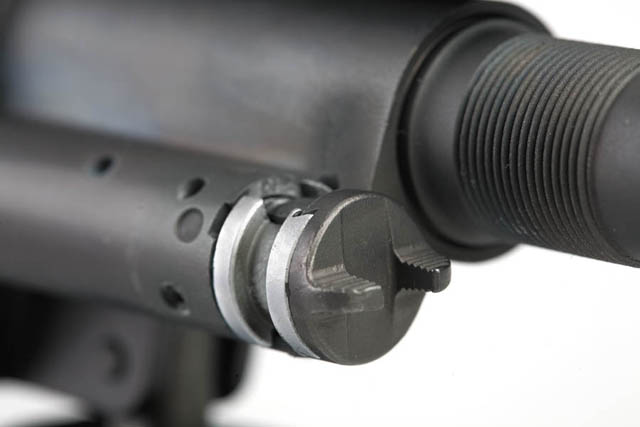 The most interesting part of the AUG, to me at least, is its bolt-carrier assembly. Two rods extend forward from the carrier, one contacting the piston and the other engaging the charging handle. They also ensure the carrier remains level. Clearly, an American did not design this part; its over-engineering points squarely at Germanic firearm makers, and like most things engineered by guys named Franz, it works very well. The AUG suffered no failures or malfunctions during testing.
The AUG turned in respectable groups at 50 yards with an Aimpoint CompM4s red-dot sight using a variety of .223 Rem. ammunition. Because the muzzle is so close to the shooter, eye protection is a must when shooting the AUG—I had unburned powder on my support arm up to my elbow. While you might not be able to set it on stun, the Steyr AUG/A3 SA USA is likely to excite fans of modern rifles not only because it is an official Steyr product, but also because it is a practical home-defense gun with rifle-like accuracy.
Manufacturer: Steyr Arms; (205) 655-8299, www.steyrarms.com
Action Type: Short-stroke, gas-piston-operated semi-automatic
Caliber: .223 Rem.
Capacity: 30 rounds
Receiver: Investment cast, Eloxal-coated aluminum
Barrel Length: 16 inches (tested), 20 inches, 21.6 inches
Rifling: Six grooves; 1:9-inch RH twist
Sights: None; Picatinny rail for mounting optics
Trigger Pull Weight: 10 pounds, 10 ounces
Stock: Synthetic
Overall Length: 28.15 inches (tested)
Weight: 8 pounds
Accessories: Soft carry case, cleaning kit, sling, manual, two, 30-round translucent polymer magazines
MSRP: $2,295