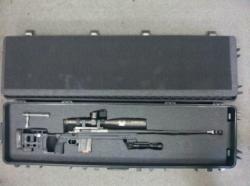 "The New Double Rifle Case SC-081454 has a deeper 3 inch lid that is drag bag ready for long range shooting applications, the added depth and width also increases protection of two scoped rifles during transit. The New Rifle Case includes a molded-in recessed wheel kit for ease of transport." said Brack Wilson, Vice President Starlight Cases.
Starlight Cases™ specially formulated polymer cases are lightweight with superior strength. A patented Latch-Lock™ System ensures an airtight, watertight, chemical resistant protective case that continues to be a leader in the industry. All cases are backed by an Unconditional Lifetime Warranty and Made in USA.
About Starlight Cases™
Starlight Cases™ was established in 1994 to design and manufacture unique products to help solve critical packaging problems in the military, industrial, sporting goods, law enforcement and marine markets. For more information, visit www.starlightcases.com.