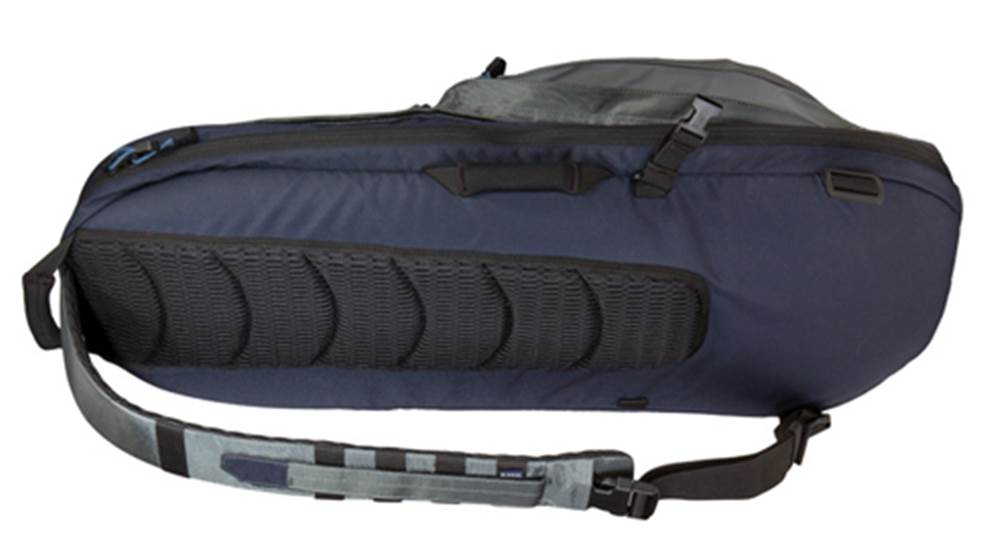 "The better part of valor is discretion" said Falstaff in Shakespeare's "Henry IV." He was referring to feigning death in order to stay alive—playing possum—but discretion has many more practical applications. The COVRT M4 rifle case from 5.11 Tactical is designed to provide law enforcement officers, particularly undercover units, with the combination of discretion and the ability to quickly deploy a rifle when the situation calls for it.
This bag has significant benefits and applications for civilian use as well. The unfortunate fact is that some folks, especially in these uncertain times, do not react well to the presence of firearms. A recent example from Massachusetts comes to mind, where a full-scale police response shut down a local mall because shoppers reported seeing a man with a rifle case. The case turned out to contain an umbrella. But with ranges opening in or near shopping malls, for example, the ability to carry your AR from the Sunglasses Hut to the range or vice versa, without drawing unwanted attention, is a definite plus.
The COVRT M4 bag has the advantage of closely resembling a rather generic-looking civilian backpack. The casual observer could easily excuse its increased length as a gym bag, a case containing a musical instrument or diving gear and fins. As is the case with all 5.11 Tactical products, this case is built to a very high standard and offers a plethora of additional features.
Available in two subtle color patterns, the bag features tough, water-resistant nylon construction with a smooth lining to protect the rifle and high-grade YKK zippers. It is large enough to fit a collapsed M4 carbine with up to a 16-inch barrel and has a well-padded, ambidextrous, single cross-body shoulder strap with accessory attachment points. The mesh padding also appears on the back of the bag to protect the user and increase comfort.
The front of the COVRT M4 bag also features two compartments for additional gear, magazines and ammunition, without giving away the contents. A smaller top compartment can roll down and includes a hook-and-loop panel area for ID patches with additional MOLLE webbing. The main rifle compartment features an internal barrel catch/muzzle trap to protect the bottom of the bag, and top and side carry handles are also included.
I was able to store and transport AR-pattern carbines with collapsible stocks from a variety of manufacturers with little difficulty, although some with larger muzzle devices were a bit of a tight fit. The bag was very comfortable with its adjustable shoulder strap and fit well for movement, plus all of my range gear fit in the accessory pockets with ease. I also had the peace of mind of knowing I would not be disturbing any of my more sensitive neighbors.
Drawing unnecessary or unwanted attention to oneself is never a good thing, and the COVRT M4 rifle case offers civilians and law enforcement to ability to easily transport their rifles and gear with their inner Falstaff in mind.