Tactical backpacks are awesome, but there are probably several hundred different designs on the market, so choosing one is far from simple. Even within a single company's line, the choices are often so plentiful, a decision as to which one best suits your needs can be difficult. A good place to start is size.
If you don't plan to be away from civilization for an extended period, you don't need a pack capable of hauling a tent, sleeping roll, multiple changes of clothing, food, etc. Scratch the huge packs from your list. That helps, but not much. Medium-sized packs tend to be larger than you might think from their designation, as they can carry enough stuff to keep you alive for a day or two. If your outings are more along the nine-to-five lines, even perhaps a tad longer, you don't need quite so much space in your backpack.
Enter the 5.11 Tactical Rush 12 Backpack. As its name indicates, this pack is designed to carry enough gear for a 12-hour "mission." For most of us, that is plenty for a range, hunting, travel, work or even go-bag. Designed by Viking Tactics' Kyle Lamb, the Rush 12 is deceptively small. Though it won't cover your entire back, it still has enough room for a lot of gear.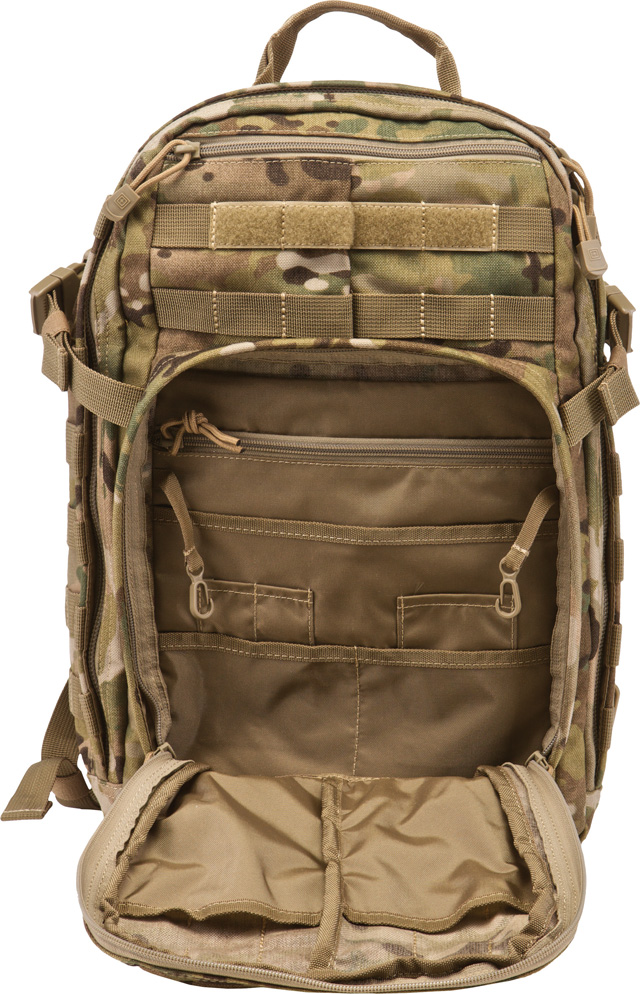 The primary material is water-resistant 1050D nylon, which will keep things dry in moderate storms and protect gear from spills. Sixteen total compartments, pockets and slots for stowage allow your gear to be organized to your liking. A pocket in the main compartment will fit most laptops, and the rear zippered section is set up to organize smartphones, GPS receivers, pens, pads, etc. It even has a fleece-lined, zippered compartment for eyewear, which held my Revision Eyewear Sawfly shooting glasses in an easy to reach place while keeping the lenses scratch-free.
Comfortable, mesh-lined padded backing and straps made wearing it for extended periods quite pleasant. An adjustable sternum strap kept it securely against my body and helped distribute weight, while compression straps added to its compactness both while worn and when packed in a larger suitcase.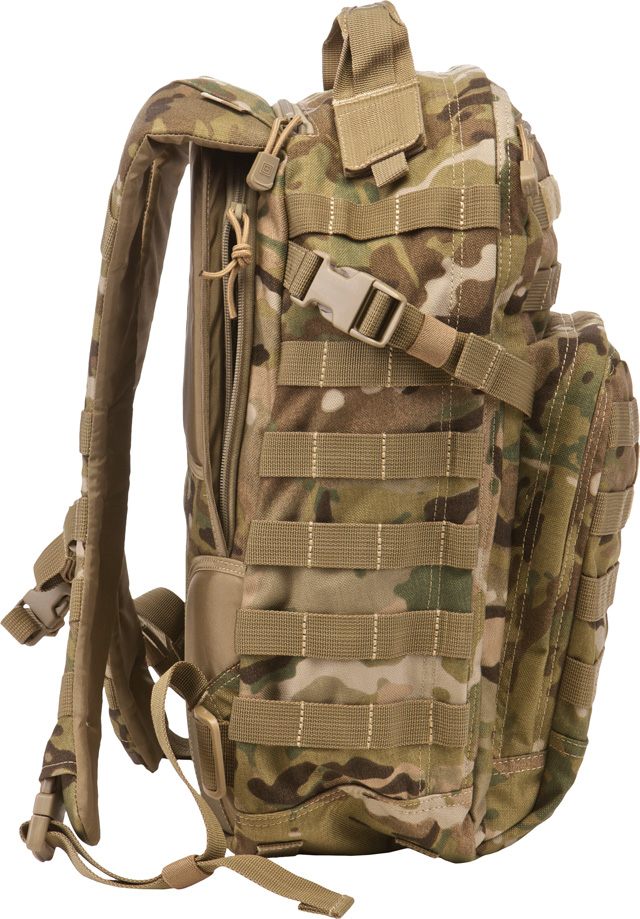 Most tactical packs these days are compatible with hydration bladders, and while the Rush 12 does not include one, it handled a couple of different models I own with minimal effort. Another ubiquitous feature of modern tactical backpacks—or most any tactical soft good in 2011—is MOLLE attachment points. The Rush 12 is covered with these, allowing smaller items like magazine pouches to be attached almost anywhere.
For a small pack, the Rush 12 is exceptionally versatile. If 10-day missions to observe enemy positions and movement aren't normally in your weekend plans, it might be the ideal backpack for your more quotidian activities. Best of all, its available in MultiCam, so you can lie and say your Sunday morning stroll takes you through the rougher parts of Central Asia and someone might believe you.