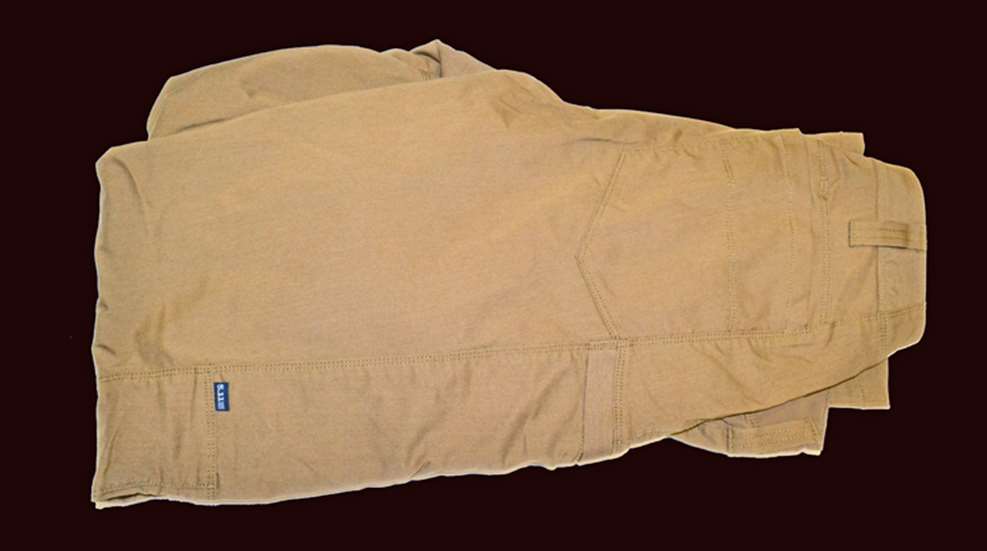 We've all got, or are at least familiar with, a pair (or more, ahem) of *tactical* pants. D-rings, cargo pockets, gussets, pant-leg-ties; in just about every gun guy/gal's closet there's a pair of pants that just jump out screaming "TACTICAL." They're fine for a day at the range where you might want/need a handful of extra pockets for spare mags, eye protection and other assorted helpful items, but in everyday life, subtlety counts for something.
5.11 Tactical realized this when the company brought out its Apex pants. The cargo pockets, while still deep and cavernous, expand inward so as not to advertise (or get caught on low cabinet pulls...). There's a magazine pocket behind each back pocket, but made to look like merely a second seam rather than "HEY LOOK A POCKET." There's a hidden area in the back of the waistband for small items best left discreet (like a spare $20 bill). Even the waistband itself has a stretchy section to accommodate IWB holsters without putting five acres of accordion-fold material along the sides.
Of course, since it's 5.11 Tactical the construction is quite robust. The company's proprietary Flex-Tac canvas is rugged, tear- and abrasion-resistant and designed to look more like a set of casual khakis than tactical pants. Inside the cargo pockets are pockets against the inside to hold magazines, flashlights or other similar-size items. For the law enforcement community, there's even a liner inside the waistband for flex cuffs. It's obvious a great deal of thought and discussion went into the design of the Apex pant.
MSRP: $84.99. Available in Battle Brown, black, dark navy, khaki and TDU green.